Pilgrims flock to Sam Mountain National Tourism Area

The Sam Mountain National Tourism Area in An Giang province is famous for its beautiful views and many spiritual sites.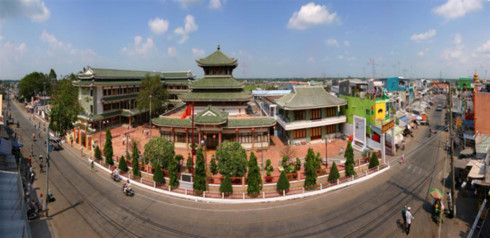 The shrine to worship the local Tutelary Goddess at Sam Mountain (Photo: laodong.vn)
Rising out of the green fields of the Mekong Delta, Sam Mountain has become a place many people long to visit.
The Sam Mountain sits 280 meters above the sea level, just a few kilometers the west of Chau Doc city.
One of the major tourist attractions in An Giang province, it entices visitors with its magnificent landscape and seascape and 200 temples, pagodas, and shrines scattered from the mountain's foot to its peak.
The holiest site among them is a temple worshiping the Local Tutelary Goddess, which draws crowds of pilgrims who come to pray for peace. Last year, An Giang welcomed 8.5 million visitors.
Bryan Smith, a visitor from Hawaii, the US, is impressed with local relics and people. He said "I love An Giang for its friendly people, clean environment, abundant historical and cultural relics, and beautiful natural landscapes. I hope to return to An Giang someday."
Sam Mountain resembles a horseshoe crab, called a "sam" in Vietnamese, lying on an immense field. There are flamboyant trees and apricot trees growing from the mountain cliffs, creating a vivid picture when they're in full bloom.
At the top of Sam Mountain is a fortress built during the French rule and a trace of the Local Tutelary Goddess statue before it was moved to a shrine. The path to the mountain peak is long but worth the climb. At the top you breathe in a lungful of fresh air and enjoy a panoramic view of Chau Doc city and fields, forests, and canals.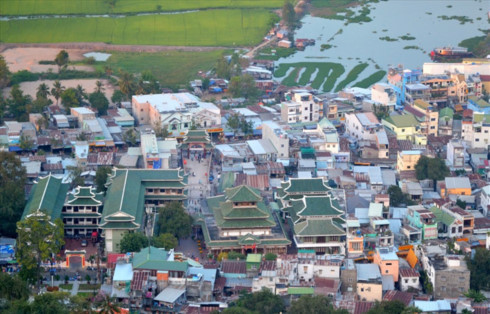 The Sam Mountain National Tourism Area is seen from above. (Photo: laodong.vn)
Doctor Ngo Quang Lang, Vice President of the Historical Science Association, said "The Sam Mountain National Tourism Area has three core values: scenic beauty, cultural and historical stories, and a spiritual dimension. Pilgrims worship the local Tutelary Goddess there because she provides emotional and spiritual support. We should beautify the areas around the mountains and build more hotels, restaurants, and performance stages so more tourists will stay overnight."

The local Tutelary Goddess temple, Tay An pagoda, Thoai Ngoc Hau tomb, and Phuoc Dien pagoda are spiritual sites at Sam Mountain that have been recognized as national relics in need of preservation and promotion. They represent the Mother Goddess Worship, which is uniquely of Vietnamese origin and is among the oldest beliefs practiced in Vietnam.
Doctor Huynh Van Thong of the Ho Chi Minh City University of Social Sciences and Humanities, talked about An Giang province's potential for spiritual development.
Thong told VOV "First, the tourist destinations remain unique and intact. Second, the Mother Goddess Worship of Vietnam is drawing global interest and attracting visitors to An Giang each year. I think the growth rate and number of tourist arrivals didn't achieve any breakthroughs last year so we need to improve our local spiritual tourism products."
The 1,500-hectare Sam Mountain National Tourism Area hopes to become a major spiritual site by 2030.
It expects to receive 6 million visitors in 2025, 800,000 of whom stay overnight, and 7 million visitors in 2030, with 1 million of them staying overnight.
An Giang province hopes to earn more than 100 million USD from tourism in 2030. VOV5

Thach Dong (stone cave), a huge limestone mountain in My Duc commune, Ha Tien district is a popular tourist destination in the Mekong delta province of Kien Giang.  

With a huge range of summer getaways on offer such as wind farms in Phu Quy island, the beautiful beaches of Nha Trang and Co To island, travelers are not short of options when it comes to enjoying a summer vacation this June.

Quan Lan island, Ban Gioc waterfalls, Sapa, and Moc Chau are just a few of the top destinations for travelers to escape the summer heat and enjoy stunning landscapes, pure-clean air, and a moderate climate.