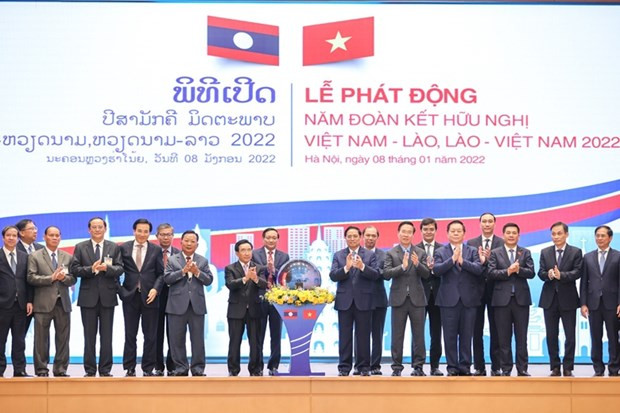 At the launch of the Vietnam-Laos, Laos-Vietnam Friendship Year 2022. (Photo: VNA)
PM Chinh will pay an official visit to Laos and co-chair the 45th meeting of the Vietnam-Laos Inter-governmental Committee from January 11-12.
The visit will be made at the invitation of Lao PM Sonexay Siphandone, according to an announcement of the Vietnamese Ministry of Foreign Affairs.
Vietnamese Ambassador to Laos Nguyen Ba Hung told the Vietnam News Agency that the visit aims to materialise foreign policies adopted at the 13th National Congress of the Communist Party of Vietnam (CPV), focusing on government cooperation.
This is the first official visit to Laos by Chinh in his capacity as Prime Minister of Vietnam, also the first visit to Laos by a foreign high-ranking leader in 2023, he stressed.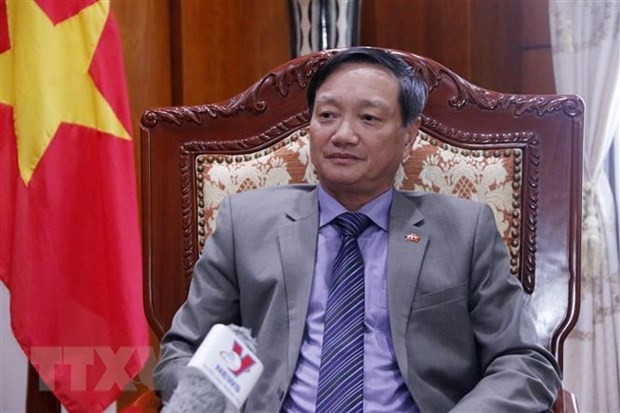 Vietnamese Ambassador to Laos Nguyen Ba Hung. (Photo: VNA)
It demonstrates the importance and the highest priority the Vietnamese Party and State give to consolidating and enhancing the great friendship, special solidarity and comprehensive cooperation between the two countries.
During the visit, PM Chinh and his Lao counterpart are expected to compare notes on national and international issues of mutual concern, and seek solutions to challenges in the new situation, thus contributing to peace, security, stability and development in the region and the world at large.
They will discuss measures, including new, breakthrough ones, to consolidate the relations, giving a boost to the comprehensive cooperation this year.
Regarding the 45th meeting of the Vietnam-Laos Inter-governmental Committee, to be co-chaired by the PMs, Hung said the two sides will look into major orientations, policies and measures to foster the collaboration in a more practical and effective manner.
They are expected to sign many important documents, he said, adding that the two PMs are also scheduled to wrap up the Vietnam-Laos Friendship and Solidarity Year 2022.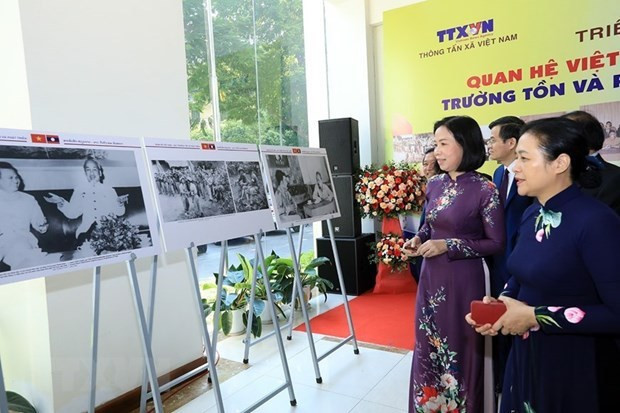 VNA General Director Vu Viet Trang and visitors at the photo exhibition on Vietnam-Laos relations. (Photo: VNA)
The ambassador stressed that thanks to the instructions of the two countries' Party and State leaders, and efforts by their ministries, agencies, businesses and people, the relationship has been deepened, bringing great, practical interests to both nations.
Apart from politics, national defence and security and external affairs, the leaders have worked to enhance bilateral economic ties by exchanging experience in policy making, facilitating the operations of businesses and connecting the two economies, especially in transport infrastructure, according to the ambassador.
Hung held that Vietnam and Laos have substantial opportunities to step up international integration, the bilateral collaboration as well as cooperation with other countries, for peace, security, stability and development.
The diplomat expressed his belief that with the strong determination and great efforts of the two countries' Parties, Governments and people, the relationship will be preserved and consolidated forever./. VNA