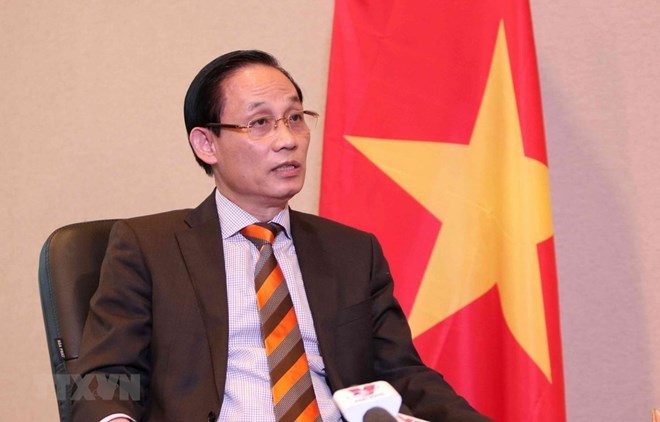 Deputy Foreign Minister Le Hoai Trung
PM Phuc returned to Hanoi after attending the second BRF International Cooperation (BRF) on April 27 evening.
In an interview granted to the media on the PM's trip, Deputy FM Le Hoai Trung said the trip produced important results on both bilateral and multilateral aspects.
Vietnam had made careful preparations and actively and proactively joined in the forum's activities and the building of the round-table meeting's joint statement.
In his address to the forum, PM Phuc shared Vietnam's reform experience over the past three decades, noting that making good use of advantages and potential along with promoting international integration are the foundation for successful cooperation. He affirmed that Vietnam is pushing ahead with both socio-economic development and global integration, including cooperating with the Belt and Road initiative, and striving to realise the UN sustainable development goals.
Deputy FM Trung said many leaders expressed support for the PM's speech and Vietnam's stance, Trung said.
On bilateral activities, PM Phuc met Chinese Party chief and President Xi Jinping, Premier Li Keqiang, and permanent Politburo member and Secretary of the Party Central Committee's Secretariat Wang Huning.
It is noteworthy that the two sides signed five economic agreements, including two deals that opened the Chinese market for Vietnam's exports of milk and mangosteen.
PM Phuc also met with executives of many leading Chinese companies, during which he vowed all possible support for them to do business in Vietnam while having a straight talk on several ineffective and delayed projects by Chinese contractors.
The PM and his entourage, including Deputy PM Pham Binh Minh and many ministers, also met leaders and officials of many countries and international organisations.
During those meetings, PM Phuc asked the countries to support Vietnam's run for a seat in the UN Security Council for the 2020-2021 tenure and work closely with Vietnam during its ASEAN Chairmanship's term in 2020 to maintain peace, stability, maritime security, safety and freedom in the East Sea. He also discussed ways to create stronger progress in economic-trade-investment ties and deal with issues related to the border and overseas Vietnamese with related countries.
According to Deputy FM Trung, the countries had expressed support for Vietnam's candidacy for the UN Security Council in the 2020-2021 term, and their wish to coordinate closely with Vietnam as Chair of the ASEAN as well as in the UN's activities.
Talking about the main outcomes of the 2nd BRF, the Deputy FM said under the theme "Belt and Road Cooperation: Shaping a Brighter Shared Future", the forum attracted nearly 5,000 delegates from 150 countries, over 90 international organisations and 800 businesses, particularly heads of States and governments from 37 nations, including 10 ASEAN member states.
The most important event of the forum was a round-table meeting of leaders to discuss promoting connectivity, strengthening policy resonance, fostering green and sustainable development.
Trung said the forum achieved three major results, including issuing a joint statement that reaffirmed commitment to stepping up economic connectivity, trade liberalisation and respect for multilateralism, with a focus on infrastructure, economy, science-technology, socio-culture and people-to-people exchange.
Secondly, participating leaders shared constructive views, contributing to new adjustments in Belt and Road cooperation in the direction of more balanced benefits for participating countries with an emphasis on the principles of equality, mutual respect and mutual benefit.
Thirdly, the high-level round-table meeting and 12 thematic session afforded participants chances to discuss cooperation opportunities and joint work across infrastructure connectivity, policy resonance, trade, finance, innovation and creativity, digital economy and green development.-VNA