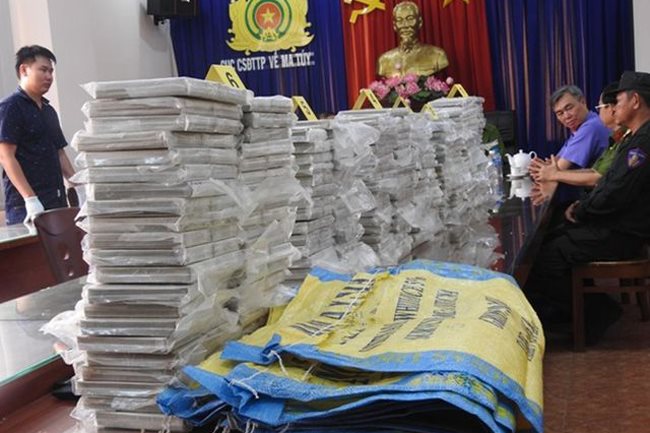 A total of 446 packs of heroin worth more than US$6 million were seized from a warehouse in HCMC 
A source told Thanh Nien newspaper that the Investigation Police Department on Drug-related Crimes, with the Ministry of Public Security, had collaborated with the Taiwanese police to break up the ring in a number of locations across HCMC.
A number of Vietnamese and Taiwanese were recently arrested, following police raids. Their arrests are part of a deeper crackdown on the transnational drug trafficking ring, which was discovered in HCMC in late March this year.
Traffic officers who were patrolling An Suong Intersection, the border between District 12 and the outlying district of Hoc Mon, at around 8:30 p.m. on March 27 grew suspicious of a pickup truck that was en route to An Suong Overpass from Thu Duc District.
On being stopped by the police, a Taiwanese man, later identified as Jen Jong Chu, 33, got out of the truck and offered them a bribe of VND3 million. Chu insisted, unsuccessfully, that they overlook his violation.
He and the Vietnamese truck driver attempted to escape on foot when the police refused the bribe but were quickly captured.
The police pulled the truck over to check it and discovered five cartons containing 895 packs of heroin weighing 315 kilograms.
Chu admitted to being the mastermind of the ring. He had visited Vietnam three times through the HCMC-based Tan Son Nhat International Airport since December 2018.
Since the March arrests, Vietnamese and Taiwanese drug investigators have seized a total of 1,341 packs of heroin and have detained a dozen Vietnamese and Taiwanese individuals. SGT
Theo english.thesaigontimes.vn