Politburo Resolution 31 gives momentum to HCM City to 'take off'
Experts say that policies from the Politburo's Resolution 31 will give momentum to HCM City to grow strongly, but also pose big challenges for the city.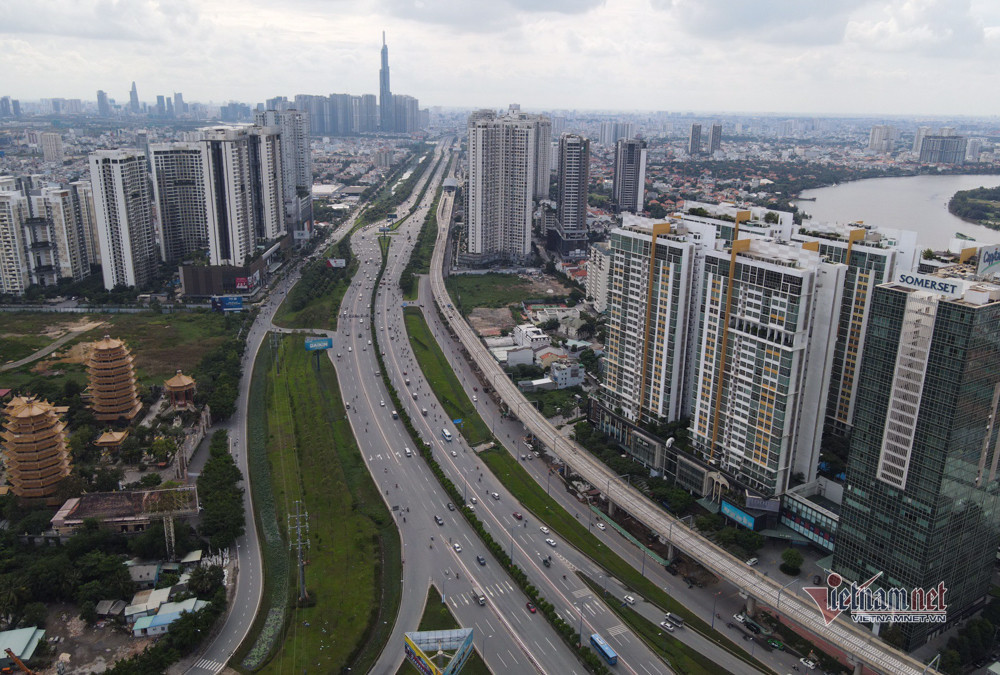 The Party Secretariat recently organized a conference on the Politburo's Resolution 31 on the orientation and tasks for HCM City development to 2030, with a vision towards 2045.
Researchers and experts all believe that this is a great opportunity for HCM City to exploit its potential and advantages, mobilizing all resources to develop more strongly and sustainably.
Le Van Thanh from the HCM City Institute for Development Studies (HIDS) said the most noteworthy point of Resolution 31 is that the Politburo allows HCMC to pilot breakthrough policies to mobilize different financial resources for investment and development.
If HCM City can make the best use of the policies, it will be able to remove obstacles in many fields caused by the "ask and grant'" mechanism.
Also according to Thanh, HCM City can enjoy self-determination rights, but it needs to "dare to think and dare to do", and focus on key issues, rather than deal with all issues with no specific concentration.
In the immediate time, it is necessary to apply policies to large projects, such as Belt Roads No 3 and 4, metro projects, international financial center, social housing development and investments in healthcare and education.
"Many investment projects in HCM City have been backlogged for many years due to procedural problems. Now as the Politburo allows specific mechanisms, HCM City should boldly deal with the problems and implement the projects," Thanh said.
"It will also be better to make reviews as soon as the projects are completed to learn a lesson for the next breakthroughs," he suggested.
Ngo Viet Nam Son, a respected architect, noted that Resolution 31 allows HCM City to take the initiative in creating regional linkages, not only to develop the city, but also to create new development for the southeastern region and Mekong Delta.
According to Son, Thu Duc City, the eastern gateway of HCM City connects three provinces which have big budgets and powerful resources – Binh Duong, Dong Nai and Ba Ria - Vung Tau.
If the city can have close links with the three localities, very strong resources would be created not only for HCM City but the southeast region as well.
"I think that HCM City should consider the east as the major direction for making breakthroughs in transport infrastructure, with Belt Roads 3 and 4. The east is a reasonable direction if noting that HCM City wants to develop Thu Duc City into a smart and creative urban area," Son said.
Also according to Son, in addition to regional linkages, Resolution 31 gives decentralization at a higher level to HCM City, so HCM City should give favorable conditions to Thu Duc City to develop more strongly.
In addition, it is necessary to develop transport projects towards Mekong Delta, thus creating momentum for the region to develop more strongly.
Phan Minh Phung from the HCM City University of Technology said with the release of Resolution 31, HCM City has been 'untied' in management and administration.
This will be the driving force for the city to take off.
Bigger opportunity, higher responsibility
Phung believes that Resolution 31 gives great opportunity to HCM City to develop, but warns that it will also pose great challenges.
The resolution sets six tasks and solutions for HCM City, but the tasks can only be implemented if there is a legal framework that institutionalizes the resolution.
"If there is no adequate, timely and appropriate legal framework, creativity, dynamism and breakthroughs won't work effectively as expected."
The second question is whether HCM City has assessed itself in terms of capability and reality to be ready to apply the new policies, and whether it is ready in terms of urban infrastructure, technology, human resources, financial resources, competitiveness and socio-economic issues.
Phung believes these issues need to be handled before the deployment of Resolution 31.
Meanwhile, according to Thanh, the biggest challenge in deploying Resolution 31 is human resources.
Son believes that the capability and dynamism of HCM City leaders will allow the city to well exploit the outstanding mechanisms. HCM City Party Committee Secretary Nguyen Van Nen had great success when he was a leader in Tay Ninh province, while Mayor Phan Van Mai saw similar success when he worked in Ben Tre.

Tran Thuong