The Government has settled 2,290 out of 2,293 petitions that voters submitted to the sixth session of the 14th National Assembly (NA), the NA Standing Committee's ombudsman board reported on May 20.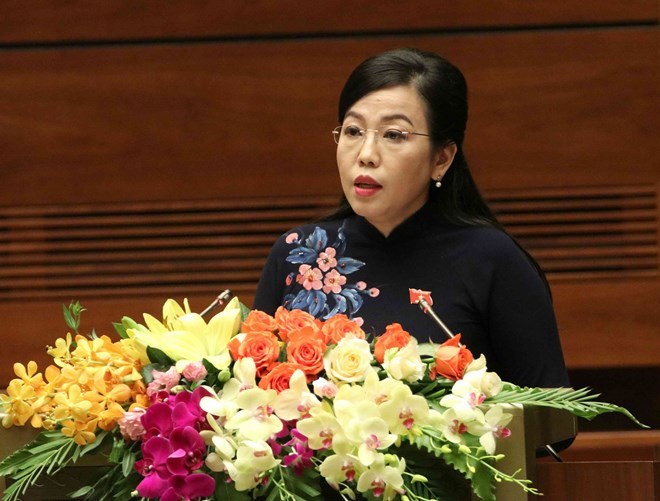 Head of the ombudsman board Nguyen Thanh Hai delivers a report at the opening session of the 7th sitting of the 14th NA on May 20
The report, delivered by head of the ombudsman board Nguyen Thanh Hai, said the board collected 2,293 petitions from voters during 1,408 meetings with voters held before and after the NA's 6th session and sent them to relevant agencies to consider and settle. Accordingly, the rate of settlement reached 99.87 percent.
The report said voters in general praised the efficiency of the operation of the NA, NA agencies and deputies, especially those who hold high positions in the Party and State. During meetings with voters, Party and State leaders personally listened to and gave explanations to voters' questions, winning trust from the public.
Voters appreciated the quality of debates and verification reports of the NA regarding law making work, as well as the recent reform of NA activities.
Voters valued the efforts of the Government and the Prime Minister in their leadership and management work across all fields, particularly in promoting administrative reform, removing difficulties and obstacles to facilitate production and business as well as daily life.
The report said 2,172 out of 2,174 petitions sent to the Government, the PM, ministries and agencies had been settled, a rate of 99.9 percent.
Meanwhile, the Supreme People's Court and the Supreme People's Procuracy have handled all 56 petitions they received from voters.
The ombudsman board remarked that most ministries and agencies had handled the petitions with a high sense of responsibility, and made clear, easy-to-understand and concise replies to the petition senders.
The improvements aside, the ombudsman board pointed to problems in the summing up and processing voters' petitions by agencies of the NA and NA Standing Committee as well as delegations of NA deputies. For example, they continued to forward to ministries and agencies many petitions that have been settled during NA sessions or been clearly regulated by law. Some NA deputies' delegations collected petitions that asked for the revision of legal documents which had already expired, or sent petitions that were within the power of local authorities to the central government. There were also mistakes in the collection and classification of petitions due to the large number of them.
In addition, voters complained about the poor enforcement of legal documents, and the slow implementation of measures designed in response to petitions.
Voters urged the Government, ministries and agencies to take stronger actions to disseminate policies and laws, especially those relating to new issues under debate. They called for solutions to help the public access legal information online, and the publicization of the outcomes of petition settlement work to prevent the repetition of petitions, thus reducing the number of petitions and requests for information.-VNA