Ho Chi Minh City has so far seized VND10,408 billion (US$445.94 million) of corruption assets, accounting for 66 percent of the country's seizure value of VND15,727 billion ($673.84 million).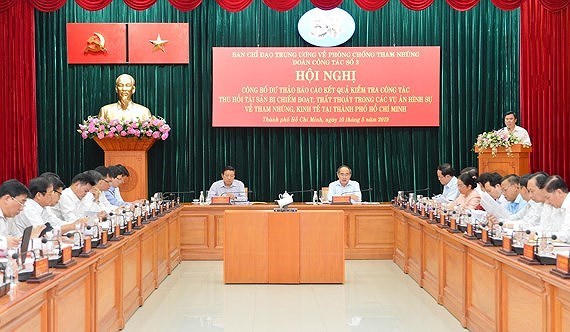 A view of the working session
That was reported yesterday when the mission group no.3 of the Central Steering Committee on Anti-Corruption, led by Secretary of the Communist Party of Vietnam Central Committee (CPVCC) Phan Dinh Trac, worked with HCMC Party Committee's Standing Board on corruption fighting and prevention.
The working seesion was attended by secretary of HCMC Party Committee Nguyen Thien Nhan, standing deputy secretary of the committee Tran Luu Quang, chairman of HCMC People's Committee Nguyen Thanh Phong and chairwoman of HCMC People's Council Nguyen Thi Le.
According to data from the Commission for Internal Affairs of the Party Central Committee, HCMC Police Department has handled 749 cases and 916 offenders committing corruption and economic crimes.
Total damage is estimated to exceed VND770 billion ($32.98 million). Police forces have seized and besieged VND280 billion and eight real-estates worth VND20 billion.
Aside from that, the civil judgment enforcement agency of HCMC has handled 422 verdicts and judgements in criminal corruption cases with the total reclaimed money of VND39,009 billion.
Although the above results have not met requirements by the Central Steering Committee on Anti-Corruption. Hence, the mission group proposed the city Party Committee's Standing Board to intensify leadership to the issue, ask authorized agencies to closely work together to trace and track down corruption assets to seize and besiege them and maximize reclamation of arrogated public assets.
In addition, the board should direct authorized agencies to intensify inspection over complaints and denounciations to strictly handle violations related to asset reclamation, especially to price assessment and property auction in criminal corruption and economic cases. SGGP
Ngoc Thanh