Despite rising social awareness of child sexual assaults, legal loopholes still exist which made it difficult to administer appropriate punishments for the crime.
 Child sexual abuse prevention needs to go beyond empty slogans
Child sexual abuse on the rise in Vietnam
Lower age of criminal responsibility for child sex abusers: Lawyer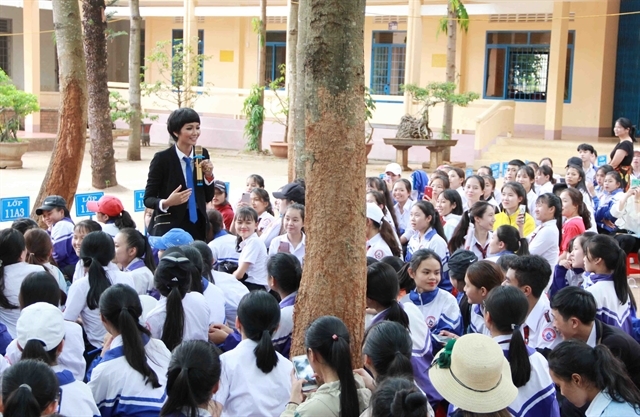 Students of Lê Hữu Trác High School in Cư M'gar District, the Central Highland province of Đắk Lắk take part in a legal consultation session on children assault. Photo for illustration only. 
The situation was pointed out by National Assembly Judicial Committee Standing Member Nguyễn Thị Thuỷ at a meeting yesterday in Hà Nội
During the meeting, law enforcement agencies were urged to report on six recent cases, two of which had triggered social outcry.
The first case involved a former procuracy official in Đà Nẵng who molested a girl in a HCM City apartment elevator on April 1 after CCTV footage of him committing the crime spread online.
"Although the incident was reported on April 2, no conlusion has been made as of yet. The process is too slow while the case is relatively straightforward," said a representative of the committee's research group.
"I know some organisations have spoken out about the incident. We have direct evidence not just irrational uproar. A camera captured him grabbing the girl. I think it is enough to start prosecuting the case," added Nguyễn Đức Sáu, a representative from HCM City.
Regarding the second case in which a university student in the northern province of Điện Biên was raped and killed in February, representatives questioned why police had not checked to determine whether the victim was sexually abused to start with, and had to exhume her body to bring rape allegations.
Another case in Hà Nội when a man named Đỗ Mạnh Hùng forced a university student to kiss him resulted in a fine of just VNĐ200,000 (US$8.6).
According to Nguyễn Đình Quyền, former head of the Legislative Research Institution, these cases had not been properly handled.
"By fining the culprit VNĐ200,000, the force disrespected the victim," he said.
According to the committee's report, people's awareness of child sexual assault had increased and parents were educating their children about the dangers out there, but legal loopholes still remained.
A report by Ministry of Public Security and the Supreme People's Procuracy revealed that some investigators and prosecutors were not trained to work with children, so were unable to effectively handle child-related cases.
Deputy Minister of Public Security Lê Quý Vương stressed upon the significance of the discussion to come up with solutions to stop child sexual harassment.
"Combating crimes against children is the priority of all countries, not only Việt Nam," he added. — VNS