Maritime security is among the issues drawing much attention at the ongoing 8th vice-ministerial Seoul Defence Dialogue in the Republic of Korea (RoK), according to Deputy Defence Minister, Sen. Lt. Gen. Nguyen Chi Vinh.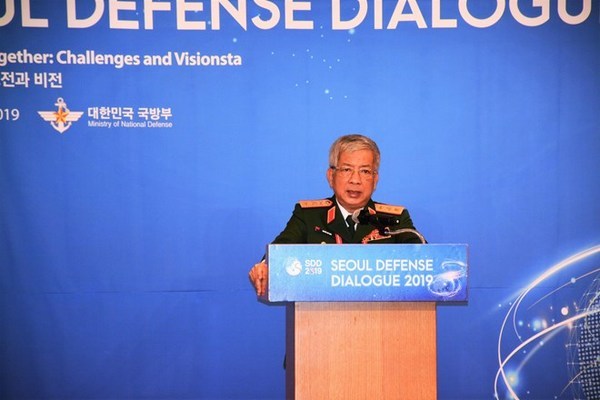 Deputy Defence Minister, Sen. Lt. Gen. Nguyen Chi Vinh speaks at a session of the 8th vice-ministerial Seoul Defence Dialogue
In an interview with the Vietnam News Agency, Vinh, who is leading a Vietnamese delegation to the dialogue, said the annual event focuses on security in the Asia-Pacific region, especially issues emerging in certain periods.
At this year's dialogue, the peace issue in the Korean Peninsula will be the first to be on the agenda, he said, noting that results attained in recent years, including the summits between the US and the Democratic People's Republic of Korea in Vietnam and Singapore, along with difficulties on the path to genuine peace and complete denuclearisation in the Korean Peninsula will be discussed.
Vinh added maritime security is the next topic attracting defence officials' attention at the event as many of them are concerned about international law of the sea being violated seriously, the use of force and militarisation of common sea areas in the world, which have infringed coastal countries' rights and adversely affected peace and stability in Asia-Pacific.
Regarding the ASEAN-RoK deputy defence ministers' meeting held in Seoul on September 4, he said like the Seoul Defence Dialogue, the meeting also touched upon many security issues relevant to the RoK and ASEAN, with the East Sea situation pointed out as an issue of shared concern of ASEAN countries and the international community.
Participants voiced concern about the international law system on navigation and aviation security and safety being threatened, as well as about militarisation and coercion. They also focused on the fact that normal economic activities of coastal countries on the basis of international law within their jurisdiction and sovereignty right are disrespected by other countries' behaviors that harm peaceful activities at sea, complicate the regional situation, and endanger navigation and aviation freedom, the Deputy Minister added.
He said cyber-security is also on the agenda of the Seoul Defence Dialogue, noting that although it is not a new problem, it is growing very fast and threatening peace and stability of the region, as well as of all countries.
At a panel discussion on September 4, the Vietnamese delegation delivered a speech on cyber-security, in which it highlighted the importance of international cooperation, including in defence, to address relevant challenges, Vinh said.-VNA