A ministerial meeting on enhancing the cooperation effectiveness in combating transnational drug crime was held in Hanoi on September 10 as initiated by the Vietnam Ministry of Public Security.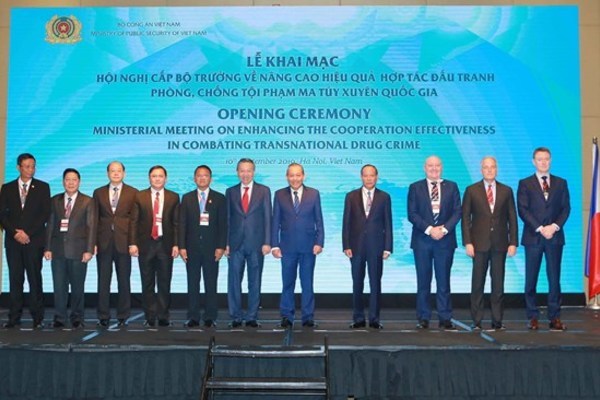 Participants at the opening ceremony
Nearly 200 delegates representing countries and international organisations of Cambodia, Laos, China, Thailand, Myanmar, the Philippine, and Vietnam as well as the US Drug Enforcement Administration (DEA), the Australian Federal Police (AFP), and the United Nations Office on Drugs and Crime (UNODC) Regional Office for Southeast Asia and the Pacific.
Deputy Prime Minister Truong Hoa Binh reiterated Vietnam's determination, goodwill, and commitment in enhancing cooperation with the UNODC and countries in the region and the world in striving to realise regional common goals of peace, stability, development and prosperity, and build a drug-free Southeast Asia.
He stressed the importance of the three UN conventions on drugs, as well as the 2009 political declaration and plan of action on international cooperation to counter the world drug problem, the 2014 ministerial statement, and the document adopted at the UN General Assembly Special Session on Drugs (UNGASS) in 2016. He proposed that countries make those documents the foundation in building and adjusting drug prevention policies.
The Deputy PM called on countries to be more proactive in contributing to and sharing responsibility in mobilizing resources for regional and global drug prevention initiatives.
During the meeting, participants shared updated information on emerging trends in drug crime and potential threats, and discussed urgent measures and strategies to effectively crack down on cross-border drug crime.
They also affirmed high-level commitment to cooperation and coordination of activities in fighting drug crime both inside and outside the region.
Besides the plenary session, the meeting also held multilateral group discussions on key drug transport routes such as Vietnam-Thailand-Laos-Myanmar; Vietnam-China-Laos; Vietnam-Thailand-Cambodia, and Vietnam-the Philippines-DEA-AFP-UNODC.-VNA