The Ministry of Public Security is planning to call for the National Assembly to reinstate a provision of the 2009 Penal Code, which treats drug users as criminal offenders, to clamp down on increasing drug trafficking.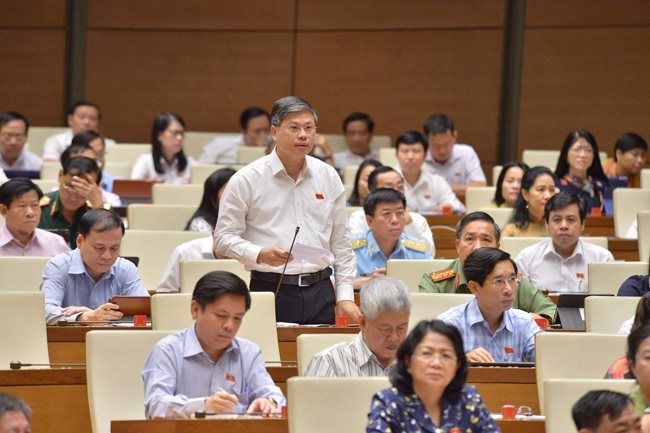 Deputy Nguyen Sy Cuong of Ninh Thuan Province grills Minister of Public Security To Lam at a question-and-answer session at the ongoing sitting of the National Assembly today, June 4 – PHOTO: VGP
Speaking at a question-and-answer session with legislators today, June 4, Minister of Public Security To Lam said that the reinstatement of this provision is part of legal changes which his ministry intends to draft into the Anti-Drug Law.
According to Article 199 of the 2009 Penal Code, anyone caught illegally using drugs in any form, who have been repeatedly educated and sent to compulsory rehab centers but continue to use drugs, would serve three months to two years behind bars. A repeat offender would face prison sentences of two to five years.
Having met with fierce criticism at home and abroad, the Government later set up a timeframe to gradually replace the compulsory detention centers with community-based, voluntary rehab centers.
General To Lam said that if drug traffickers expect to increase drug sales, the number of addicts must increase, so the police need to reduce the number of addicts and treat drug use as a criminal offense.
He also admitted that though authorities had seized an unprecedented volume of drugs smuggled into the country, the threat of drugs being supplied from overseas still exists and local demand remains high. Therefore, stronger action is needed to put the situation under control.
Lam said that the ministry had worked hard to prevent the smuggling of drugs through the northwestern mountainous provinces last year, mostly in Dien Bien, Hoa Binh and Son La. Later, traffickers moved to the central and southern provinces. In many cases, foreigners were involved.
Vietnam lies near the Golden Triangle, where the borders of Thailand, Laos and Myanmar meet, and the number of drug dealers continues to increase, Lam said, adding that these dealers take advantage of Vietnam's relaxed customs clearance procedures at border gates to smuggle drugs.
Drug crimes can lead to other crimes, such as murder and robbery. It is "the crime of all crimes," he noted.
Lam suggested that every pack of heroin (around 330 grams) being trafficked into Vietnam could send at least 10 people to prison. About half of all prisoners in the country have been incarcerated for their connection to drug crimes. Combating drug trafficking is thus vital to reducing the number of prisoners.
The minister revealed that the ministry has sent a comprehensive plan on combating organized and transnational crimes to the Government and coordinated with Laos' authorities in the process.
"With the strong determination of the political system, we will be able to completely stamp out drug crimes. Vietnam cannot be turned into a drug transit hub," he said.
Between January and May this year, police investigated more than 10,200 drug cases, arrested over 11,700 dealers and seized several tons of drugs. Several major transnational rings have been busted in recent months.
Stronger stance to be taken against loan sharks
Following the crackdown on loan sharks, according to Minister Lam, many rings have suspended their operations, but the situation remains complicated since this type of lending has appeared in rural areas as well.
Deputy Nguyen Sy Cuong of Ninh Thuan Province cited a report as indicating that police across the country investigated 933 loan shark gangs in the first five months of this year, an insignificant decrease compared with a year earlier.
He added that among the 2,500 loan shark cases investigated in 2018, only 34 were taken to court, with 66 usurers charged with offering loans at exorbitant interest rates. He asked the minister for a solution to eliminate this crime.
In response to the question, Minister Lam said that loan shark gangs tend to get involved in other more complicated types of crimes. Being a loan shark involves civil and economic relations, but there is a limit to the economic side. If the limit is exceeded, it becomes a criminal issue.
Lam also presented a number of measures to be adopted in the coming period. For instance, the police will become stricter in dealing with loan sharks.
"We have advised the Government to issue Directive No.12, which assigns specific responsibilities for handling loan sharks. Basic solutions will help reduce its development in the days ahead," he said.
In terms of legal aspects, he noted that the ministry has also suggested steps to deal with difficulties in punishing moneylenders of this type since the boundaries between administrative, civil and criminal sanctions are linked, resulting in many people making use of the relevant regulations.
He also urged local banks to diversify their types of lending, making it easier for residents to access bank loans rather than seeking the services of loan sharks.
In Vietnam, the official financial market only meets some 80%-85% of the capital demand, while the remainder comes from the informal credit market, with loan sharks making up one-third. SGT
Thuy Dung