Discussion about the recent power price hike heated up the National Assembly (NA) morning session today.
Power prices should have been increased more: Ministry
PM demands explanation for consumer electricity price hike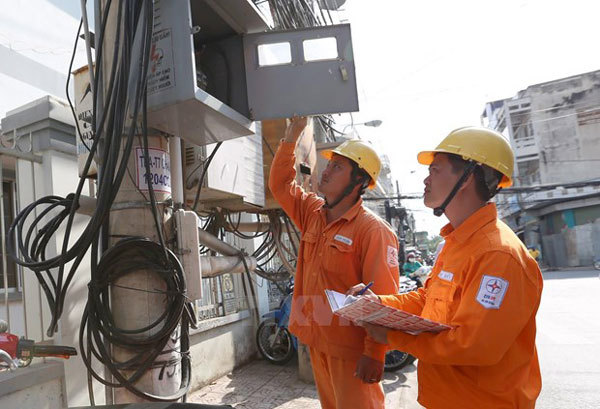 Two EVN employees check power meters at a residential area in Hanoi. Photo VNA
NA deputies questioned whether Vietnam Electricity (EVN) and the Ministry of Industry and Trade (MOIT), EVN's direct supervisor, had carefully considered the impact of their price hike on the country's socio-economic development and the Government's effort to rein in inflation.
"The Government has a responsibility to foresee the impact of a power price hike on the people's livelihoods and the country's socio-economic development," said deputy Nguyen Quoc Han from southern Ca Mau Province.
Han said while basic income for the majority of people has not increased, prices for essential goods and services such as petroleum, healthcare, education and now electricity has continued to climb.
Such increases severely affect people's lives and make it very difficult to maintain a lower than four per cent inflation target set by the NA.
Deputy Nguyen Sy Cuong from central Ninh Thuan Province said during his meeting with voters prior to this year's NA session that many people had voiced their concern about the fairness, transparency and logic behind the price hike.
"EVN claimed the price only increased by 8.36 per cent, but voters told me their power bills had increased by two to three times," Cuong said.
He said it was difficult to tell voters that "we want our country to develop and people's lives to be better" yet still try to maintain power consumption at a low level.
"EVN always told us they will put the money from the price hike back into infrastructure investment, yet they have repeatedly reported heavy financial losses for years, despite enjoying a market monopoly for decades," Cuong said. "Perhaps it's time to question their investment decisions."
On May 24, the Government Inspectorate announced an inspection of EVN was underway. The inspectorate has 35 days to review the legality and transparency of EVN's power tariff increase.
VNS