Although the number of criminal cases has been decreasing, work is needed to rein in social crime, attendees heard at a meeting organised by the National Assembly (NA)'s Judicial Committee held in Hanoi yesterday.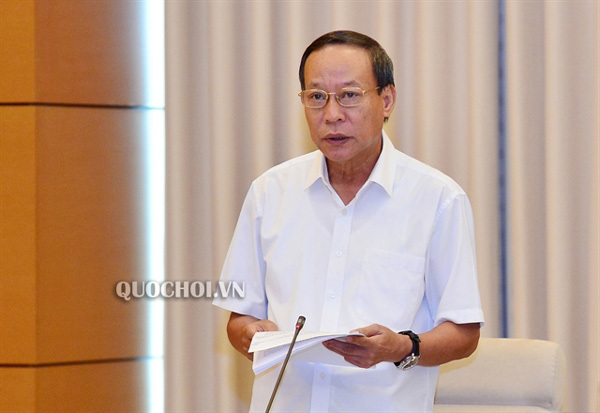 Lieutenant General Le Quy Vuong, Deputy Minister of Public Security delivers a government report on crime prevention and combat for 2019. Photo quochoi.vn
A total of 14,228 cases relating to economic management have been recorded so far this year, a decrease of 11 per cent over last year's figure, Lieutenant General Le Quy Vuong, Deputy Minister of Public Security said while delivering a government report on crime prevention and combat for 2019.
During the period, competent forces solved 33,470 criminal cases or 84.2 per cent of the total cases. About 2,167 organised crimes had been discovered and 137 victims of human trafficking had been rescued.
"The investigation of cases under the direction of the Central Steering Committee on Anti-Corruption has been accelerated to meet the schedule," Vuong said.
"Difficulties in asset evaluation have been solved as well as assessment of evidence, identifying crimes and recovering assets."
However, despite a decline in the number of criminal cases, an increase in complicated crimes and rampant violations in land planning, management and use have become a new challenge for law enforcement across the country, Vuong said.
According to Vuong, the number of murders has increased. Many murders or intentional attacks were carried out by people with mental illness or those affected by the use of drugs, causing concern among the public. New methods of human trafficking have been recorded, including surrogacy or foetus trafficking.
Economic crimes and corruption have become more sophisticated and occurred in many sectors, with the use of high technology to dodge tax or lengthen toll collection at Build-Operate-Transfer booths.
Petty corruption in settling administrative procedures still took place in many localities, causing outrage for residents and enterprises.
Violations relating to land planning, use and management were also common, he said, saying it was the main reason leading to long-standing disputes.
While agreeing with the government's report, NA deputies pointed out shortcomings in crime prevention and combat and made proposals to increase the effectiveness of the work in the future.
Nguyen Duy Huu, a member of the NA's Judicial Committee, proposed the Government strengthen the handling of violations of environmental laws. Although this kind of crime left long-term consequences and took a lot of time to recover, the criminal penalty was far too lenient. Most of the cases only received administrative punishments.
Hoang Van Hung, an NA deputy, said although traffic accidents had declined in the number of cases, injuries and deaths, about 22 people died each day on average.
The deputy suggested the government set forth preventive solutions.
The punishments for violations relating to traffic safety regulations should be tightened, he said.
Many NA deputies proposed that measures to enhance the competence of State management, inspection work in construction, commerce and information and technology to restrict violations as well as detect and strictly deal with crimes in these fields.
VNS