Singapore's Prime Minister Lee Hsien Loong has said his remarks on the 1979-1980 war involving Vietnam and Cambodia were not meant to hurt Vietnam.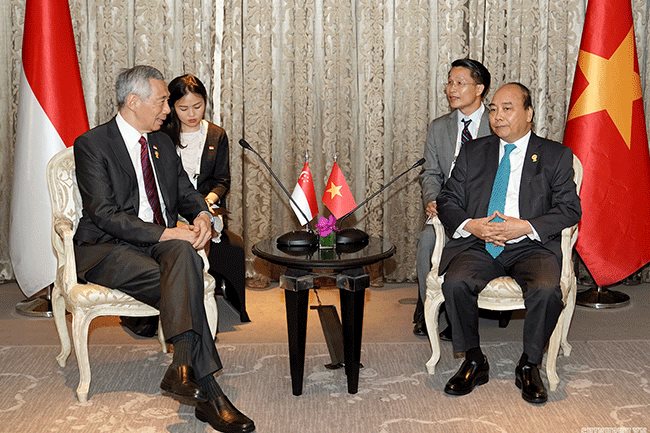 Singapore's Prime Minister Lee Hsien Loong meets his Vietnamese counterpart Nguyen Xuan Phuc in Bangkok, Thailand on Saturday - PHOTO: VGP
Lee was speaking at a meeting with his Vietnamese counterpart Nguyen Xuan Phuc on Saturday on the sidelines of the June 22-23 ASEAN Summit in Bangkok, Thailand, reported the Vietnam News Agency.
At the meeting, which was held at the request of the Singapore side, PM Phuc criticized Lee's accusation that Vietnam invaded Cambodia to overthrow the Khmer Rouge regime in 1979.
Lee made the accusation on May 31 in a letter of condolences over the death of former Thai PM Prem Tinsulanonda, which was also posted on Facebook, and repeated it while delivering his remarks at the Shangri-La Dialogue the next day.
PM Phuc was quoted by the Vietnam News Agency as saying at the meeting in Bangkok that history had proven that Singapore's judgments of the role of Vietnam at the time were not correct.
They deeply hurt Vietnam and Cambodia, especially the families of the Vietnamese volunteer soldiers who had sacrificed their lives to bring peace and free the Cambodian people from the brutal Khmer Rouge genocide regime, he added.
But PM Lee said he did not intend to hurt Vietnam and that he was just referring to a sad episode in Indochina's history to emphasize that today's peace, stability and prosperity could not be taken for granted.
The current situation requires ASEAN to continue maintaining solidarity and boosting cooperation among the member nations, he noted.
Singapore attaches importance to its relationship with Vietnam, Lee said, hailing Vietnam's contributions to peace, security, stability and development in the region.
On June 7, Vietnam's Deputy Prime Minister and Minister of Foreign Affairs Pham Binh Minh talked on the phone with his Singaporean counterpart, Minister of Foreign Affairs Vivian Balakrishman, proposing Singapore make proper adjustments after Singaporean Prime Minister Lee Hsien Loong said Vietnam had "invaded" and "occupied" Cambodia.
A day earlier, Vietnam sent a diplomatic note to the Singapore Embassy in Hanoi expressing its objection to Lee's remarks.SGT

Deputy PM and Foreign Minister Pham Binh Minh yesterday held a telephone conversation with Singaporean Foreign Minister Vivian Balakrishnan over controversial remarks made by Singapore PM Lee Hsien Loong.  

The Singaporean Ministry of Foreign Affairs on June 7 gave explanations of Prime Minister Lee Hsien Loong's remarks relating to Cambodia and Vietnam at the 2019 Shangri-La Dialogue.  

Prime Minister of Cambodia Samdech Hun Sen has criticized Singaporean PM Lee Hsien Loong's recent statement on Vietnam's position in the fight against Khmer Rouge.