Deputy Minister of Industry and Trade Do Thang Hai affirmed that essential goods for people in the epidemic-hit and neighboring areas will be fully provided.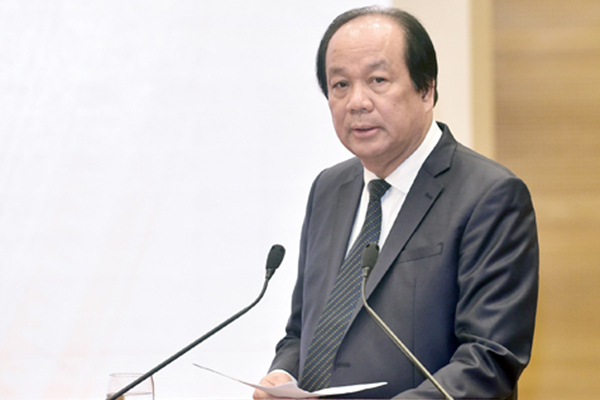 Minister, Head of Government Office Mai Tien Dung
Speaking at the cabinet press conference on the evening of February 2 about the solution for ensuring consumption of goods and agricultural products of the people in epidemic areas, Mr. Hai emphasized: "Essential goods will be provided fully for the people in both the epidemic-hit and surrounding areas".
Hai said priority must be given to fighting against Covid-19 epidemics, to ensure that the epidemic will not spread. The Ministry of Industry and Trade will coordinate with other ministries and agencies to ensure supply of essential commodities to people in the epidemic-hit areas. However, transport of goods must comply with medical regulations, he emphasized.
Minister, Head of Government Office Mai Tien Dung confirmed the same viewpoint on ensuring the transport of agricultural products from the epidemic-hit areas like Hai Duong to others, which must comply with epidemic prevention measures.
Regarding the question about the statement made by Hanoi's Chairman Chu Ngoc Anh: "If epidemic outbreak occurs in Hanoi, I promise to take responsibility", Deputy Minister of Information and Communications Hoang Vinh Bao said that the Hanoi Chairman made a very clear promise and took up responsibility.
"If epidemic outbreak occurs in Hanoi, he will be responsible. But we have to see if it happens or not, then we will see how to handle it", Mr. Bao said.
Regarding the plan to organize firework performances during the upcoming Lunar New Year in some cities, Minister Mai Tien Dung said under the Prime Minister's guidance, localities should cancel all crowded festivals. If they are organized, measures should be taken to ensure distancing and disease control.
However, it is the authority of the Chairs of People's Committees of provinces and centrally-run cities to decide to hold firework performances or not.
Thu Hang - Hong Nhi

Prime Minister Nguyen Xuan Phuc said that besides stamping out the Covid-19 epidemic, economic development must be also a focus.