The 14th National Assembly (NA) on Tuesday weighed in on the amended draft Law on Education during its seventh session. Textbooks and national exam were the topic of a heated debate.
NA's second working day focuses on education, architecture laws
Many universities set English as admission criterion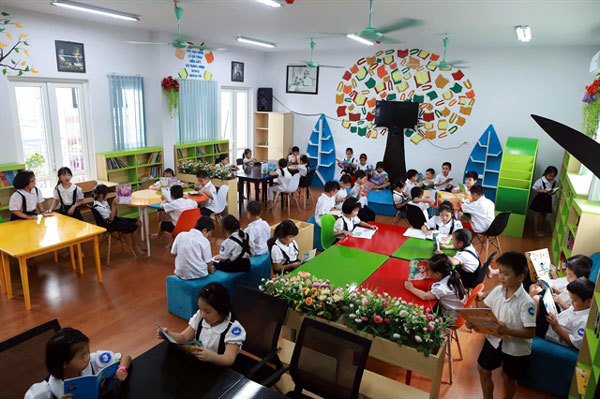 Students read books at a primary school in Hanoi. VNA/VNS Photo Hoang Hung
The revised education law has attracted public concern and received split opinions from NA deputies after being discussed at the two previous sessions of parliament last year and at the NA deputies' meeting last April.
The Government has also collected public opinions on the draft.
Phan Thanh Binh, chairman of the NA's Committee for Culture, Education, Youth, Adolescents and Children, said the Ministry of Education and Training had unveiled a new general educational curriculum and was compiling textbooks to be completed after 2022.
The NA Standing Committee, after discussing the bill several times, proposed one curriculum and one or different sets of textbooks as mentioned in the draft revised law.
The draft law grants authorisation to educational facilities to select a suitable set of textbooks following regulations from the education ministry but the regulations in the draft law were vague, NA Deputy Nguyen Tao from Lam Dong Province said, proposing a set of criteria for textbook compilation and selection.
Deputy Pham Van Hoa from Dong Thap Province said the textbooks should have longevity as changing them every year would be a waste.
National exam
The current national exam held in June every year is a "two-in-one" exam as the results are considered for both high school graduation and university admission.
Some deputies argued there was no need to hold an exam to test students for high school graduation. The high school graduation exam seemed to be symbolic as most students passed the test.
Instead, they proposed granting high school graduation certificates to students based on certain qualifications.
Deputy Pham Van Hoa proposed granting the Government permission to scrap the high school graduation exam based on practical conditions to save money and only hold a university entrance exam for capable students. Those who were at a lower level could choose to take vocational training courses depending on their favourite subjects and ability.
This solution would help improve university admission quality and avoid waste for families and society, he said.
Deputy Trieu Thanh Dung from Cao Bang Province proposed specific policies for teachers and students specilising in pedagogy, for example, offering jobs after graduation and adjusting teachers' incomes.
Sharing with Vietnam News Agency reporters on the sidelines of NA meeting on Tuesday morning, Deputy Duong Trung Quoc said teaching methods must put students at the centre, which required teachers to be able to manage classroom activities.
Deputy Nguyen Ngoc Phuong from Quang Binh Province said in the context of rapid scientific and technological development, the revised draft law on education had not looked at online training and certification which had been applied in many countries and helped students save time.
Other deputies said career orientation at schools had not been given full attention, leading to unemployment after graduation. In addition, there needed to be policies encouraging students to take vocational training courses to ensure the workforce for factories and industrial zones.
The deputies said the draft law should tighten regulations on teachers' morals to prevent school scandals such as violence, sexual harassment and exam cheating.
The 14th NA plans to approve the law in its seventh session.
Architecture law
Under NA Vice Chairman Phung Quoc Hien in the afternoon, the legislature heard a report on the amended architecture law delivered by Chairman of the NA's Committee for Science, Technology and Environment Phan Xuan Dung.
Legislators debated the State's policies for architectural development, culture and preservation, regulations on management, licensing and certificates, and intellectual property protection in the sector.
Minister of Construction Pham Hong Ha explained several issues of concern, while NA Vice Chairman Hien asked relevant agencies to co-ordinate to further clarify the issues, particularly those that had received mixed opinions.
VNS