Uruguay and Viet Nam will boost co-operation and exchanges in culture, sport, tourism and education following agreements signed between Uruguayan and Vietnamese ministers.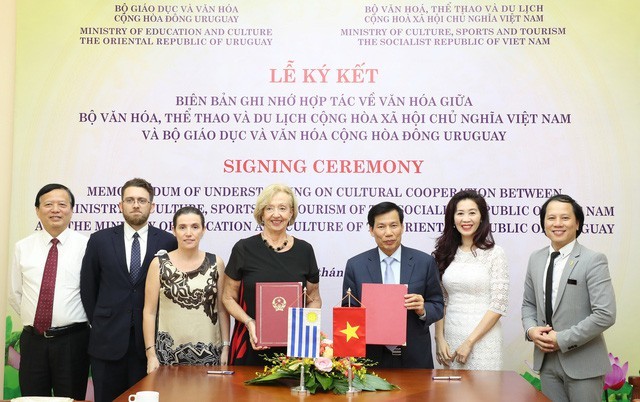 Minister of Education and Culture of Uruguay Maria Julia Munoz (fourth from left) and Minister of Culture, Sports and Tourism Nguyen Ngoc Thien (third from right) at the signing ceremony for the MoU, designed to enhance co-operation. — Photo courtesy of the Embassy
Uruguay's Minister of Education and Culture Maria Julia Munoz had an official visit to Vietnam from April 20 to 25. She hosted a press conference yesterday to announce the success of the trip.
She signed a memorandum of understanding (MoU) with Minister of Culture, Sport and Tourism Nguyen Ngoc Thien to enhance cultural exchange and performances by art troupes in two countries.
Vietnam and Uruguay will develop the co-ordination between conservation centres and other cultural agencies.
The Embassy of Uruguay will host an exhibition of ceramic art by Uruguay artists in Hanoi in June.
Minister Thien said the culture and society of Uruguay are reflected in the Latin American Film Festival, held annually in Vietnam. He said he expected the distance between the two countries to be narrowed through cultural exchange.
Thiện also said he looked forward to Uruguay's support of in football because it is one of the country's strong points.
Minister Munoz said she is aware that Vietnamese people love football. She promised to send two footballers from Uruguay to Vietnam to provide technical training to the Vietnamese football team.
"We have respected Vietnam from the resistance war to the process of establishing and developing the country, and now we admire the position of Vietnam in the region and the world," she said.
"Last year I had a chance to visit Vietnam as a tourist and I felt impressed by the Vietnamese landscape and culture. Your tourism industry has huge potential."
She also said she expected the two countries to enhance co-operation in tourism.
In the near future, Vietnamese students who study the Spanish language will have a chance to secure scholarships to study in Uruguay thanks to the MoU signed between Minister Munoz and Minister of Education and Training Phung Xuan Nha.
"We will support Vietnamese teachers and educators to have a training course in Uruguay," Munoz said. "We are willing to provide text books and native-speaking teachers to Viet Nam to support Spanish language training." — VNS