Deputy PM Trinh Dinh Dung had working sessions with representatives of Vietnamese and Russian ministries and departments in Moscow on May 23 to discuss activities to celebrate the Vietnam Year in Russia and vice versa.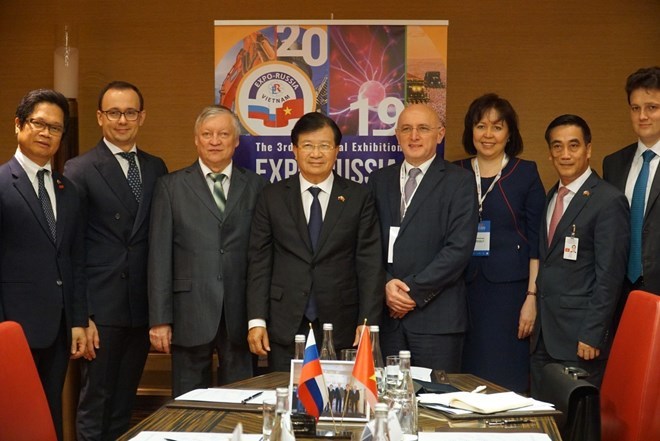 Deputy Prime Minister Trinh Dinh Dung (fourth from left) and Russian partners discuss activities to celebrate bilateral ties
He welcomed trade and investment promotion activities to be held in the two countries, including the Vietnam-Russia international exhibition and the Vietnam-Russia business forum, which will expand bilateral cooperation at national and local levels.
The economic, trade and investment relations between Vietnam and Russia are being built based on the traditional close friendship and should be strengthened, he said.
Chairman of the board of directors of event organisations David Vartamov presented some typical activities of the Russian Year in Vietnam, focusing on the Vietnam-Russia industry exhibition 2019 and the Vietnam-Russia business forum which are scheduled to be held in Hanoi at the year's end.
The exhibition in 2017 attracted 123 businesses representing 25 Russian localities, he said, adding that this year's event is expected to receive support from the two countries' governments to lure more enterprises from Russia and the Eurasian Economic Union (EAEU).
Earlier on May 22, Deputy PM Dung met his Russian counterpart Maxim Akimov to review the implementation of the Vietnam-Russia inter-governmental committee's activities since the 21st session in October 2018.
In 2018, two-way trade reached 4.57 billion USD, a year-on-year rise of 28.6 percent. Vietnam and Russia aim to increase the bilateral trade to 10 billion USD by 2020.
The two Deputy PMs agreed to make it easier for Vietnamese and Russian businesses to cooperate, especially in fields of their strengths.
They pledged to strengthen coordination to organise activities within the framework of the Vietnam Year in Russia and the Russia Year in Vietnam in celebration of the 25th anniversary of signing the treaty on basic principles for the bilateral friendship (1994-2019) and the 70th founding anniversary of diplomatic ties. (1950-2020).
Vietnam, Russia foster cooperation in e-government building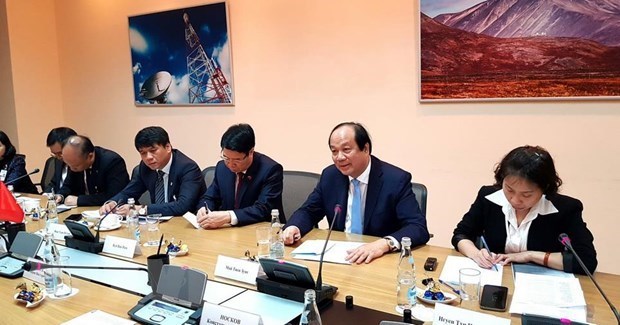 Minister-Head of the Government Office Mai Tien Dung (second from right)
Minister-Head of the Government Office Mai Tien Dung held a working session with Russian Minister of Digital Development, Communications and Mass Media Konstantin Noskov in Moscow on May 23 to discuss measures to boost cooperation in e-government building.
At the meeting, the ministers exchanged views on the implementation of the two agencies' memorandum of understanding on cooperation, under which a project on building a national cyber-security system is considered a special cooperative scheme and has drawn special attention from Vietnamese Prime Minister Nguyen Xuan Phuc.
Dung told the host that the Government Office is exerting efforts to set up a national public service portal, scheduled to be launched this November. The office is also working on a governance centre of the Government and the Prime Minister, and an Indicator Reporting Information System.
These works need help from Russia's experienced experts, he affirmed.
Noskov shared his country's experience in implementing infrastructure projects to facilitate the building of an e-government, including an e-document exchange system between different sectors, an electronic identity system, and a national public service portal. The three projects have been carried out in Russia over the past decade with a total investment of around 14 million USD.
He said that his ministry is coordinating closely with Vietnam's Government Information Security Committee in building a cyber-security system, and plans to cooperate with Hanoi's People's Committee in building smart city.
VNA