Deputy Foreign Minister Le Hoai Trung speaks about Vietnam's national report under the third-cycle Universal Periodic Review (UPR) in Geneva on July 4 as part of the ongoing 41st session of the United Nations Human Rights Council (UNHRC).
How did the international community evaluate Vietnam's report?
This meeting is a continuation of the second cycle held in January this year. While the January meeting last three hours and drew in the participation of more than 130 countries' delegations, this month's meeting was just in one hour.
Vietnam commits to promoting protection of human rights
Transgender law to be discussed by 2020
Vietnam and LGBT rights: Making strides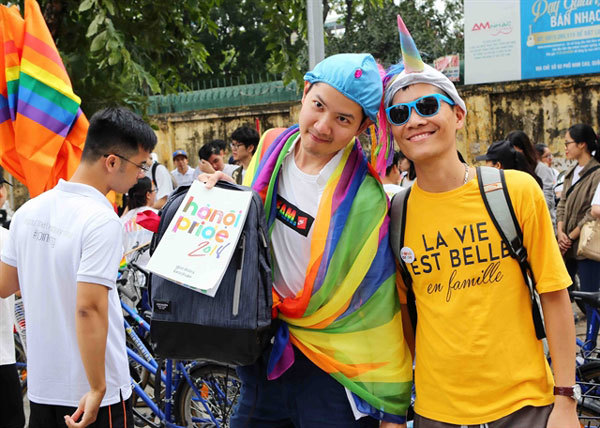 Ha Noi Pride Festival in November 2018. Vietnam's efforts to promote LGBT rights was one of the areas that received appreciation from international community during July 4 UN meeting to consider Vietnam's third-cycle Universal Periodic Review (UPR) national report. — VNA/VNS Photo Thanh Dat
Representatives of participating countries and organisations praised Vietnam's efforts and acknowledged the country's progress in judicial reform, completing its legal system concerning human rights and increasing people's living standards.
Vietnam accepts 241 out of 291 recommendations made by UN member countries within the framework of the UPR mechanism. This is a very high percentage, indicating Vietnam's determination to uphold and promote human rights in the country.
The huge number of recommendations also shows that countries are paying much attention to our achievements and hope that we share more and we do better in these matters. There are just a few differences and biased information and evaluation of the human rights situation in Vietnam and we have rejected such one-sided critique. This is also a chance for Vietnamese delegation to discuss with other countries and clarify certain issues where differences in opinion remain.
What are the issues that were highly appreciated by other countries in Vietnam's report?
The evaluation was quite comprehensive.
Representatives of participating countries and organisations lauded Vietnam's efforts and acknowledged the country's progress in judicial reform, completing its legal system concerning human rights and increasing people's living standards. In 2014-19, we have completed 100 legal documents in different fields, from political rights to civil rights and other socio-economic, cultural rights.
We were also praised for the close ties between socio-economic development and sustainable development, an issue of great interest for EU member countries, since upholding human rights is not merely focusing on economic growth but also paying attention to social issues like poverty reduction, environment or labourers' rights, etc.
The third issue that was mostly highly appreciated was groups of new problems arising in human rights, including rights for LGBT (Lesbian, Gay, Bisexual, Transgender) people, rights of migrants, or climate change.
What is Vietnam going to do to realise the 241 recommendations made by UN members?
Vietnam has four to five years to implement the recommendations we have accepted during this cycle, and the results will be reported at the fourth cycle that is slated for 2023.
In the near future, the Ministry of Foreign Affairs will identify the areas to which the recommendations belong and assign tasks to ministries, sectors, localities and political organisations. Vietnam will also seek cooperation from foreign partners to build programmes of action, which will be submitted to the Prime Minister.
Vietnam will conduct an annual review of the implementation of recommendations and plans of action, including law and policy making, and specific measures, such as increasing the education budget and awareness of human rights. Vietnam will also conduct a mid-term review.
What does it mean for Vietnam to participate in the UPR since 2008 and commit to implementing UN members' recommendations?
The UPR is a process which involves a periodic review of the human rights records of all 193 UN member states. It started in 2008 and was recognised as a remarkable achievement of the UN Human Rights Council.
Vietnam has seriously taken part in all three cycles of UPR, showing it is a responsible member of the UN.
Through this process, we are also able to share with other countries our experiences in fostering and ensuring human rights in our country. At the same time, we have also learnt a lot from other countries, which can be incorporated into our plans and strategies on human rights protection in Vietnam.
During the implementation process of the recommendations, we also had the opportunity to talk with these countries, providing them with more accurate information about Vietnam and correct those who still have differences with us on this matter.
VNS