PM Nguyen Xuan Phuc valued efforts to promote connectivity and international economic links, including the Belt and Road Initiative, in his speech delivered at the roundtable meeting of the Belt and Road Forum for International Cooperation.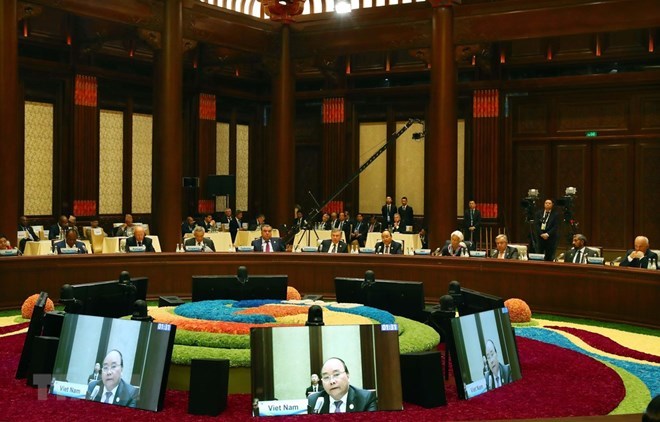 Prime Minister Nguyen Xuan Phuc devliers a speech at a roundtable meeting of the second Belt and Road Forum for International Cooperation (BFR) in Beijing, China.
He applauded the speech presented by Chinese President Xi Jinping, which highlighted important cooperative principles of cooperation of the 
the BRI.
PM Phuc stated Vietnam will continue to cooperate with China and other countries to build effective and win-win cooperation forms.
He also applauded the theme of the forum, which underlines the need to enhance connectivity, policy resonance and sustainable development.
Connectivity must be promoted comprehensively, including digital connection, and development of transport, energy, information and telecommunication, as well as coordination among countries to ensure favourable policies for successful connection, he said.

It is necessary to expand cooperation among countries, international organisations, and involvement of enterprises and people in the process, he said.
Sustainable development goals (SDGs) in BRI are similar to 17 SDGs of the 2030 Agenda of the UN for Sustainable Development, he said.
PM Phuc emphasised the need to ensure balance between short-term and long-term development targets, effectiveness on economy, sustainability on the environment and social harmony, and bring benefits to the people.
He highlighted the need to listen and respect opinions of small and big countries, adding that differences should be addressed through consultations and dialogues, to make their cooperation effective.
Cooperation should be transparent, open, sincere, mutually beneficial, and respect for sovereignty and territorial integrity, international law, he said, noting that this is the foundation for successful connectivity and development.
In his speech, the Vietnamese leader shared Vietnam's experience in the 30-year renewal process, stressing that development is responsibility of each country and that the promotion of potential and strength along with international integration is the basis for successful cooperation.
He affirmed that Vietnam is focusing on promoting its socio-economic development and international integration, including cooperation with BRI; while making every effort to realise SDGs of the UN.
Many leaders to the event expressed their support for Vietnam's opinions stated in PM Phuc's speech.
On the sidelines of the 2nd BRF's roundtable meeting, PM Phuc had meetings with leaders of Malaysia, Myanmar, and the Director General of the International Monetary Fund.

Prime Minister Nguyen Xuan Phuc left Beijing for Hanoi later the day, wrapping up his trip to China to attend the 2nd BRF.-VNA