Poor returns drive rice farmers from land
VietNamNet Bridge – One of the seven farming households in their district to walk off their rice paddies, Bui Thi Dung explains how her family's decided to give up on farming.
VietNamNet Bridge – One of the seven farming households in their district to walk off their rice paddies, Bui Thi Dung explains how her family's decided to give up on farming.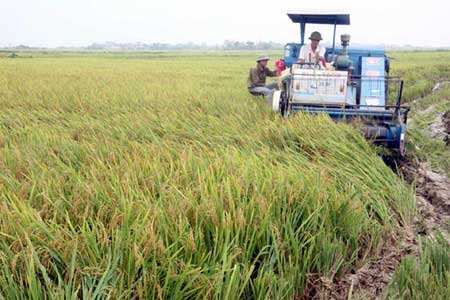 Farmers in northern Hai Duong Province harvest rice. Some farmers have waived their land-use rights and headed to the city because of the poor returns from farming.
"Our rice paddies are located in the low-land area and it's tough to increase production with just my old husband and I," said Dung, 55, speaking from her dilapidated house in Lam Son Commune, Thanh Mien District.
Under Viet Nam's law, the land belongs to the State and farmers have the right to use the land.
"Our kids all left for the city because we obviously can't make it with an income just from rice farming," she added.
According to Bui Cong Ha, another farmer in the same commune, dozens of other households also gave up on farming rice due to a shortage in laborers and a cold realization: farming doesn't make much money.
Ha had also rented his rice paddies to another family.
The northern province of Hai Duong looks after 148 of 62,000 hectares which have been deserted, according to official statistics.
The same has been happening across the country, notably in various northern rural provinces in the Red River Delta, considered the rice basket of the nation.
Farmers have taken to writing to local authorities to return their rice paddies, citing various reasons such as health concerns, a shortage of labor or ageing family members who struggle physically to continue rice farming.
But most of all, according to these farmers, income can barely keep up with the rising cost of living let alone cover the cost of fertilizers or seedlings.
The sudden resignation of many farmers has been alarming. In late July, the Ministry of Agriculture and Rural Development officially requested all provincial and city agriculture departments to assess the situation and report to the Ministry by the end of this week.
According to Nguyen Ngoc Doanh, Chairman of Hoa Binh Commune People's Committee in Kien Xuong District (northern Thai Binh Province), the commune is highly dependent on agriculture, meaning most residents are barely skilled enough to undertake a different profession.
Doanh said since 2005, communal authorities have been receiving written requests from villagers to return their rice paddies. At the time, 30 farmers gave up their rice paddies in the area of Lap River, far from their residential neighborhood and affected by high levels of salinity.
Currently, the commune has a total of 300 hectares of rice paddies, 15 hectares with no cultivation and five hectares which are completely deserted.
"We dearly hope that the Government would find ways to reduce the level of financial contributions for infrastructure development in purely-farming communes," said Vu Dinh Mam, an officer in land planning for the commune.
Also in Thai Binh, Chieu Ngam's rice fields span several dozens of hectares, touching three communes, including Dong Phuong, Dong Son, Dong Xa of Dong Hung District.
Many farmers here say the bumper spring crop doesn't make up for the low price of unhusked rice.
"I have about 720 square meters and if productivity reaches over 200kg, then I only make about VND1 million after deducting all the input cost," said Hoang Thi Phuong, a resident of Dong Phuong commune in Dong Hung District.
"I'm too old to find factory jobs. Many people asked us to temporarily cultivate their rice paddies because they don't want to do it."
For the 11,000 residents in Viet Doan Commune, Tien Du District (northern Bac Ninh Province), farming has, for generations, been a fundamental part of people's livelihoods.
"Many of us feel lost," said Vuong Huu Bang, hamlet chief of Dong Co, Viet Doan Commune.
In Dong Phuong commune of Dong Hung District in Thai Binh, only the elders and the young children are left.
Talks in Thai Binh have been focused on "not forcing farmers to just grow rice," said Nguyen Thi Nga, Deputy Director of the Thai Binh Department of Agriculture and Rural Development, who added that the province has been looking at "proactive" solutions to instruct farmers plant other higher-yield products.
For example, several communes in Quynh Phu District of Thai Binh have started growing chillies. According to Chu Cong Phuong, chairman of An Ninh Cooperative in An Ninh Commune, chilli growers can make up to VND2-4 million per 360 square metres.
In the long term, improving the productivity and income of farmers is critical, says Nguyen Do Anh Tuan, Director of the Centre on Agricultural Policy Advising.
Policy recommendations including increasing the use of technology, better adaptation to diseases and natural disasters, linking farmers with businesses, aren't new but they serve as a foundation to building agriculture that can generate better incomes, Tuan said.
In the meantime, some farmers are trying to prevent a mass exodus by restoring the land, because they feel responsible for the rice fields. There is hope and spirit yet in the rural areas of Viet Nam.
Vu Viet Ho, hamlet chief of Trung, Dong Phuong Commune of Dong Hung District, said his family now cultivates rice in an area of more than 8,000 square metres after taking over rice paddies that were left uncultivated.
"The communal authorities tried encouraging people to cultivate rice but many don't want to. The commune has also invited many organisations and unions to do the work," he said.
Nguyen Thanh Nghi, a resident in Doai Hamlet of Hoa Binh Commune, said she and several others agreed to work on sublet paddies to prevent waste of untouched paddies.
Direction needs to come from the top level, says Nguyen Van Nghia, Chairman of the Lam Son Farmers' Association in Thanh Mien District. Eighty per cent of income from agriculture and the consequences of uncultivated farming land, in the long term, would be disastrous for socio-economic development.
A farmer in the Mekong Delta recently made newspaper headlines for sending an emotional letter to Agriculture Minister Cao Duc Phat, detailing the struggle of farmers, lost and uncertain about their future in growing rice.
His sentiment is shared by many.
Le Hong Son, deputy chairman of the Thai Binh Farmers' Association, believes some farmers leave for several years and then eventually return to their hometowns.
"But life is still difficult, so they leave again."
Only time will tell.
Source: VNS