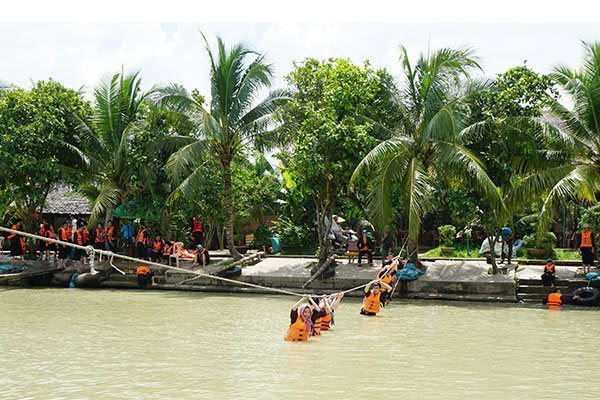 Tourists play a game at a tourist site in the Mekong Delta province of Ben Tre. Tourism products in the region have been diversified, but poor infrastructure has hindered the Delta's tourism growth
Road, waterway and airway transportation from HCMC to localities in the Mekong Delta region are inconvenient.
Waterways remain underdeveloped, while only the HCMC-Trung Luong Expressway helps tourists travel quickly from the city to the region.
Among the four airports in the region, Phu Quoc airport is located on an isolated patch of the island, and the other three do not have busy flight activities.
Cao Xuan Thu Van, head of a linked cluster to develop tourism in the provinces west of the Mekong Delta, said that the cluster and the region as a whole have made efforts to offer a wide selection of tourism products, so that tourists can have various experiences when traveling to each province.
However, the regional traffic infrastructure should be improved to enable tourists to visit more destinations in the future, she said at a press briefing on August 14 to introduce an upcoming forum to connect travel in HCMC and 13 Mekong Delta provinces.
Van called on the Government to focus on developing the regional traffic facilities.
Besides this, Tran Doan The Duy, vice general director of tour company Vietravel, said the transportation network both outside and within the region is inconvenient. It takes some 3.5-4 hours to travel from HCMC to Can Tho.
The traffic issue will be raised at the upcoming forum for solutions, he added.
Apart from the poor infrastructure, discussions at the press briefing also centered on the resemblance between tourism products offered in the region.
Some tourism officials said that the Mekong Delta has collected feedback and studied ways to design tourism packages based on the strengths of each locality.
The diversity of products is not significant, but the region has seen considerable improvement, they added. SGT
Dao Loan

The Cuu Long (Mekong) Delta province of Hau Giang plans to focus on sustainable agricultural tourism as part of its effort to lure tourists to the Mekong Delta region.

Seven more domestic and international air routes departing in Can Tho City have been launched since April, helping develop tourism, investment and trade for the entire Mekong Delta region.