Good news for tourism industry
Ben Thanh Market in Ho Chi Minh City, a major tourist destination in Vietnam, welcomed hordes of local residents and foreign visitors on the opening days of the year, with the purchasing power increasing by 15% to 20%.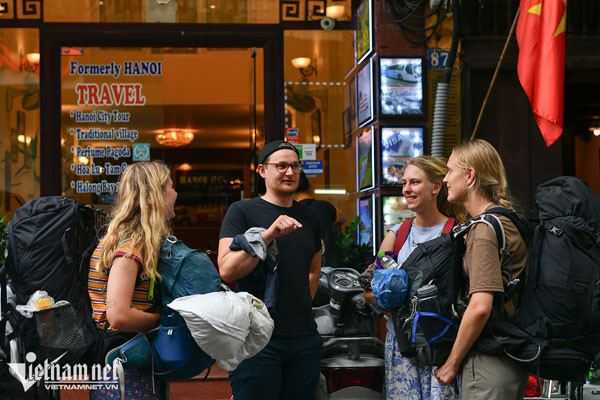 Sales recently flourished once again during the recent 2023 New Year holiday when visitors, including foreigners, packed aisles to buy items, said Truong Thi Tuyet Trinh, a local trader at the market.
This represents a good sign for the Vietnamese tourism industry on opening days of the New Year after three years of being negatively affected by the COVID-19 pandemic. Indeed, several localities recorded an impressive number of visitors, with international travelers accounting for between 60 - 70%.
The Vietnam National Administration of Tourism (VNAT) reported that the international tourism market has shown positive signs of improving immediately after the New Year holiday. Quang Nam took the lead, welcoming 89,000 foreign visitors, followed by Hanoi serving 38,000, Ho Chi Minh City 35,000, Khanh Hoa 6,950, and Ba Ria - Vung Tau 5,815.
The majority of foreign visitors were made up of Korean, Russian, German, and Spanish nationals. In addition, localities also received guests from India, the Middle East, Russia, Kazakhstan, and Uzbekistan.
Anh Tu, manager of The Light Hotel in Hanoi, noted a marked increase in the number of Indian visitors during the end-of-year tourist season, especially in November and December. In his opinion, there has been a shift occurring in the market, with Indian guests accounting for 70% of guests staying at the hotel.
This proves that aviation operations with the Indian market are yielding positive results, said Tu.
Last year saw Vietnamese airlines launch new direct routes connecting major Vietnamese destinations such as Hanoi, Ho Chi Minh City, Da Nang, and Phu Quoc with cities in western and southcentral India such as Ahmedabad, Hyderabad, and Bangalore.
A burgeoning year expected ahead
The recovery of the tourism industry during the 2023 New Year holiday can be considered positive, particularly in the context of the international tourism market rallying and airlines gradually resuming normal operations.
This can be viewed as a positive signal that the tourism industry is continuing to maintain its recovery momentum and has completely overcome difficulties after enduring two years of the pandemic, said Nguyen Trung Khanh, director general of the VNAT.
This strong outlook shows the right and timely direction of the Vietnamese tourism industry in terms of restructuring the visitor market and actively renewing its products, he added.
Meanwhile, Nguyen Le Phuc, deputy director general of the VNAT, said that in the year ahead when conditions for exchanging guests become more favourable, not only the Republic of Korea, but also other key Vietnamese markets such as China and Japan will be expected to grow strongly once again.
Steady growth is also expected to be achieved in Southeast Asian markets such as Thailand, Malaysia, Singapore, and Indonesia, as well as in Western Europe, Australia, and the United States. In addition, new markets that are likely to grow in the near future include India and the Middle East.
In order to attract these markets, the Vietnamese tourism industry should invest in developing resorts, beauty and spa services, as well as tourism associated with sports, especially golf, suggested Phuc in an interview with Lao Dong (labour) newspaper.
Vietnam reopened its borders on March 15 to stimulate tourist market demand, but it only welcomed approximately 3.5 million foreign visitors in 2022, meeting about 70% of the annual target. Moving forward, the tourism industry plans to receive eight million foreign arrivals in 2023 when the international tourism market is completely restored.
According to the official, the tourism industry will continue to improve its international competitiveness in an effort to attract international visitors. Another important task is to accelerate tourism promotion, tourism branding, and international co-operation and integration in tourism, while simultaneously strengthening inspection, service quality control, and destination management.
Source: VOV