President Tran Dai Quang and the Presidium of the Vietnam Fatherland Front Central Committee (VFFCC) will strengthen coordination to enhance people-to-people diplomacy and welcome international delegations to Vietnam as guests of the President and the VFF in 2017, especially during the High-level APEC Week in Da Nang.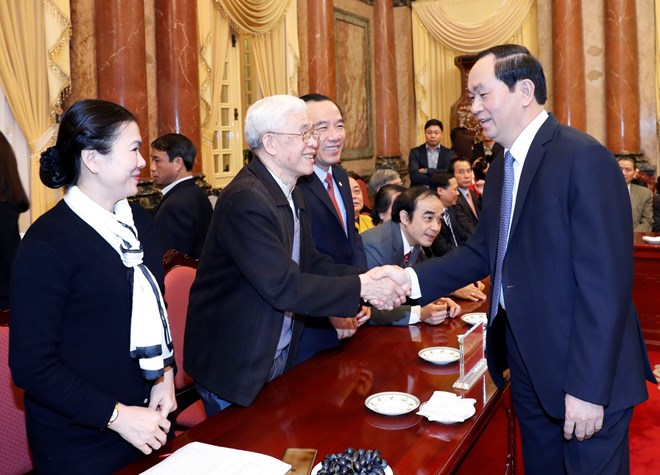 President Tran Dai Quang (R) shakes hands with participants in the meeting
The contents of the coordination programme between the President and the VFFCC presidium were discussed at a meeting in Hanoi on February 14, which was co-chaired by President Tran Dai Quang and President of the VFFCC Nguyen Thien Nhan.
Accordingly, the two sides are going to work closely to diversify activities aimed at calling for resources and joint efforts from people nationwide and overseas Vietnamese. They will also cooperate in proposing mechanisms and policies targeting expatriates, while promoting the role of persons with high prestige in ethnic minorities and religious communities.
They will also coordinate to direct the organisation of communication campaigns to promote patriotic emulation movements, carry out humanitarian activities, and care for disadvantaged people.
President Quang underlined the need for stronger coordination to build up and bring into play the strength of the great national unity bloc in realising socio-economic targets, ensuring defence and security, expanding external relations, building a pure and strong political system and a law-governed socialist State, and improving people's material and spiritual life.
He assigned the President's Office to work with the VFF to advise the State leader about internal and external activities, especially in people-to-people diplomacy, mobilising overseas Vietnamese' contributions, bolstering cooperation between Vietnam's socio-political organisations with foreign ones, thereby helping to develop the country's external relations and cooperation and creating a peaceful and stable environment for national development.
A report delivered at the meeting showed that the coordination between the President and the VFFCC presidium has helped improve the effectiveness of their respective activities in 2016. It has contributed to enhancing the great national unity bloc, encouraging people to comply with law, promoting democracy and protecting the rights and legitimate interests of people.
VNA