VIETNAM NEWS HEADLINES DECEMBER 7
Quang Ninh hosts Winter Carnival 2022
The Tuan Chau International Tourist Complex in Ha Long City in the northern province of Quang Ninh is scheduled to host Winter Carnival 2022 on December 24.
The highlight of the festive event is set to be a mobile stage in the shape of a yacht, as well as a parade of flower model cars. In addition, it will also feature a number of performers donning colourful costumes.
Visitors will be able to enjoy a wide range of performances which showcase the typical cultural and tourism attractions found in the northeastern province, along with sampling delicious cuisine and discovering interesting tourism products at the carnival.
Furthermore, audiences are set to be wowed by performances of helicopters, seaplanes, and paragliders in the skies overhead. Moreover, the festival will be free and open to all.
Injured foreign sailor brought ashore for treatment in Khanh Hoa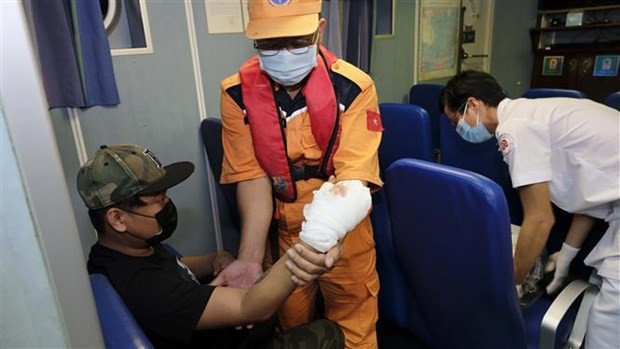 A Philippine sailor who was seriously injured while working on a Panama cargo ship was brought ashore for treatment at a hospital in Nha Trang city in the south central province of Khanh Hoa on December 6.
Jamandron Mafred Tagle, born in 1986, had his right hand crushed and seriously bleeding. The captain of the ship, which was en route from Japan to Singapore, had to seek emergency help from Vietnamese authorities.
Right after receiving the information, the Vietnam Maritime Search and Rescue Coordination Centre provided first aid guidance to ensure the safety of the victim. Due to the worsening conditions of the sailor, the centre sent Vessel SAR 272 with doctors onboard to give emergency aid to the victim and bring him ashore for treatment.
According to the centre, over the past month, it has conducted three rescue operations and brought four crewmen with health problems ashore for treatment in Nha Trang city.
Border knowledge disseminated for Vietnamese, Lao village leaders
A conference to raise knowledge about policies and laws related to the Vietnam-Laos border took place on December 6 in the central province of Nghe An, gathering nearly 200 village chiefs from 20 border provinces of the nations.
Addressing the function, Vietnamese Deputy Prime Minister Le Minh Khai and his Lao counterpart Saleumxay Kommasith said via practical acts, the chiefs and reputable people in border villages have made significant contributions to protecting the areas, and border markers and sustaining peace and security there.
They stressed the dissemination of information on related treaties, international agreements and legal documents are key to the effectiveness of the border work between the countries.
The officials said they believe participants will disseminate what they have learned when they return to their villages and continue their good work in guiding and encouraging local people to respect the nations' laws, especially regarding border-related marriages, immigration, and cultivation issues.
10th-tenure HCMC People's Council opens eighth session
The eighth session of the tenth tenure of the Ho Chi Minh City People's Council opened this morning to discuss, consider and approve key issues for the city's development.
Speaking at the opening ceremony, Chairwoman of the municipal People's Council Nguyen Thi Le informed that in a three-day working session, the delegates will concentrate on considering, giving opinions and approving key contents, including the assessment of socioeconomic, culture and national defense and security situation in 2022, orientations and set tasks in 2023, resolutions related to the fields of economy, urban field, culture, society, education, medical field and payroll of government agencies in the coming years.
It is expected that the municipal People's Committee will report the socio-economic situation in 2022, its directions and tasks in 2023, the implementation results of this year's themes, the adjustment of the additional income coefficient according to the National Assembly's Resolution 54, adjustment of the land price coefficient, support policies, especially those in the fields of education and health, and so on, at the meeting.
Regarding the public investment plan in 2023, some key projects will be highlighted such as the implementation of the Ho Chi Minh City - Moc Bai expressway investment and construction project; the project plan of dredging, environmental improvement and infrastructure construction of Xuyen Tam canal, a section from Nhieu Loc- Thi Nghe canal to Vam Thuat River passing through districts of Binh Thanh and Go Vap; the investment policy of renovation and upgrade for some relics; adjustment of investment and construction policy of Mach Kiem Hung Secondary School in District 5 and so on.
The Ho Chi Minh City People's Council delegates will ask leaders of departments, localities and leaders of the HCMC People's Committee on socio-economic situation, urban government building, public investment, solving difficulties for the health sector, pricing situation, anti-counterfeiting, brand protection, gasoline situation and so on.
The delegates will monitor the meeting on the results of implementing Resolution No.131 of the National Assembly on the organization of urban administration in Ho Chi Minh City; pass the draft resolutions on on socio-economic missions in 2023 and questions and answers activities.
President wraps up State visit to RoK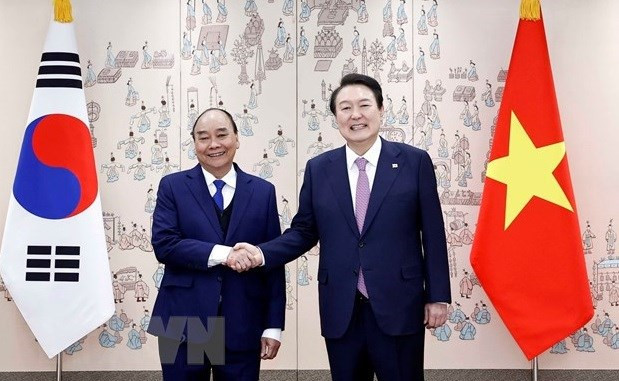 President Nguyen Xuan Phuc (left) and his Korean counterpart Yoon Suk-yeol. (Photo: VNA)
President Nguyen Xuan Phuc and a high-ranking delegation of Vietnam arrived in Hanoi on December 7 morning, concluding a successful State visit to the Republic of Korea (RoK) at the invitation of President Yoon Suk-yeol.
This was the first visit to the RoK by Phuc in his capacity as President of Vietnam, and also the first by a Vietnamese President over the past 11 years, and the highest-level visit by Vietnamese Party and State leaders to the RoK since the East Asian country had a new President.

Notably, President Phuc was the first foreign high-ranking leader to pay a State visit to the RoK since President Yoon took office in May this year.

During the visit, the two leaders agreed to issue a joint statement on upgrading the Vietnam-RoK relationship to a comprehensive strategic partnership, opening up a new chapter for the bilateral ties, with a brighter future for both countries and peoples. They agreed to promote the bilateral trade in a stable and balanced manner, remain leading trade partners of each other, and raise the two-way trade revenue to 100 billion USD by 2023 and 150 billion USD by 2030.

They also witnessed the signing of many cooperation documents between ministries, agencies, localities and businesses of the two countries.

At the meetings with RoK Prime Minister Han Duck-soo and Speaker of the RoK National Assembly Kim Jin-pyo, the leaders compared notes on cooperation orientations within the framework of the comprehensive strategic partnership in all fields, and expressed their resolve to deepen the bilateral ties.

The Vietnamese President had 12 meetings with nearly 30 leaders of Korean groups, banks, financial organisations and investors that are investing tens of billions of USD in the Southeast Asian nation.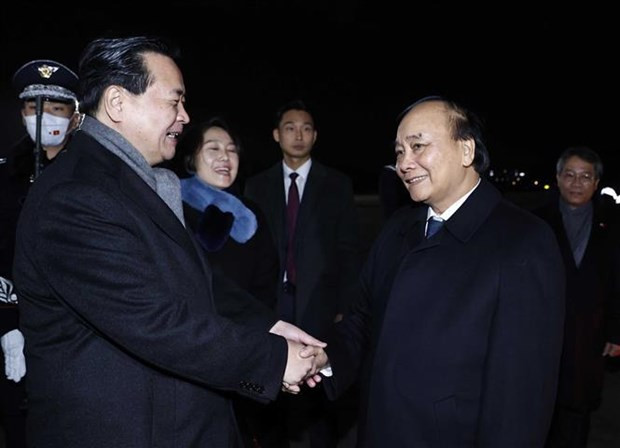 President Nguyen Xuan Phuc at the Seoul airport. (Photo: VNA)
The leader affirmed that the upgrading of the relationship helps to raise the mutual political trust and enhance the cooperation framework, thus creating a firm platform for the two countries' enterprises to run long-term business with a larger scale and gain more successes in the respective markets.
A highlight of the visit was the Vietnam-RoK business forum with the participation of more than 500 delegates and businesspeople from the two countries.
In his remarks, Phuc stressed that Vietnam always creates favourable conditions for Korean firms to operate effectively and sustainably in the country.
Apart from agreements reached earlier, as many as 15 others were officially inked at the forum. The accumulative value of the deals, along with commitments and investment proposals made during the President's visit, amounted to nearly 15 billion USD.
During the visit, the President met representatives of the Vietnamese community in the RoK and hosted receptions for representatives from cultural and friendship organisations that play an important role in promoting cooperation and people-to-people exchange between the two countries.
He also visited a Vietnamese-Korean multicultural family and held a working session with the authorities of Gwangju city in Gyeonggi province, among other activities.
With nearly 30 activities within three days, the success of the President's visit reaffirmed Vietnam's foreign policy of independence, self-reliance, peace, cooperation, development, and the diversification and multilateralisation of relations.
International web searches for Vietnam tourism remain high
International searches for tourism in Vietnam remain high, according to the Vietnam National Tourism Administration (VNAT) under the Ministry of Culture, Sports and Tourism.
In November, international searches for accommodation in Vietnam increased 12 times compared to March and the hunt for flights to Vietnam increased four times. Vietnamese destinations most sought after by international visitors were Ho Chi Minh City, Hanoi, Da Nang, Phu Quoc, Nha Trang, Hoi An, Da Lat, and Phan Thiet.
According to VNAT, in the first 11 months of this year, Vietnam attracted 2.95 million international tourists, 21.1 times higher than the figure in the same period last year. Visitors from the Republic of Korea were still the largest of the total number with 26%, followed by US tourists at 9%.
Nearly 597,000 foreigners visited Vietnam in November, up 23.2% month-on-month. At the same time, the number of domestic holidaymakers is estimated at 4.5 million. The total revenue of the tourism sector reached 456.7 trillion VND (18.27 billion USD), or 70% of 2019's revenue.
Vietnam is targeting 5 million foreign tourists this year. To achieve this goal, the sector has made great efforts to promote the image of the country and the people, as well as to diversify its tourism products and services.
2023 Vietnam VEX IQ National Robotics Championship to be held in February
The 2023 Vietnam VEX IQ National Robotics Championship will take place in February, heard a press conference in Hanoi on December 6.
The event, which will be jointly organised by STEAM for Vietnam, the American Centres in Hanoi and Ho Chi Minh City, and Hanoi University of Science and Technology (HUST), aims to bring ten Vietnamese teams to compete at the world's largest robotics competition: VEX Robotics World Championship 2023 in Dallas, Texas.
The 2023 Vietnam VEX IQ National Robotics Championship consists of a primary student group for students aged 12 and under, and a junior student group for students aged 15 and under. It hopes to attract 250 teams nationwide.
Work on Tan Son Nhat airport's new terminal set to begin in December
Deputy Minister of Transport Nguyen Danh Huy last week urged site clearance handover to be speeded up in order to start construction on T3 Terminal of Tan Son Nhat International Airport in Ho Chi Minh City in December.
Speaking at a press conference held after the monthly Government meeting, the Deputy Minister said it is important to have work on the airport's new terminal start soon.
The site dedicated for the new terminal is mainly national defence land. The municipal People's Committee will appraise and approve the site clearance compensation, and issue a decision of the revocation of the land.
The contractor and investor have to have enough financial resources, technical design documents and approved bidding procedures.
The investor has approved the plan of technical design and selected the contractor for the project's foundation since the end of July.
Vietnamese, Cambodian trade unions share experience
The Vietnam General Confederation of Labour (VGCL) and the National Union Alliance Chamber of Cambodia (NACC) organised a five-day conference starting December 6 in Ho Chi Minh City to exchange experience in trade union work.
This is an activity of the VGCL in response to the Vietnam-Cambodia Friendship Year, which marks the 55th anniversary of the establishment of bilateral diplomatic ties.
Standing Vice Chairman of the Ho Chi Minh City Confederation of Labour Tran Doan Trung said that the trade unions of the two countries have their own characteristics, which are in great need of exchange, cooperation, and sharing of experience.
Houth Soung, NACC President, expressed his hope that the two sides will intensify cooperation activities and share experience in the spirit of friendship, cooperation and solidarity.
During the five-day conference, participants are scheduled to exchange views on a lot of issues, including principles, forms and contents of dialogues in workplace; contents and methods of collective bargaining; occupational safety and hygiene in the context of implementing the post-COVID-19 socio-economic recovery programme; and rights and responsibilities of trade unions while participating in settling labour disputes and strikes.

Party's resolution on national industrialisation, modernisation disseminated
The 13th-tenure Party Central Committee's resolution on the continued enhancement of national industrialisation and modernisation by 2030, with a vision to 2045, was part of the focus of a national conference on December 6.
The hybrid event, opened on December 5, disseminated the resolutions issued at the 6th session of the 13th-tenure Party Central Committee in October.
Tran Tuan Anh, Politburo member and Chairman of the Committee's Economic Commission, said Resolution 29-NQ/TW on the work is the first specialised on national industrialisation and modernisation released by the Committee.
It is an extremely important political cornerstone for giving orientations about new mindsets, policies, tasks, and solutions to create momentum for national industrialisation and modernisation, helping realise the goals set in the resolution of the 13th National Party Congress, he noted.
Resolution 29-NQ/TW highlighted significant achievements in national industrialisation and modernisation over the last 10 years while straightforwardly pointing out shortcomings during the process, Anh went on.
Overall goals identified in the resolution include by 2030, Vietnam will have basically met the criteria of an industrialised country and been a developing country with modern industry and upper-middle income; and by 2045, it will have become a developed country with high income and one of the leading industrialised nations in Asia.
To achieve the goals for 2030, the resolution set up seven groups of main targets, including per capita gross domestic product (GDP) of about 7,500 USD and per capita gross national income (GNI) of over 7,000 USD.
It also outlined 10 groups of main implementation measures covering major issues, including reforming mindset and awareness, perfecting regulations and policies, resolving bottlenecks, and addressing shortcomings during national industrialisation and modernisation, according to the official.
Hungary offers 200 scholarships to Vietnamese citizens
The Government of Hungary has granted 200 full scholarships to Vietnamese students who wish to study at higher education institutions in the Central European country, announced the Ministry of Education and Training of Vietnam.
Of the total, Hungary agreed to offer 25 periodical scholarships, 90 graduate scholarships, 55 master scholarships, and 30 doctoral scholarships.
Those who take graduate programmes will learn over three to four years, while those who apply for a master's degree a PhD degree will learn for 1.5 to two years and four years respectively. Those who receive periodical scholarships will study for between five and six years.
The plan will see the Government of Hungary provide free training, research, insurance, accommodation, and living expenses in line with regulations.
Scholarship applications submitted in Vietnamese should be sent to the Department of International Cooperation under the Ministry of Education and Training before January 16, 2023.
Exhibition revives memory of victory against American aerial bombing

An exhibition reminiscent of the victory over the aerial bombing conducted by US forces against the north of Vietnam in December 50 years ago opened in the capital city on December 5.
On display are 84 documents, photos and artefacts about the 12-day battle archived by the Hanoi Centre for Historical Archives, the National Archives Centre III, Hanoi Museum and Vietnam News Agency.
They manifest the smart leadership by the Party and bravery of the army and the people in the north, especially in the capital, in the battle which subsequently led to the signing of the Paris Accord on ending the war and restoring peace in Vietnam.
In the battle, dubbed as "Dien Bien Phu in the air", the north sustained over 80,000 tonnes of bomb. Hanoi forces alone shot down 23 B-52 strategic bombers and captured 43 pilots, inflicting an unprecedented defeat on US forces.
Academy holds first piano, vocal competition for Vietnamese in Europe
Hamy Academy, a centre of music, arts, languages and sports training the the UK, has freshly launched the V-Stella 2023, the first piano and singing competition for Vietnamese in Europe.
Targeting children and adolescents in the age groups of 5-12 and 13-20, the contest consists of four categories, each having one first, one second, and one third prizes. Competitors have to sing in Vietnamese using songs composed by Vietnamese musicians or the country's folk songs.
Founder of the academy and head of the organising board Pham Ha My said V-Stella 2023 aims to find Vietnamese musical talents, preserve the Vietnamese language within expatriate communities in the UK and Europe, and bring classical music closer to the overseas Vietnamese audiences.
Candidates will have to go through three rounds, with the preliminary and second one taking place virtually on February 22 and March 22 to select the Top 26 and 20, respectively. The final round is slated for July 2 in London.
Goalkeeper Dung says goodbye to HCM City FC
Goalkeeper Bui Tien Dung has bid farewell to HCM City FC after three years with the club.
Dũng met many difficulties in tying down a starting spot during his three seasons playing for HCM City, totalling 22 matches. Two seasons ago, he was only capped twice. He did have more opportunities last season, playing in 13 matches and keeping five clean sheets.
After refusing to extend his contract with HCM City, Dũng is likely to join Hà Nội Police, who have just been promoted to V.League 1, where he will hope to be the No 1 goalkeeper.
With the help of Dũng, Hà Nội Police are a team that promises to create many surprises in the league next year. The side is recruiting players ahead of the new season. Signed so far are Phan Văn Đức, Nguyễn Xuân Nam, Đoàn Văn Hậu and Dụng Quang Nho.
A good performance in the new team can open the door for Dung to the Vietnamese national team. He was the hero of Vietnamese football in the AFC U23 Championship 2018 in which Việt Nam were the runners-up, the first time a Vietnamese national team made it to the final of a continental championship. This tournament also opened a successful period with South Korean coach Park Hang-seo.
Torch relay starts from Hanoi to Quang Ninh for National Sports Games
A torch relay ceremony was held on December 5 in Hà Nội, a first step toward the National Sports Games which will be kicked of on Friday in Quảng Ninh Province.
Nine outstanding athletes of Việt Nam - runner Nguyễn Thị Oanh, long jumper Nguyễn Tiến Trọng, divers Nguyễn Phương Anh and Phương Thế Anh, archer Đỗ Thị Ánh Nguyệt, wushu artist Dương Thúy Vi, boxer Nguyễn Thị Tâm, handball player Lê Đức Anh and gymnast Đinh Phương Thành - represented national competitors at the event held at the Hồ Chí Minh Museum.
Dr. Vũ Mạnh Hà, director of the museum, carried out the ceremony by receiving the fire at President Hồ Chí Minh's Temple and lighting the torch.
The torch was given to Deputy Minister of Culture, Sports and Tourism Hoàng Đạo Cương and then runner Oanh, who honourably held it while riding in an open convertible.
The torch relay, escorted by a group of sports motorcycles and cars of the Ministry of Public Security, began from Hà Nội and reached Quảng Ninh's SunGroup Square in the evening.
The fire will be kept at the venue until the Games' opening ceremony when the torch lighting ceremony is held.
The ninth NSG will be from December 9-21 in Quảng Ninh, the main location, and 10 other cities and provinces. This is the largest Games in history with more than 17,000 participants from 65 delegations competing in 43 sports.
OneWay Marathon offers unique sports tourism experience
A new running event, OneWay Marathon – Step over Your Limit, was launched yesterday on the beautiful island of Cát Bà near Hải Phòng City.
The island's first-ever running event on December 12 is expected to give runners a unique experience and precious bonuses at home.
Bui Minh Tuan, head of the organising board said more than 3,000 professional and amateur runners have registered to participate in the marathon. He expects that many more people will join the race after the official launch.
Organisers will deliver 24 prizes to top runners in three categories.
Female winners will take home an electric motorbike from sponsors VinFast, and another will be given to the winner of the Lucky Draw at the OneWay Marathon Festival on December 12.
Part of the cash collected from the marathon will be given to Operation Smile, an international medical charity that has provided hundreds of thousands of free surgeries for children and young adults in developing countries who are born with cleft lip, cleft palate, or other facial deformities. Ten scholarships will be delivered to poor students of Cát Bà, while another part will support treatment for infertile couples across the country.
Action drama featuring female gangster to open over New Year holiday
Thanh Sói (Pain Changes People), an action drama by movie star, director and producer Ngô Thanh Vân of HCM City, will open in cinemas during the New Year holiday.
The film is the sequel to Hai Phượng (Furie), a blockbuster by director Lê Văn Kiệt in 2019.
Hai Phượng is about Hai Phượng (played by Vân), a former gangster, who tries to live a quiet life in the countryside with her daughter. Things change when the girl is kidnapped and Phượng starts a journey to save her daughter.
The film earned VNĐ200 billion (US$8.6 million) in its first month of release in Việt Nam.
It was distributed in the US by Well Go USA Entertainment, screening in 600 cinemas in Dallas, Houston, Philadelphia, San Jose, Portland, Seattle, and New York. It was also distributed on the streaming service Netflix.
In the sequel, Thanh Sói, a new leader of the gang named Thanh Sói replaces Hai Phượng. The gangster's tragic life before entering the gang is highlighted.
The film features fashion model Đồng Ánh Quỳnh as Thanh Sói. Quỳnh overcame more than 300 candidates in casting to earn her biggest movie role.
Thanh Sói will debut on December 30.
HCM City spends VNĐ230 billion to restore relics at Ba Son factory
The renovation and embellishment of relics at Ba Son factory is expected to be completed in the first quarter of 2025.
The Ministry of Culture, Sports and Tourism was requested by the HCM City People's Committee to appraise the renovation and embellishment project of the monument as a memorial place for President Tôn Đức Thắng in the Ba Son area.
The construction area of ​​this project is about 6,000m2 with a total estimated repair cost of about VNĐ230 billion (US$9.44 million).
More than 60 artifacts, 100 photos and 120 other materials will be displayed at the monument.
Police warn people to be cautious about criminals using new tricks
According to police officers, a group of criminals has used high technology to defraud and appropriate property. They posted advertisements on social networks to recruit child models, and many parents wishing their children to become models have contacted these criminals.
The Criminal Police Department (PC02) today said that the unit received information that many parents were deceived by criminals who posted advertisements on Facebook including Baby fashion photo models and Recruiting children to be models for fashion goods. Many unknowingly innocent parents have become victims of deceivers.
Then, swindlers asked parents to download the Telegram application and put them in a closed group whose members are assistants, specialists, general managers, and collaborators. These people in the group asked new victims to act as online collaborators and they have to transfer money online to the bank accounts designated by fraudsters.
Police officers advised people to be vigilant by not sending pictures of their children to prevent bad people from taking advantage of them for malicious purposes as well as not transferring money on illegal requests to avoid being scammed.
At the same time, policemen required people to report the case to local police agencies which will handle, and immediately block the accounts of fraudsters for further investigation when discovering fraudulent money transfer requests.
6 teams established to inspect Tet food safety in 12 provinces, cities
Minister of Health cum Deputy Head of the Central Interdisciplinary Steering Committee on Food Safety Dao Hong Lan yesterday issued the task plan for food safety maintenance during the upcoming Lunar New Year and Spring Festival 2023.
Accordingly, the Central Interdisciplinary Steering Committee on Food Safety forms 6 inspection teams to work in 12 major provinces and cities of Vietnam: Bac Ninh, Ha Nam, Hanoi, Thanh Hoa, Ho Chi Minh City, Ben Tre, Nam Dinh, Thai Binh, Tien Giang, Vinh Long, Dong Nai, and Long An.
The subjects for inspection this time are organizations that manufacture, process, trade, and import food as well as those providing catering services, street food. The top priority of this inspection are the ones producing and trading traditional food for Lunar New Year and festivals like meat and meat products, soft and hard drink, traditional sweet foods and sugar-coated fruits, vegetables, food additives.
The Health Ministry proposed that the local authorities, especially in food processing villages, provinces with border gates, and major cities, increase their own interdisciplinary inspections on food safety as well, with a clear focus on popular food for Tet holiday and spring festivals.
Ministry approves Cambridge English certification exam
The Ministry of Education and Training has just issued a decision approving the joint organization of the Cambridge English certification exam.
Accordingly, the approved affiliated parties organizing the Cambridge English certification exam include the Center for Foreign Languages and Informatics under the management of the Ho Chi Minh City Department of Education and Training, principals, masters, and scholars of Cambridge University operating through an organization directly under the Cambridge University Press & Assessment.
As per the Ministry's guidelines, exam questions, exam registration process, exam organization process; facilities and equipment to organize the exam, and the assurance of security, safety and confidentiality before, during and after the exam shall comply with Cambridge's regulations and the laws of Vietnam.
The facility at 94 Tran Quang Khai Street in Ho Chi Minh City's District 1's Tan Dinh Ward will be the venue for the examination. Certificates issued are Cambridge including A2 Key English Test (KET), B1 Preliminary English Test (PET), and B2 First Certificate in English (FCE).
The duration of the joint operation to organize the Cambridge English certification exam between the Center for Foreign Languages - Informatics under the Department of Education and Training of Ho Chi Minh City and Cambridge is 5 years.
Archaeological artifacts unearthed at Thang Long Imperial Citadel displayed in France
An exhibition displaying archaeological artifacts unearthed at Thang Long Imperial Citadel in Hanoi was inaugurated on December 6 in the French city of Provins.
Coming to the exhibition, which will last until the end of December 2023, visitors will have a chance to learn about the citadel through panels presented in English, Vietnamese and French as well as leaflets, books and souvenirs. In particular, a video clip on the exceptional values of the Thang Long Imperial Citadel will help them have a general overview of the ancient city of Hanoi.
Vietnam unveils national costume for Miss International 2022
Vietnamese representative Pham Ngoc Phuong Anh has officially unveiled the outfit that she will wear during the National Costume Competition at the Miss International 2022 pageant which is currently taking place in Japan.
"Poinsettia Flower" designed by Le Long Vu and Than Nguyen An Kha draws inspiration from the legend of the Poinsettia Flower and Nguyen Thi Due, who was the first and only doctoral laureate female mandarin in Vietnamese feudal history.
Most notably, the highlight of the design is the headdress and the body of the dress, both of which have been decorated on architectural features from the statues of the Ly and Nguyen dynasties.
Phuong Anh is 22-years-old and stands at 1.77 metres tall with measurements of 87-61-93. The beauty, hailing from Ho Chi Minh City, first rose to prominence by winning the first runner-up title at Miss Vietnam 2020, meeting the criteria to compete at the global pageant.
Localities donate land for high-speed rail project
Provinces and cities where the HCMC-Can Tho high-speed railway runs through come to an agreement on donating hundreds of hectares of land for the rail construction.
According to the joint venture consultant contractor, Tedi South - Tricc – Tedi, the HCMC-Can Tho high-speed railway will be 1,435 mm wide and 174km long, including an 86-km above-ground section and an 88-km elevated section. It requires an estimated investment of some US$10 billion.
The railway line will start at An Binh Station in Binh Duong Province and end at Can Tho Station in Can Tho City.
The passenger train will be traveling at 190km/h and the freight train speed will be at 120km/h. It is expected to take 75-80 minutes to travel from Can Tho to HCMC instead of 180-240 minutes.
The railway has a great advantage that helps reduce transportation logistics costs, said expert Nguyen Xuan Hoa who has several years of work experience in the railway industry.
He suggested that capital-allocation priorities should be given to railway construction projects, including HCMC-Can Tho, HCMC-Nha Trang section, Hanoi – Vinh section, and Hanoi-Da Nang respectively.
Moscow State Linguistic University marks "Dien Bien Phu in the air" victory
The Vietnam Club at the Moscow State Linguistic University (MGLU) held an event on December 6 to mark the 50th anniversary of the "Dien Bien Phu in the air" victory.
In December 1972, Hanoi, Hai Phong and their vicinities were heavily bombarded in an aerial raid, known in Vietnam as "Dien Bien Phu in the air" and in the West as the 1972 Christmas bombing.
It was the last US military campaign during the war and lasted for 12 days from December 18 to 29.
Over 12 days and nights, the air defence grids in Hanoi and all across the north of Vietnam shot down 4,181 airplanes, including 34 expensive B52s.
Source: VNA/SGT/VNS/VOV/Dtinews/SGGP/VGP/Hanoitimes