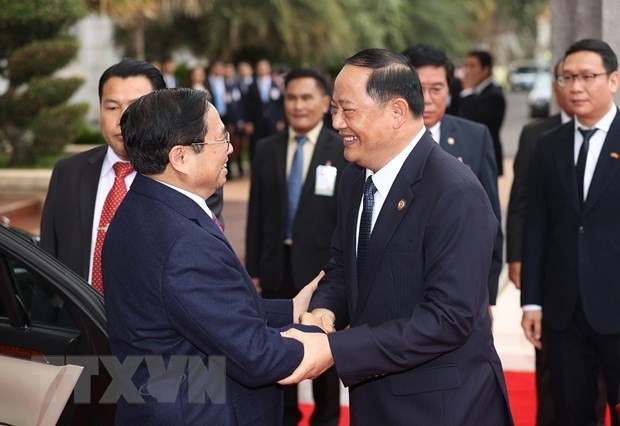 Prime Minister Pham Minh Chinh arrived in Vientiane on January 11 morning, beginning his two-day official visit to Laos at the invitation of his Lao counterpart Sonexay Siphandone, during which he will co-chair the 45th meeting of the Vietnam-Laos Inter-Governmental Committee.
He was welcomed at the airport by Minister, Chairman of the Lao Deputy PM Office Alounxai Sounnalath, Lao Deputy Foreign Minister Phoxay Khaykhamphithoune, Lao Ambassador to Vietnam Sengphet Houngboungnuang, and Vietnamese Ambassador to Laos Nguyen Ba Hung.
Right after arriving in Vientiane, Chinh laid a wreath at a monument dedicated to Laos' unknown martyrs in tribute to Lao people who sacrificed for the independence and freedom of the country, as well as for Vietnam's independence, freedom and reunification.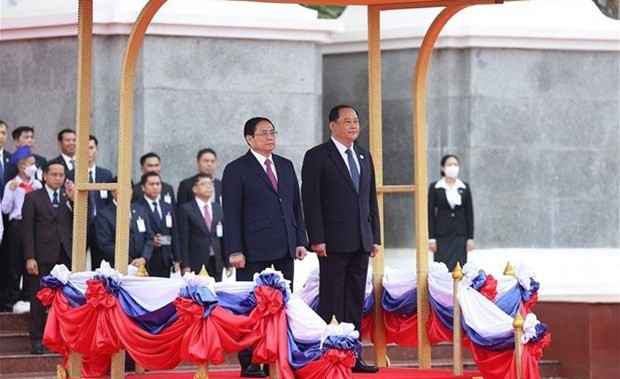 PM Sonexay Siphandone then chaired an official welcome ceremony for PM Chinh and the Vietnamese high-ranking delegation.
This is the first official visit to the neighbouring country by PM Chinh and his first overseas trip this year. PM Chinh is also the first foreign leader to visit Laos since PM Sonexay Siphandone took office.
During his stay, Chinh is scheduled to hold talks with Sonexay Siphandone; pay a courtesy visit to Party General Secretary and President of Laos Thongloun Sisoulith; meet with National Assembly President Saysomphone Phomvihane; attend a closing ceremony of the Vietnam-Laos, Laos-Vietnam Friendship and Solidarity Year; and meet the Vietnamese community living in Laos.
The visit affirms Vietnam's consistent policy of treasuring and prioritising the great friendship, special solidarity and comprehensive partnership between the two nations, as well as Vietnam's support for Laos during its national renovation and integration./.VNA