Procedures to be simplified for emergency licence for local Nanocovax vaccine
The Prime Minister has assigned the Ministry of Health to shorten administrative procedures for granting an emergency licence for the locally made Nanocovax vaccine against Covid-19.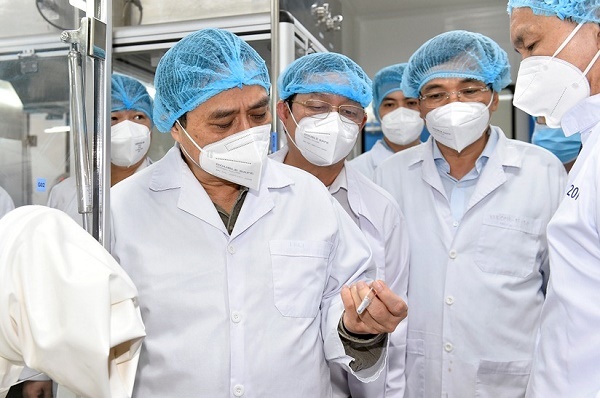 Prime Minister Pham Minh Chinh pays a visit to Nanogen Pharmaceutical Biotechnology Joint Stock Company, the producer of the Nanocovax vaccine. Photo: VGP
The Ministry of Health is responsible for the quality and safety of the Nanocovax vaccine when it is licensed.
The Nanogen Pharmaceutical Biotechnology Joint Stock Company began work on the vaccine in May 2020. It is based on recombinant protein technology.
The vaccine is currently under phase 3 trial. It has been given to 13,000 volunteers, and the final shots are being implemented before the preliminary report is released in late August or early September.
The phase 1 trial was conducted from December 18, 2020, phase 2 from February 26, 2021, and phase 3 from June 11, 2021.
According to the approved program, phase 3 of the Nanocovax vaccine trial was administered to assess the protective effect of the vaccine and was carried out at many centers in the country with the participation of 13,000 volunteers.
The test results in the first two phases showed that 100% of the volunteers developed antibodies against the SARS-CoV-2. The seroconversion rate was over 99%.
Thanh Nam

Nanogen, a Vietnamese biotechnology and pharmacy firm, has published two scientific articles on the results of research on the Nanocovax vaccine.

The National Ethics Committee in Biomedical Research today held an online meeting to review the results of the first phase of clinical trials of domestically-developed vaccine, Nanocovax, and to pass the mid-term assessment of its second phase.