Processing seafood by-products – the billion-USD industry

The country's seafood industry would have $4-5 billion more each year if byproducts were used, say experts.
A report shows that total seafood output in Vietnam is 7 million tons per annum, of which by-products account for 15-20 percent, or 1 million tons. This could be a valuable source of input materials to make products with high added value.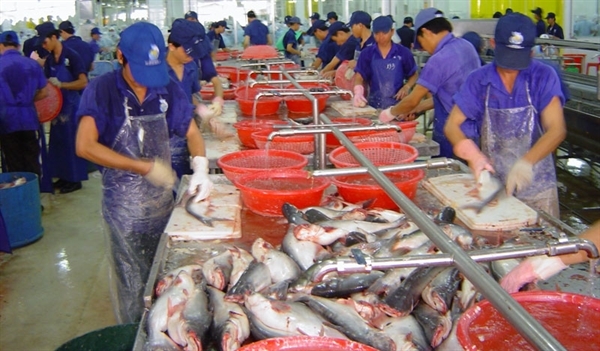 According to the General Department of Fisheries, the seafood by-product processing industry makes up $275 million, a very low figure if noting that the figure could be up to $4-5 billion.
According to Phan Thanh Loc, general director of VietNam Food, Vietnam has 320 million tons of shrimp by-products. If the by-products can be exploited fully, it can make up at least 10 percent of the shrimp industry's value.
However, currently, enterprises only use a part of the by-products.
Vietnam can recover 56 percent from by-products, while the average proportion in the world is 75 percent and 95 percent in developed countries.
Regarding the ability to create added value, in Norway, the finished product can create the value 28 times higher than the input product's value. In Vietnam, the figure is just 2-3 times.
Vietnam can recover 56 percent from by-products, while the average proportion in the world is 75 percent and 95 percent in developed countries.
Loc commented that Vietnam is 'throwing money through the window' if it cannot fully exploit the by-products. If Vietnam's businesses buy shrimp heads and shells just to make animal feed, the economic efficiency will be very modest.
They can earn several thousands of dong per kilogram when selling one kilogram of shrimp head to animal feed producers. But if the material is used to extract attractants in food, industries and animal feed, the selling price could be VND20,000, or five times higher.
If the by-products are used to make shrimp powder and shrimp salt, the selling price would be up to VND100,000. If it is used to make chitosan used for food wrap film, artificial plastic and other items, the price would be $400-500 per kilogram
Experts can also see high value from fish by-products. Vinh Hoan Collagen's director Vo Phu Duc said Vinh Hoan is the first company in Vietnam to make fish powder for animal feed from fish head, intestines, bones and tails. In 2015, the company built a plant that makes collagen and gelatin from catfish skin.
Tran Dinh Luan, deputy general director of the General Department of Fisheries, said this is a 'bottleneck' in the seafood value chain.
He said they need modern technologies and research to develop high-added value products.
Meanwhile, only one or two Vietnam's enterpriss have the technologies create high-value products such as chitin, chitosan and hydrolized protein used to make functional food.
Kim Chi 

MPM Investments Pte Ltd, a subsidiary of Japan's Mitsui & Co Ltd, has acquired 60 million shares in Minh Phu Seafood Joint Stock Company (MPC) to raise its stake in the Vietnamese shrimp processor to 35.1 percent.  

Vietnam's seafood exports to the other 10 members of the CPTPP have increased sharply since the agreement took effect earlier this year, according to the Ministry of Agriculture and Rural Development.