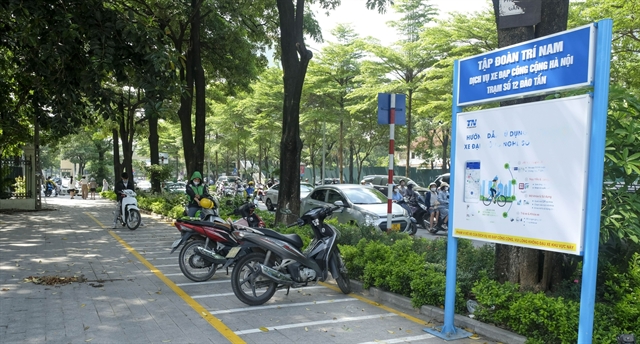 The area designed to serve as a bike station in Đào Tấn Street is now being used by motorbikes. Photo danviet.vn
The delay of the public bicycle-sharing service, which was slated to be piloted in February this year, has left local residents perplexed.
Vũ Xuân Trường a resident of Ba Đình District, which was scheduled to get 340 bikes, said the station signs had been installed for quite a while however, there is no sign of the service being launched yet.
"We are anticipating the service to cycle around Hà Nội. I think this is a good way to reduce pollution," he told Dân Việt newspaper.
According to the plan, six districts have been set to trial the public bicycle sharing service, namely Ba Đình, Đống Đa, Tây Hồ, Hoàn Kiếm, Thanh Xuân and Hai Bà Trưng.
The rental costs will start from VNĐ5,000 (20 US cents) for 30 minutes for a normal bike, and the price for an electric bike will be double.
For a full day, they will cost VNĐ60,000 and VNĐ120,000, respectively.
Nguyễn Thị Mai Anh, another resident of Ba Đình District also questioned the delay and expressed her wish that the service will be soon launched so both tourists and local residents can use it.
Some areas are ready to serve as bike stations, like the one in Đào Tấn Street, but are still empty.
A station near Lý Thái Tổ Park in Hoàn Kiếm District is also empty.
Lê Hữu Minh from the district often goes to work by bus but said he would try the bike service when it launches.
He said he looked forward to this new service because it's environmentally friendly.
A representative of Hà Nội's Department of Transport said it had asked the investor to hasten the launch of bike services in locations with venues that are ready for it.
In the first phase of the project, 1,000 bicycles, including about 500 electric bicycles, will be placed at 70 to 80 bike rental spots in the districts of Ba Đình, Tây Hồ, Đống Đa and Thanh Xuân and near stations on the Cát Linh–Hà Đông metro line.
In the second phase, which will be run between 2023 and 2024, 3,000 more bicycles will be placed at 350 spots.
Trí Nam Group, the investor in the project, has said it is estimated to cost around VNĐ26 billion (US$1.14 million).
Other localities which have trialled public bike sharing include HCM City, Quy Nhơn, and Bình Định Province. — VNS