Puppie cafes thriving in Central Highlands

A visit to the Central Highlands region of Vietnam offers plenty of incredible tourist experiences, including drinking fresh coffee in the hills and playing with cute puppies.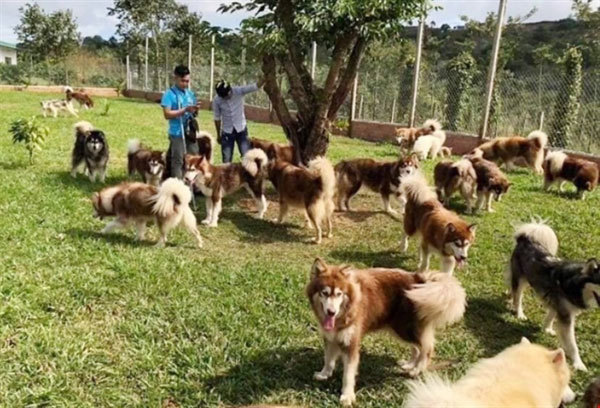 Alaska Hoang Gia is now raising puppies of over 120 breeds like Pug, Husky, Alaska or Poodle. — VNA/VNS Photo Hoai Thu
Located 54km north of Buon Ma Thuot City, Krong But District in the central province of Dak Lak attracted many visitors this recent Tet (Lunar New Year) to pet cafés.
I had an opportunity to visit Alaska Hoang Gia, located in Katy 2, Cư Kbô Commune in Krong But District earlier this year to enjoy the festive atmosphere during the traditional Tet holiday.
The new tourism destination has a two-storey building where visitors can enjoy various drinks, including fresh fragrant coffee, a garden to pet, play and pose with cute dogs and a breeding area to learn about various kinds of dogs.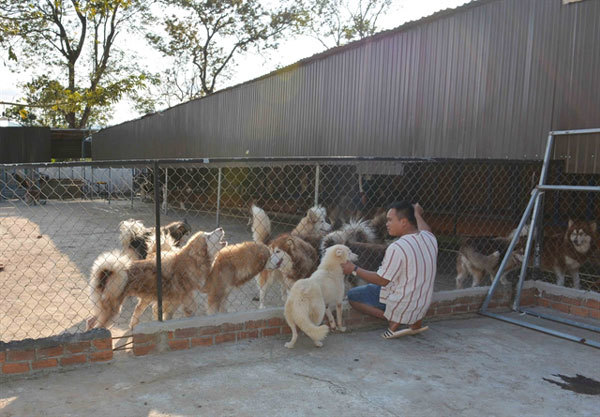 Hoang Van Tien, the manager of Alaska Hoang Gia café and also the director of Hoang Anh Breeding Cooperative is pictured with his dogs. — VNA/VNS Photo Hoai Thu

Alaska Hoang Gia is the first largest dog farm in the area and was established by a pet-loving local man, 29-year-old Hoang Van Tien.
On entering the house, I was immediately surrounded by puppies of more than 120 breeds like pugs, huskies, Alaska dogs and poodles, all of which are up to date on their injections and are frequently bathed.
Besides tasting coffee that costs about VND20,000 (US 90 cents) a cup, visitors can also join discussions on ways to raise dogs.
In the fenced garden, the atmosphere was livened with the laughter of a group of youths playing with nearly 20 puppies, each of which was about three months old.
"The first time I came here, I felt uncomfortable with the smell," frequent visitor Bui Huyen Trang from Cu Mgar High School said. "However, after a while playing with chubby Alaska dogs, I became familiar and fell in love with them. My friends and I frequently drop by the café to play with the dogs."
According to Nguyen Thao Chi, a student of Tay Nguyen University, there are only two pet cafés in Dak Lak Province, one in Buon Ma Thuot City and Alaska Hoang Gia. Though it recently opened, the latter has attracted an increasing number of young customers thanks to its variety of puppies.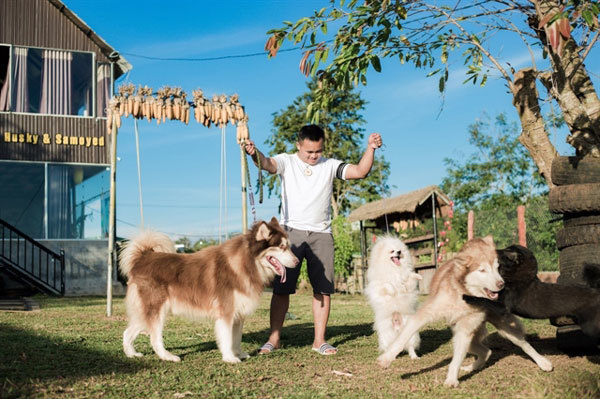 Alaska Hoang Gia café opened in June 2019 to connect animal lovers. — VNA/VNS Photo Hoai Thu

"The cuteness and hospitality of the puppies melts every customer's heart," said Chi who travels more than 50km to reach the café at weekends.
According to Hoang Van Tien, manager of Alaska Hoang Gia café and also the director of Hoang Anh Breeding Cooperative, the café opened in June 2019 to connect animal lovers.
This Tet, the destination welcomed about 200 visitors a day on average, he revealed.
"From the experience learned from this year's Tet, we will improve our service to serve customers better," he added.
Tien had the idea of opening a pet café at the end of 2016 when he saw the climate and soil of Krong Buk was suitable for raising and breeding dogs.
He spent months studying breeding techniques online and learning from other successful models.
After investing just VND50 million ($2,100) at the end of 2016, raising dogs combined with his café business has fetched his family a cool VND3 billion ($129,000).
Besides coffee and puppies, Alaska Hoang Gia also provides other services like spa and disease treatments for dogs, as well as accommodation and bathing.
Located on Y Ngong Street in Buon Ma Thuot City, The Zoo Kafein has also become a popular destination for coffee and pet lovers.
The shop has an open space with rows of trees, colourful flowers and various kinds of pets that make customers feel close to nature.
While leisurely sipping hot coffee, they can watch the Koi fish or play with puppies and kittens.
"The cafés now tend to open up their space, including diversified services to meet the various demands of customers," said regular customer Nguyen Hoang Anh.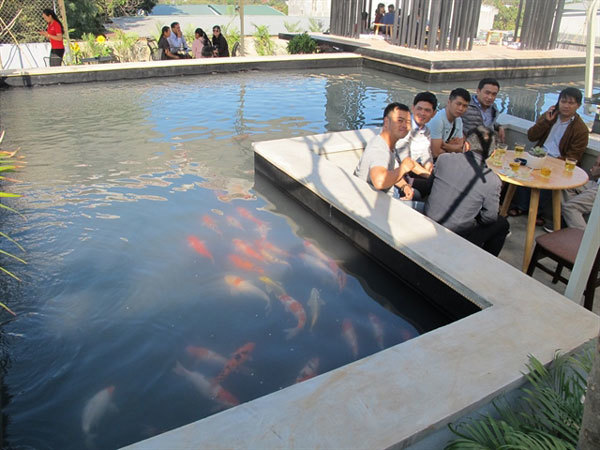 Visitors drink coffee next to the pool of koi fish at The Zoo Kafein. — Photo daidoanket.vn

"Many people consider cafés as a place to immerse themselves in a rustic atmosphere or simply just to escape reality," he added.
According to one of its founders, Nguyen Hoang Phat, The Zoo Kafein aims to offer a playground for animal lovers.
"We hope to inspire people to live close to nature and to become an address for others to share their experience in taking care of our beloved pets." — VNS
Phuong Ha

Located in a small alley off Hang Tre Street in Hanoi's Old Quarter, Hidden Gem Coffee offers customers a distinctive design which uses recycled objects as decorative items.  
A coffee shop in Binh Tan District, HCM City has become a popular destination for animal lovers with various types of animals including alpaca.

A pet-themed café in Saigon contains alpacas and turtles for animals lovers to play with while sipping a cup of coffee.