Quang Nam: Suspected heroin found washing ashore

Police in some central provinces have found dozens of plastic bags containing a substance suspected to be heroin at local coast.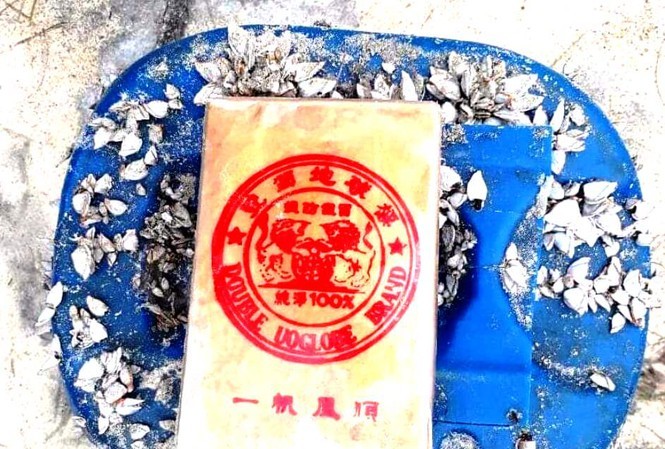 A heroin pack in a plastic barrel found along the beach in Quang Nam Province on November 30.
Colonel Hoang Van Man, commissar of Quang Nam Province Border Guards confirmed that they had found large amounts of heroin. The local authorities have launched an investigation to find the origin of the heroin and they are calling for the locals to bring the heroin to the police.
At 4 pm on November 30, a local in Tam Thanh Commune was walking along the beach when he found a plastic can which contained many white packages. Thinking that the packages might be heroin, he quickly reported the incident to the Tam Thanh Border Station.
It was later confirmed to be heroin. Other locals continued bringing the packages to the police after finding them on the beach. The border guards then called for the locals to bring the heroin to the authorities if they found any. They also checked the beach and found two more packages. The border guards successfully collected 25 packages.
On December 3, the border guards in Thua Thien-Hue Province confirmed that they had received a plastic can that contained 21 packages that might be heroin. The can was found on a beach by a local man. The packages contain Chinese and English characters which look similar to the packages found in Quang Nam Province.
Phong Hai Border Station reported on December 1 that they also received eight packages, weigh 7.8kg, which were suspected to be methamphetamine. It was found by a local who was collecting scrap on a beach.
Cambodian woman caught in possession of five kg of synthetic drugs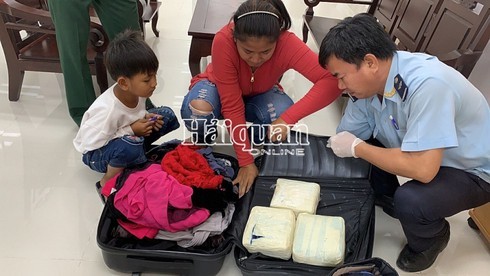 Officers conduct a search of the suitcase
The Tay Ninh Customs Department stated on December 3 that they had arrested a Cambodian woman after she attempted to smuggle five kg of synthetic drugs into the country through the Moc Bai Border Gate.
Customs officers first noticed a suspicious looking black suitcase in possession of Cambodian passenger Miech Sreyneang at 14:50 on December 2.
Upon conducting a search of the suitcase, officers discovered five square-shaped packages which had been carefully wrapped and hidden under clothes within the case. Each of the packages was sent for testing and was confirmed to be synthetic drugs.
When questioned, the Cambodian national claimed that the suitcase belonged to a woman known as Ly Na, whom she first contacted via Facebook in October, adding that the pair had only met five times.
The relationship between the two changed when, on November 30, Ly Na learnt of Miech Sreyneang's plan to take her son to Vietnam to receive treatment. This prompted her to give the Cambodian woman US$100 in return for bringing a suitcase into Vietnam and delivering it to a friend located in Ho Chi Minh City whom Ly Na had provided a mobile phone number for. Following the initial planning of the journey, Ly Na gave Miech Sreyneang the suitcase containing the drugs and two bus tickets to Vietnam on December 2.
Once in possession of the phone number of Ly Na's friend, customs officers immediately called it, but the person denied knowledge of the suitcase before turning off the phone.
The case is currently under further investigation.
Tienphong/Dtinews/VOV

Border guards operating in Dien Bien province have co-operated with their counterparts in Laos to successfully arrest two Laotian traffickers as they were in the process of transporting a large quantity of drugs into Vietnam.

Investigative police in Dien Bien have arrested two suspects for their alleged involvement in a transnational drug trafficking ring, with 220 packs of heroin, weighing 77 kilograms, being seized.