Quang Ngai teachers struggle to get mountainous children to go to school

Teachers in a mountainous district of Quang Ngai Province have to walk dangerous roads to local families to encourage children to return to schools.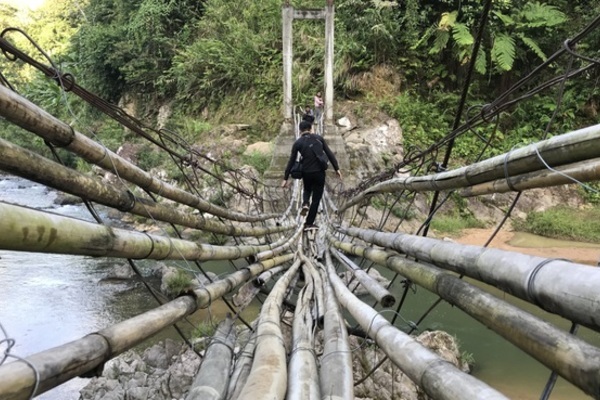 Children have to cross dangerous bridge
As the new school year starts, the teachers at the Son Bua Primary and Secondary Ethnic Boarding School have to go to every children's houses in Nuoc Mu residential area to persuade them to go to school.
Nuoc Mu area has 12 households and 25 students. The only way to go to the village is by walking along a slippery path in the forest. Travellers can fall into the stream if they make one mistake while crossing the suspension bridge.
"The suspension bridge is the most dangerous obstacle. It has deteriorated badly and fixed temporarily. Many children tend to quit school because of the long and dangerous path and neglect from parents," said Nguyen Van Anh, the school's headmaster.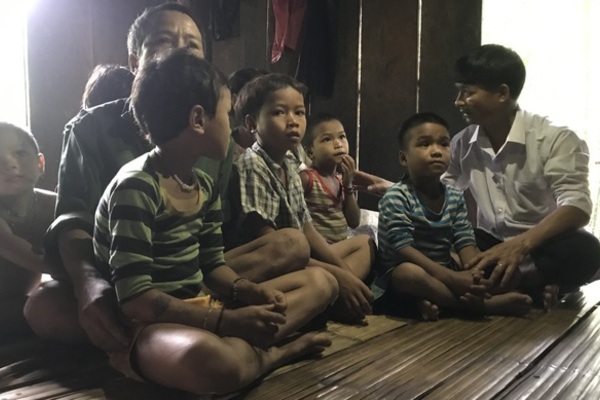 Nguyen Van Anh persuades the children to return to school
Once they reached the village, the children immediately hide away upon seeing Anh. At Nuoc Mu, if one child is absent from school without permission, other children will follow. Families in Nuoc Mu have a lot of children. Dinh Van Nui has 10 children and seven of whom are studying at Son Bua School. However, all of Nui's children were absent from school.
"I accompanied them to the school a few days ago. But today I wasn't able to so they stay home. They just want to stay home and play," Nui said.
Most people in Nuoc Mu are illiterate so they do not pay much attention to their children's studying.
"Tomorrow go to school I'll give you new clothes. Stay at the school so you don't have to worry about the long way home," Anh said to Nui's children.
Anh continued visiting other children's houses to persuade them. Some children haven't been to school at all since the new school year started.
"The road is especially dangerous during the rainy season. The children have to cross a dangerous bridge. It would be safer if they have a new bridge," Anh said. Dtinews