Quang Ninh considers seaplane route to Co To Island
The People's Committee of Co To Island District in the north-eastern province of Quang Ninh is mulling over a seaplane route linking the island with the province's Ha Long City.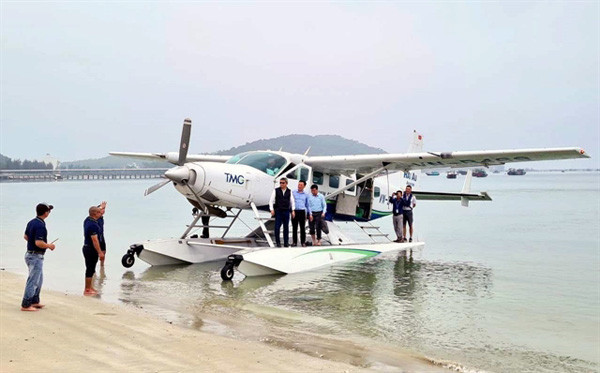 Trial flights were conducted on April 20 and 21.
By using the seaplane, travel time between Tuan Chau international wharf in Ha Long City and Co To is estimated at 20 minutes for the 80km journey.
Co To, located in the northeast of Quang Ninh, boasts huge potential for sea and island tourism and is an attractive destination for both domestic and foreign tourists with the number of visitors increasing constantly over the years.
A survey indicated that Co To has an inland waterway port with calm waters, suitable for seaplanes to take off and land safely, so a private company, Hai Au JSC, has decided to study and build a plan, as well as worked with the district People's Committee on opening the flight service.
Secretary of the District Party Committee, Chairman of Co To People's Committee Nguyen Viet Dung said that if the Tuan Chau - Co To route is opened and put into stable operation, it will help attract high-quality tourists to Co To, contributing positively to the district's development orientation of high-class tourism.
Co To is ready to coordinate and support Hai Au Company to survey and proceed to open the route, Dung noted.
The route is hoped to diversify services and shorten travel time to Co To, meeting demand of tourists in the high-end tourism segment, especially foreign holidaymakers.
It will fly across famous destinations such as UNESCO World Heritage Site Ha Long Bay, Bai Tu Long and Ngoc Vung, etc. at the height of 300-600m.
The seaplane that is expected to put into operation is an aircraft manufactured by Cessna, belonging to Textrol Aviation Group, USA.
This is the world's largest single-engine aircraft, designed to serve short flights, flying at low altitudes, to connect localities that are not too far away but are divided by terrain. There are currently about 3,500 Cessna Caravans in service around the world; including five in Vietnam. The aircraft has a maximum capacity of 12 passengers.
Source: Vietnam News