Quang Ninh urban development project will not affect bay: officials

The urban renovation and public beach development project in the northern coastal city of Ha Long, Quang Ninh Province, will not encroach on Ha Long Bay, local authorities have stated.
Ha Long aims to become smart city
Undersea tunnel planned in Ha Long City
Ha Long City transformed into Vietnam's top destination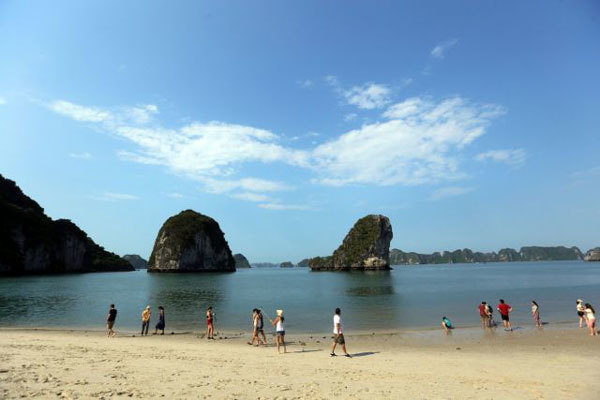 People walk on a beach in Ha Long City, Quang Ninh Province. The provincial authorities plan to ease the environmental impact of their new project. — VNA/VNS Photo Huy Hung
The project, invested by the city People's Committee, is underway and is expected to come into operation in 2020.
Tran Quoc Nghien Street, which stretches down the city's coastline, will be expanded from four lanes to six and pavements will be narrowed.
A new esplanade paved with wood will also be built along the street, presenting pedestrians and bicycle riders a clear, open view of the sea.
As a part of the project, Hon Gai public beach spanning 900m at the end of Tran Quoc Nghien Street will be opened in 2020. It will offer free entrance, freshwater showers and exercise equipment for locals and tourists, according to Vu Van Hop, Chief of Staff of the provincial People's Committee.
In another development, Quang Ninh Province authorities have launched an investigation into a sand mining project conducted by Dong Bac A Company in Binh Ngoc District, Mong Cai City, near the Vietnam – China border.
Sand mined from the area is used for key local projects; however, the company did not mine in approved places and local authorities exhibited poor management.
"If wrongdoings are severe, we will consider withdrawing or bringing criminal proceedings against the company," said Hop.
Dong Bac A Company was approved to mine sand in the district with a capacity of 4.5cu.m ??? per year.
The company has started large-scale mining operations and signed many deals with private enterprises since April, although it has not yet completed all necessary legal procedures.
In early May, city authorities demanded a halt on the project to investigate.
VNS