Hanoi's railway café street: Safety mustn't be exchanged for economic benefit
Hanoi authorities have decided to close the railway café street, even though it has been a popular tourism attraction in the capital city.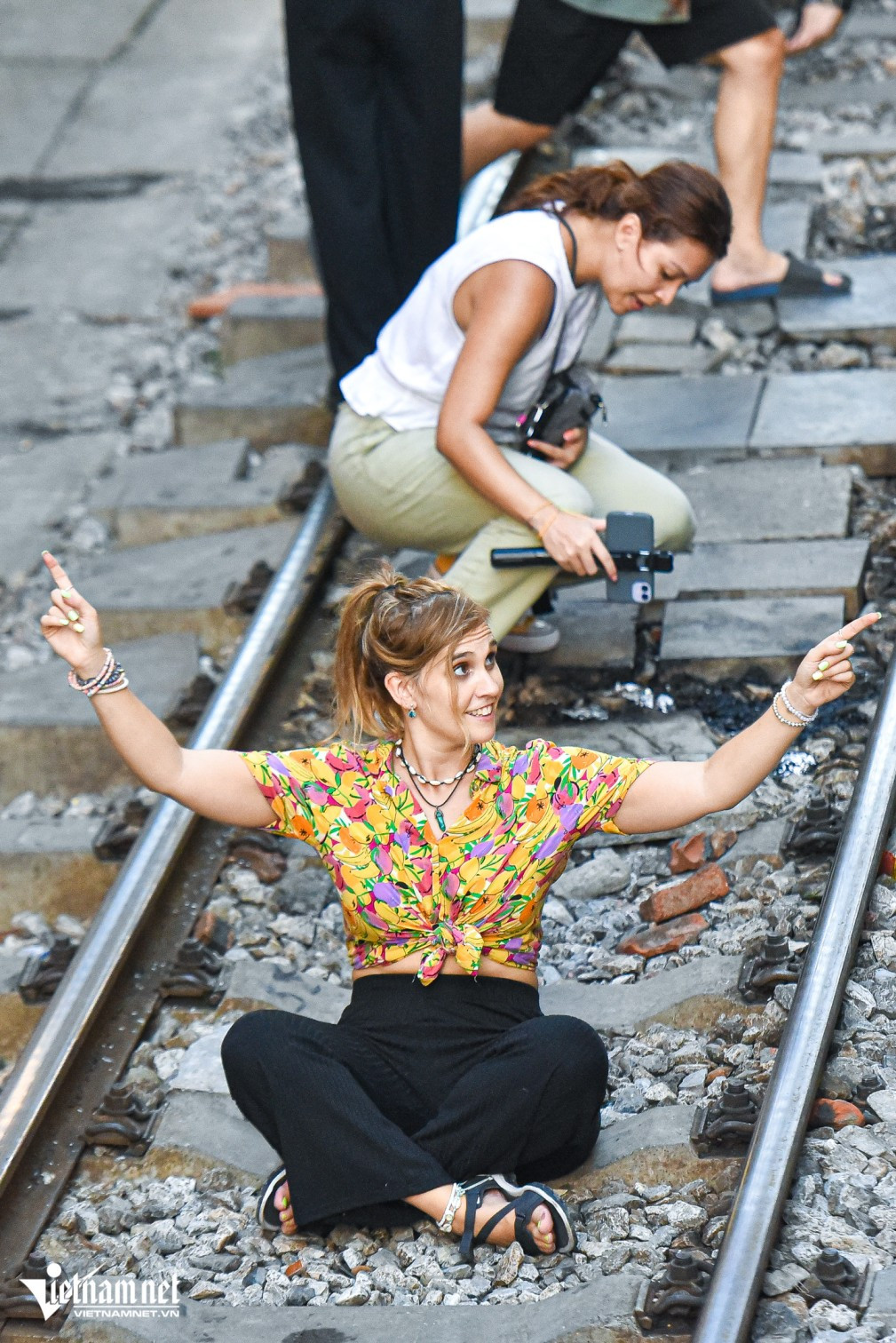 The Vietnam Railway Corporation (VRC) has asked the Hanoi People's Committee and the Vietnam Railway Authority to stop trade activity and picturetaking activities at railway cafes.
In the northern area of the Hanoi Station (from km 0+595 to km 0+840 of the Hanoi-Dong Dang railway line), many foreign travelers sightsee, take pictures and film of the railway, especially when trains pass by. Street shops mushroomed on the two sides of the railway and sell drinks to clients within the railway traffic safety corridor. This affected transport security.
On September 14, leaders of Hoan Kiem district People's Committee said that local authorities will temporarily close the railway café street and revoke business licenses from households that violate the railway traffic safety corridor.
The district will assign local forces to install barriers to block the entrance to coffee shops and ask people and travelers not to go there, as it causes security disorder and affects traffic safety.
Prior to October 2019, Hanoi authorities sought to handle violations of railway traffic safety order, and disperse crowded places where people gathered, sat and drank coffee on the railway.
But the railway café street became bustling again, becoming one of the destinations that most attracted foreign travelers. Many newspapers and tourism websites voted the railway café street as a must-see site.
The decision to close the railway café street has raised controversy. While transport experts insist on clearing the railway cafes in the area to ensure safety, tourism experts and travel firms want to find a solution to continue developing the railway café street as a tourism product.
Foreign travelers passionate about railway café street
Hien Kim from Best Price Travel Technology told VietNamNet that all foreign travelers booking Hanoi tours provided by the firm ask to go to the railway café street.
"The images of the street have appeared prominently on many famous journals and tourism websites and they have spread on social networks. Visiting Hanoi after Covid-19, many foreign travelers are curious and eager to come to the street," she said.
The tours designed for international travelers to Hanoi mostly are of famous destination sites such as Hoan Kiem Lake, Mot Cot Pagoda and water-puppet shows. The railway café street is not included in the tours' programs. However, travelers often ask tour guides to bring them to the street.
Bui Bang Giang, CEO of Asia Exotica, which specializes in serving Spanish inbound travelers, said that the railway café is not included in Hanoi tour programs, but when foreign travelers pass by or sight-see, they all give positive feedback.
"Our clients are not young people, but they are middle-aged and older. They love the space of railway street and enjoy experiencing sipping coffee and seeing how life there goes," Giang said. "This shows that the street has great attractiveness to travelers."
"In the current conditions of Hanoi, when tourism products are still poor, the street has emerged as an outstanding creative destination," she said.
Suggestions to develop tourism
Hoang Nhan Chinh, head of the Tourism Advisory Board (TAB), said: "The street has attracted a large number of foreign travelers, become an original image about Hanoi tourism, thus helping create jobs, and increase jobs for locals and eliminate social evils. These are positive things. However, it poses threats to the railway safety, local people and travelers."
"Problems really exist. But we need to analyze the problems to find solutions. It's not difficult to clear the street," he said. "State management agencies need to think about both ensuring sustainable development and ensuring traffic safety".
Giang of Asia Exotica said that railway streets also exist in Thailand, Singapore and Taiwan.
Safety mustn't be exchanged for economic benefit
Architect Pham Thanh Tung from the Vietnam Association of Architects, an independent critic, said that the activities of visiting and doing business in the railway café area violate the railway law and law on traffic of Vietnam. He agrees that that the shops must be shut down.
Deputy Chair of Hoan Kiem district Nguyen Anh Quan said that the view of the local authorities is that people's safety must not be exchanged for economic benefit.
He said all cafes in the area must stop operation no later than September 17.
Linh Trang