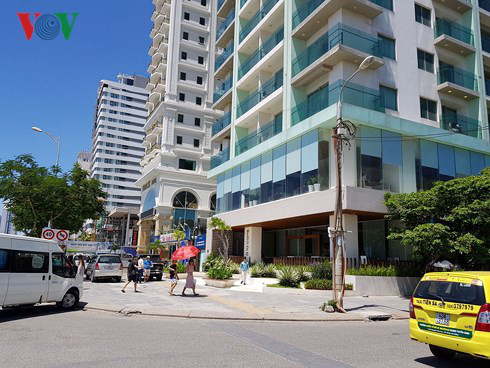 Illustrative image
Data from authorities showed the growth of foreign visitors to Vietnam in the past few years has averaged out at some 27%, which is a desirable rate for any tourism market.
However, the hotel industry has endured gloomy business in Nha Trang City since late last year, and in several other localities to some extent.
The key reason is that hotel development has far outpaced tourism growth.
In Nha Trang, the number of hotel rooms has leapt by nearly one third, from 29,000 rooms in 2017 to 39,400 in late 2018, as property developers have sought to cash in on the tourism boom, according to Nguyen Thi Le Thanh, deputy director of Khanh Hoa Province's Department of Tourism. Tourism is still growing strongly there, with international arrivals in 2018 soaring 16.7%.
Consequences are obvious. Numerous hotels are undercutting one another, pushing room tariffs to below the break-even point.
Thanh of the provincial Department of Tourism told local media that the actual room tariff at star-rated hotels in the city was equivalent to only 56% of the list price registered with the department, and despite the low price, the average occupancy rate since early this year has hovered around 43% only, far below the break-even point.
In central localities such as Thua Thien-Hue, Danang and Quang Nam, the outlook is not that gloomy, but signs of decline have appeared lately as tourist arrivals from South Korea and China as the key source markets have plummeted while new hotels, especially smaller ones, are still springing up.
Hotels are racing to push down room rates. The participation of numerous condotels in the accommodation market is another factor that policymakers and businesses have failed to take into account.
The market research company CBRE in a report last September said up to 30,000 condotels had been offered lately, and up to 90% had found buyers, in four key destinations — Halong, Danang, Nha Trang and Phu Quoc.
Condotels alongside home-stay services have further have made the competition heat up.
As hoteliers have no choice but to lower prices to survive this competition, their service quality is also adversely affected, frustrating guests and tarnishing the national tourism image.
In this rampant development of Nha Trang City's hotel sector, many stakeholders are to blame.
Many property developers as well as local authorities have failed to monitor market developments.
The Government in August 2015 approved a master plan for Khanh Hoa tourism development, setting a target to have a maximum of 23,700 hotel rooms by 2030 for the entire province, including 10,600 rooms for foreign guests and 13,100 rooms for domestic tourists.
That target has been far beaten now, up to 12 years ahead of time.
During the process, few warnings have been issued by relevant State agencies, scant advice given by tourism associations, and little intervention taken by authorities.
There have been numerous complaints over the lack of sightseeing venues or entertainment activities for tourists, but an oversupply of accommodation services. Such an imbalance is not just limited to Nha Trang of Khanh Hoa Province.
While destinations across the country are lacking capital to develop tourism infrastructure and short of money to enrich tourism products, the inefficient use of capital in the hotel sector can be seen as a waste of national resources.
It needs remedy, not just from property developers. SGT
A lot of people from China, South Korea, even Japan are buying resort properties in Vietnam, which is considered a sign of an attractive market to investors.  

More luxury hotels have arisen in anticipation of a tourism boom, and their owners are spending big money to hire foreign managers.

The authorities in Hanoi are rushing to add more accommodation as demand increases.