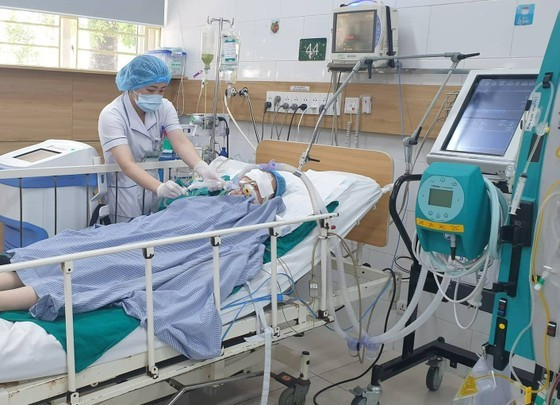 The Hanoi-based Bach Mai Hospital's Anti-Poison Center is treating a young girl with e-cigarettes poisoning
There has been increasing evidence that e-cigarettes and heated tobacco are more harmful to public health than regular cigarettes, even some that are mixed with synthetic drugs. With loose control, the rampant sale of these cigarettes has caused bad influences on society.
A few young people including some wearing school uniforms were seen at an e-cigarette business in a villa in Trung Hoa - Nhan Chinh area in Hanoi's Thanh Xuan District. Many of them tried to use drugs, and buy drugs and accessories.
According to store staff, there are about 200 types of electronic cigarettes, heated tobacco, and essential oils. There are many types of e-cigarettes including electric cigarette using machines and designs of e-cigarettes, the prices range from VND500,000 to VND2 million a piece.
There is a wide range of e-liquids with various nicotine levels available for social smokers, light smokers, average smokers, and heavy smokers with many different flavors such as strawberry, watermelon, mango, mango peach, chocolate, grape pomelo, litchi, peach and guava with prices ranging from a few dozen to several hundred thousands of Vietnamese dong a bottle.
Upon the question about whether the ingredients in essential oils affect smokers' health, the sale staff announced the imported goods to be safe for users and free of dangerous banned substances.
According to the reporter's research, e-cigarettes and heated tobacco are also widely sold publicly on personal Facebook, Instagram, and TikTok and many groups are using this product. The product is also sold at some traditional tobacco shops, even at stores near school premises.
Worryingly, most stores selling e-cigarettes and heated tobacco have seduced young people to try the new cigarettes as a fashionable person and it is easy to use but users will not be addicted.
Moreover, store staff also promoted e-cigarettes as a product that can help people to quit traditional smoking.
Many dangers
A representative of the Vietnam Directorate of Market Surveillance under the Ministry of Industry and Trade said that e-cigarettes and heated tobacco have not been so far licensed for distribution in Vietnam. Therefore, all products sold in stores are hand-carried and smuggled.
Meanwhile, Ms. Hoang Thi Thu Huong from the Legal Department under the Ministry of Health said that it is illegal for retailers to sell, advertise, trade and buy e-cigarettes or e-liquids that contain nicotine.
The lack of management of the sale and advertising of e-cigarettes will turn Vietnam into one of the new smuggling points of tobacco products from other countries and cause many dangers to the health of consumers, especially teenagers.
Director of the Hanoi-based Bach Mai Hospital's Anti-Poison Center Nguyen Trung Nguyen said that the number of patients with e-cigarette poisoning is increasing and they are very young with many cases of stroke and lung damage.
He revealed the hospital is treating a 20-year-old girl in Hanoi who came to the emergency room when she was in a critical condition. The young girl fell in a deep coma with heart failure, diffuse brain damage in all locations, liver damage, heart failure, and kidney failure due to prolonged e-cigarette smoking.
From the beginning of 2023 up to now, of the samples that family members of poisoned patients brought to the infirmary during the emergency process, the Poison Control Center detected 13 samples with drug ingredients, and synthetic marijuana.
Electronic cigarettes and heated tobacco not only have addictive nicotine but also contain many chemicals, artificial flavors, and even banned substances.
Therefore, e-cigarette smokers will be addicted, worse, they have been exposed to chemicals for a long time leading to acute lung damage, heart failure, hypertension, arrhythmia, respiratory system, nervous system, gene and immune system impairment.
Due to the dangers of e-cigarettes and heated tobacco to the community, authorities in many countries such as India, Thailand, and the Philippines have lately banned the business of e-cigarettes.
According to the Ministry of Health, tobacco products are harmful to consumers' health. Moreover, there is increasing evidence that e-cigarettes pose a public health risk similar to conventional cigarettes. But e-cigarettes and heated tobacco have the characteristics of being new products, different from the characteristics of traditional cigarettes, so the Law on Prevention and Control of Tobacco Harms 2012 cannot be applied to these products.
Dr. Nguyen Tuan Lam, an expert of the World Health Organization in Vietnam, said that if the government allows the circulation of electronic cigarettes and heated cigarettes in the country, it will rapidly increase the rate of use, leading to nicotine addiction and tobacco use among young people. At the same time, it will increase the risk of drug abuse morphing into e-cigarettes and heated cigarettes.
Source: SGGP