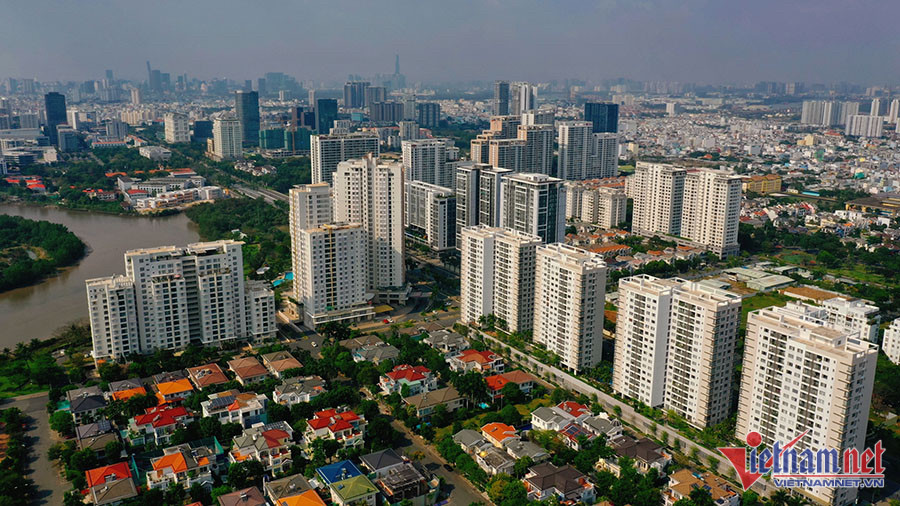 The investor still has no license because agencies have yet to calculate the land use fee. This is one of hundreds of housing projects in HCMC that are stuck because of legal formalities.
Many projects are facing the same problem. Developers cannot pay land use fees though they are ready to do so.
Complaints
A representative of P.T.M. said the company operates an apartment project on Tran Trong Cung street in district 7, HCM City. The project covers an area of 3,000 sq m and 100 percent of the land used is building land. The project obtained approval in 2020.
Nearly all legal procedures, including approval for 1/500 planning, examination of feasibility study and inspection of fire prevention items, have been completed. But it has still not been licensed.
"We have twice submitted additional documents for the project and asked the local Department of Natural Resources and the Environment to calculate the land use fees so that we can make payment. However, the agency still has not asked any consultancy unit to calculate the lump sum after two years," he said, adding that the project implementation deadline is August 2023.
Another realtor also wants to pay land use fees but still cannot do so. B.S. Company, the developer of an apartment project in Binh Trung Tay ward of Thu Duc City, said construction of the project wS completed and buyers received apartments in August 2017.
B.S. was required to pay additional land use fees for the 57.4 sq m of building land (with completed technical infrastructure) when allocated 574 sq m of canal land.
In 2018, the developer began following procedures, in order to receive pink books (the certificates of land use rights, home ownership and property attached to land).
In 2020, the Department of Natural Resources and the Environment issued a document requiring adjustment of the real estate pricing certificate.
The inspection agency completed the certificate and sent it to the department in Jan 2021. However, to date, B.S. still has no information about the land use fee it has to pay.
"This tardiness has caused difficulties for us to fulfill our commitments to customers. Many residents have not received pink books and have lodged complaints," a representative of B.S. said.
Home buyers have also complained about the payment of land use fees.
M.A., a resident of an apartment block on Nguyen Xi street in Binh Thanh district, who bought an apartment in late 2016, said she and other residents still have not received pink books.
When they complained to the project developer, they were told that municipal authorities have not approved the value of the project's land use rights. This is why the developer still cannot implement its financial duties.
The HCM City Department of Construction has reported that 152 housing projects (both commercial and social housing) in the city are facing legal problems, including the defining of land use fees.
Solutions
Nguyen Toan Thang, director of the HCM City Department of Natural Resources and the Environment, said the collection of land use fees, land and water surface rents for land plots with value of VND30 billion or higher is done under one of four methods – surplus, comparison, income and discount.
The total time needed to deal with dossiers to define land use fees and land rents is 3-6 months. In some cases, it takes one or several years for various reasons.
Meanwhile, regulations related to the defining and examining of land prices change regularly.
Thang said the tardiness in determining land prices leads to a failure to mobilize revenue sources for the state, loss of investors' opportunities, and negative impact on socio-economic development.
His department has proposed that the HCM City People's Committee issue a legal document to replace the National Assembly's Resolution 54 on the piloting of specific policies for HCM City development.
The city seeks to set the land adjustment coefficient (K coefficient) based on real situations occurring now, and will submit the proposal to the city's People's Council for approval.
Anh Phuong