Hanoi tourism is gradually "warming up" after a long period of being frozen, due to the COVID-19 pandemic.
Le Thi My Linh from Tay Ho district was very impressed and excited when she joined her friends for the first-time paddling stand-up paddle boarding (SUP) on the Red River.
The water sport was introduced to Vietnam not long ago, and it quickly drew much interest from younger people, as it offers a way of both entertainment, relaxation, and practicing physical health.
Linh and her friends booked a tour from Umove, a well-known company providing SUP paddling services in Hanoi, for 650,000 VND/person. The service includes the SUP fee, a tour guide, shuttle bus, a light meal, and travel insurance.
Following the COVID-19 epidemic prevention conditions, each tour only opens for a group of five to ten guests, who are requested to wear face masks and disinfect their hands.
After being instructed on how to use the SUP, visitors can row themselves along the safe route that had been surveyed by the tour operator, in order to discover the river that they have probably passed by several times, but have not yet had the opportunity to enjoy such fresh and lively scenes of its beauty.
Starting from Bac Wharf in Tay Ho District, to the Veterans Club in Long Bien District, the journey stretches about 10 kilometres, cruising along the fields of grass reeds on both banks of the Red River, which are already in full bloom, corn fields and green vegetable gardens and peaceful riverside fishing villages.
Not to mention the beautiful and iconic bridges of Hanoi, such as the time-honoured Long Bien bridge, Thang Long bridge, and modern Nhat Tan bridge.
Meanwhile, the family of Okudera, a Japanese man, Nguyen Phuong, and their friends chose the 'Red River Experience' tour of Anytrails Company, for their weekend escape. They had to book in advance for a closed tour.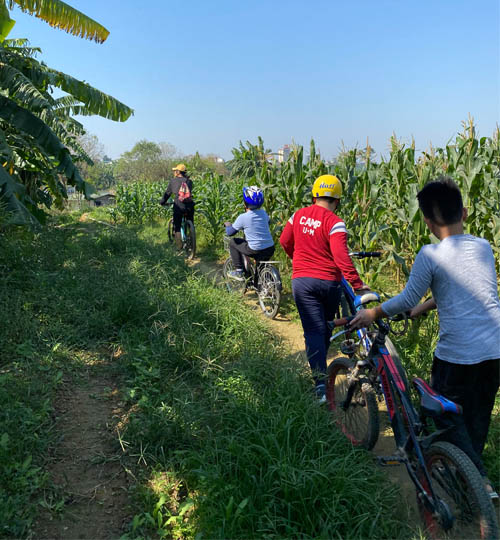 Children ride bicycles to explore the surroundings of Lau Island as part of the 'Red River Experience' tour, developed by Anytrails Company. (Photo courtesy of Anytrails Company)
The boat picks up passengers at the wharf, in the area of Ngoc Lam Food Street in Long Bien District, then taken to Lau Island, a small island in the middle of the Red River. From there, guests are free to go camping, walk around the island, take photos and enjoy a barbecue in the brilliant sunset.
Such short-distance trips not only provide an opportunity to bring family members and friends closer together, but also help children to exercise, observe and explore the nature.
Ha Dong Minh, Director of Anytrails, said that he came up with the idea of designing the tour, while walking along Long Bien bridge and looking down at the getaway, with lush vegetation and peace away from the hustle and bustle of the city.
The tour has not only attracted great interest from foreigners, but also Vietnamese people and Hanoians in particular.
Anytrails also offers tours to an ecological garden, which is located about 2.5 km from the foot of Long Bien bridge. During the tour, visitors can cycle on small winding roads and visit vegetable gardens. They can also harvest vegetables, cook or try their hands at making bricks and flower vases from recycled materials.
By developing tours to "green" destination, Anytrails also wants to provide visitors with a truly authentic "green" travel experience. The visitors are encouraged to avoid plastic and nylon products, and learn how to use recycled materials.
The kitchen and the guesthouse in the eco-garden are roofed with bamboo and leaves, and were built with eco-bricks. Most machines such as water pumps, blenders, fans, and pulps use solar energy, or they are attached to motors to generate energy. For example, visitors can blend smoothies by cycling with a blender.
100% of visitor's ranking and reviews for Anytrails are rated as excellent on the TripAdvisor travel forum. Most of the positive feedback comes from foreigners living in Hanoi, including Dutch Ambassador to Vietnam Elsbeth Akkerman.
In 2019, the Red River was named among the eight unmissable river destinations worldwide, in the book entitled 'The World's Great River Journeys' co-authored by two British travel writers Deborah Stone and Nick Dalton.
Besides the SUP paddling or camping tours, travel companies and tour operators, such as Amica Travel Company, Vietfoot, or Vgreen Sustainable Tourism Club have developed cycling tours, allowing visitors to explore roads along the Red River dyke.
It is the among the efforts of the tourism sector to welcome tourists under the safe and flexible adaptation and effective control of the COVID-19 pandemic conditions.
Source: Nhan Dan

Many tourists in Hanoi are paying 1.3 million VND for a bicycle tour around the capital city.