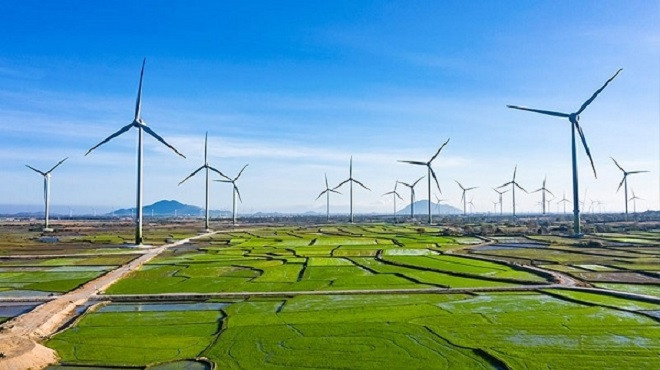 Under the draft, the MOIT has put forward a proposal to two scenarios:
The first one is power purchase made via transmission lines invested by the private sector: In this case, renewable energy generators and large electricity consumers would not face restrictions on capacity, output, or electricity use purpose. Power suppliers would be responsible for investing in an electricity project that aligns with the power development plan and obtain operating permits. Both generators and consumers must adhere to regulations on power purchase and retail electricity tariffs as stipulated in Decision 1062 dated May 4, at a retail price of VND1,920.3 per kWh.
The second scenario is over purchase conducted via the national power grid, specifically Vietnam Electricity Group as the exclusive electricity retailer: Power generators would have to own wind or solar farms connected to the national power grid with an installed capacity of 10MW or more. Large electricity consumers are organizations and individuals requiring power for manufacturing from a voltage level of 22 kV or more.
While waiting for the Pricing Law and its guiding documents to come into effect, retail electricity tariffs would comply with Decision 24/2017 of the Government on the mechanism of adjustment of average retail electricity tariffs and Decision 28/2014 of the Government on the retail electricity pricing list.
Once the Pricing Law comes into force, power generators and consumers would enter power purchase agreements, considering all fees constituting spot market prices and other service costs such as power transmission, distribution and power system regulating costs.
Due to the urgency of the mechanism, the Ministry of Industry and Trade proposed that the prime minister allow the fast-track drafting of a Government decree in accordance with the law.
In 2017, the MOIT assigned the Electricity Regulatory Authority of Vietnam to draft a direct power purchase mechanism between renewable power generators and consumers. Till May last year, the MOIT sought feedback on the pilot mechanism. Last July, the prime minister urged the ministry to complete the pilot mechanism to accelerate the fair energy transition and fulfill Vietnam's commitments at COP26.
Source: Saigon Times