Reproduced antique pottery preferred for Tet
VietNamNet Bridge – These days, the pottery market on Vo Thi Sau Street in HCMC's District 3 has turned more bustling as more customers have come to buy pottery, especially antique-like one, to decorate their houses
VietNamNet Bridge – These days, the pottery market on Vo Thi Sau Street in HCMC's District 3 has turned more bustling as more customers have come to buy pottery, especially antique-like one, to decorate their houses for the Lunar New Year, or Tet, which has 10 days to go.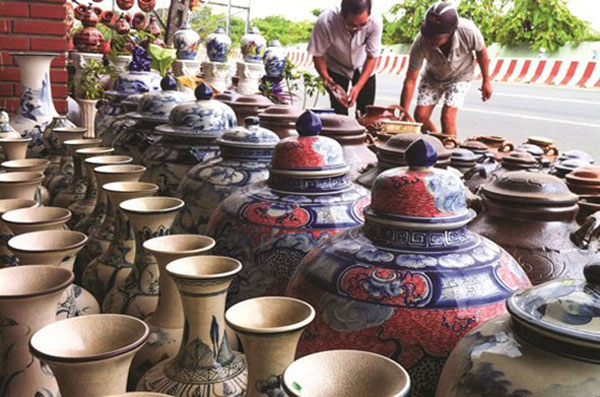 Customers inspect products at the pottery market on Vo Thi Sau Street in HCMC's District 3
On a half-kilometer stretch of the street, there are dozens of pottery stores opening early in the morning.
Looking for a reproduced antique pottery vase, a 65-year-old man identified as Hung from Phu Nhuan District says he has just had his house rebuilt, so he needs some pottery vases for interior decoration for Tet.
According to the man, pottery products on Vo Thi Sau Street have diverse designs with more beautiful colors and higher quality than several other places, especially reproduced antique pottery originating in the north.
"I love reproduced antique pottery because they give the house a little old look," Hung says.
Pottery at Vo Thi Sau Street is brought from craft villages of Bien Hoa in Dong Nai Province, Lai Thieu in Binh Duong Province, and from those in the north such as Bat Trang and Kim Lan in Hanoi, and Phu Lang in Bac Ninh Province, as well as products imported from China.
Tien Loi, the owner of a pottery store there, says that in the run up to Tet, he has to add more stocks, especially reproduced antique pottery items from the north which have the glaze plunge into the vases and designs similar to the antique styles, which appeared from the beginning of the Nguyen Dynasty, which dates from 1802 to 1945.
Loi says those products are made by artisans in Bat Trang, Kim Lan or Phu Lang village in the north. Thanks to upgraded technologies, the patterns on the pottery have become more sophisticated while its quality has improved.
The stores on this street sell many products made in the north as most shop owners there are from Bat Trang and Kim Lan villages. Now the street has more than 30 shops with more than 500 different types of pottery available.
Reproduced antique pottery goods are preferred by many people but their prices are not at all low. A trader identified as Thuy Van says these products are of high artistic value.
Normal products such as pots, flower vases, bowls and wine pots cost hundreds of thousands to millions of Vietnam dong. But for unique items processed through different stages and having sophisticated patterns, their prices are really high, at dozens of millions of dong.
VNS