The rise of ride-hailing firms at the expense of traditional taxis in Vietnam's transportation market is inevitable and seen as a positive trend, according to Prime Minister Nguyen Xuan Phuc.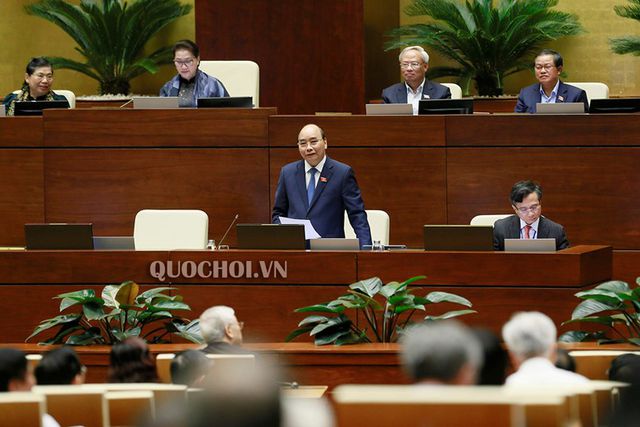 Prime Minister Nguyen Xuan Phuc at a discussion session at National Assembly. Source: quochoi.vn.
Such trend would help better meet transportation needs of customers with more affordable prices, ensuring convenience, safety and improving service quality of both taxis and electronic-contract based vehicles, Phuc said in response to a question of a National Assembly deputy on the management of ride-hailing firms.
Previously, a National Assembly deputy questioned about the fate of conventional taxi firms given the dominance of foreign ride-hailing firms, such as Grab, in passenger transportation markets in major cities like Hanoi, Da Nang and Ho Chi Minh City .
The deputy asked whether ride-hailing firms are receiving preferential treatment from the Ministry of Transport (MoT) by authorizing them to operate in various cities on a basis of a pilot program, making it difficult for domestic firm to adapt to new situation and transfer technologies in a short period of time.
Over the last four years, a draft decree in replacement of Decree No.86 setting conditions for transportation business has not been completed, which is also seen as a way for ride-hailing firms to dominate the market, said the deputy.
PM Phuc said the government has instructed the MoT to speed up drafting legal frameworks and policies supporting new business models, particularly those using hi-tech and from the sharing economy.
Phuc said the pilot program on ride-hailing applications in five provinces/cities namely Hanoi, Ho Chi Minh City, Quang Ninh, Khanh Hoa, and Da Nang, have initially brought about positive results for both customers and drivers, contributing to a more healthy environment of passenger transportation market.
"IT application in Vietnam's transportation sector is in the right direction and ensures efficient utilization of resources on the basis of fairness, transparency and healthy competition," stressed Phuc.
Phuc added all unnecessary business conditions would be removed in the new decree on transportation business, focusing on IT application in state management instead of traditional methods, such as putting a roof sign on electronic contract-based vehicles.
Revenue from the Vietnamese ride hailing market reached US$1.1 billion in 2019, an increase of over five-fold against that of 2015, according to a study in the report titled "e-Conomy SEA 2019", making it the fourth largest market among six largest ASEAN economies, including Indonesia, Malaysia, Singapore, Thailand and Vietnam. Hanoitimes
Ngoc Thuy

MyGo, Viettel Post's app, will likely decide to focus its fleet on delivery services and drop ride-hailing.

Traditional taxis and ride-hailing vehicles need not have light boxes installed as the Ministry of Transport has changed its stance, amending a government decree on transport business.