Role reversal lets young students take charge
The academic year is coming to an end. Phoenix flowers shed their bright orange red blooms on the boulevards of Ha Noi, Hai Phong, Da Nang and Ho Chi Minh City.
The academic year is coming to an end. Phoenix flowers shed their bright orange red blooms on the boulevards of Ha Noi, Hai Phong, Da Nang and Ho Chi Minh City. It's been like this for years. Students everywhere anxiously look forward to summer holidays.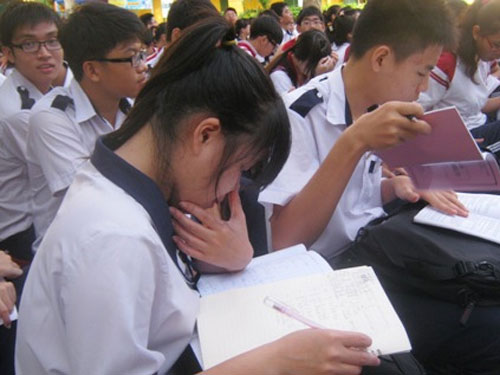 Illustrative image -- File photo
But before the school year ends and summer kicks off, there is a must-have parent-teacher meeting. Traditionally, the teacher talks at the meeting, briefing parents on school policy and achievements of the past year. In the old days, the names of students with academic or disciplinary difficulties were even spoken aloud in front of their parents. Needless to say, the parents must have felt uneasy.
Things have changed a lot in recent years. The changes came when the media reported on schoolwork overload harming children — and about how to teach our children to take charge and to live their lives in a positive and successful way.
I was quite surprised to hear my child's year-end parent-teacher meeting would be different.
I expected students to make one or two presentations in front of the class. But I was wrong.
The whole meeting was completely run and presented by students, with an open Q&A session at the end. The class teacher acted as the narrator and jumped in once in a while to explain or clarify.
It was really a meeting. Not preaching, nor torturing or even an embarrassing time, and an agenda for the year after.
When current parents were children in school, their own parents came home from year-end meetings in a great or terrible mood. If your children do you proud academically, then parents feel happy. But if your children score badly in maths or literature, it might be brought up as a subject to overcome in front of the class.
Now kids can be good at maths or drawing or music and sport. And they all feel great and make their parents happy.
Back to the topic of my child's parent-teacher meeting. I worried I was running late. But beautiful young smiling face greeted me, handed me my child's study marks, final exams, and grade for the year.
The class was re-organised for this meeting. There were not enough chairs to sit. So some parents had to stand, which made the meeting less stressful.
The teacher changed slides and students took turns presenting.
At the beginning of the year, students were introduced to "Seven-principles for Success": Self-discipline, Coordination, Understand and Be Understood, Win-win strategies, Priorities, Starting with purpose, and Living actively.
"The most challenging of all these objectives to understand is the win-win strategy," said the teacher. "Every time I asked a student, he or she would answer that when one wins, the other just looses."
Roadmaps of the curriculum were drawn with creative ideas and presentations. Video clips showed us how students worked in teams and as a class. It was fun. And the teacher and all the parents were looking at the accomplishments of our children as a whole. Instead of splitting hairs over academic scores or arguing about who does what.
Over the past year, they had two field trips and a talent show in which the class won top prize in clothing design. Some students won the maths, physics and English championships at school. The class organised a spring fair and a craft fair. And the last day of school was a book donation day for students to bring in used textbooks and new story books to exchange.
What about summer school?
"There will be no extra classes during summer," the teacher announced! "There will only be extracurricular clubs and a summer camp at Ba Vì National Park. You can sign up now."
The ending session summed everything up. We exchanged roles. The parents asked questions and their children answered.
"I know now that you swear and speak vulgar language a lot among yourselves," one parent said. "Will you put it on your agenda next year to discuss among yourselves how to speak positive words and not hurt each other? Can you do that?"
The answer was: "Yes, of course."
Then came questions about students' wishes and plans for summer.
"What is the first thing you will do on your first day of holiday?" I asked
"Sleep!" they said.
Wishing them all a cheerful and creative summer holiday!
by Nguyen My Ha
VNS