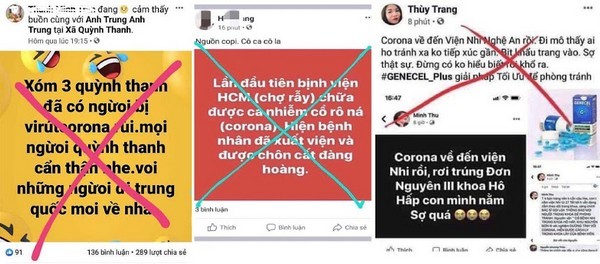 Facebook has failed to control Covid-19 fake news in many countries around the world, including Vietnam.
The largest social network in the world - Facebook - has about 2.3 billion users, including nearly 68 million in Vietnam. Since its first presence in 2008, Facebook has gradually overcome all competitors in Vietnam.
In addition to the benefits of connecting the community, Facebook also brings about many negative consequences. It has become a place for the spread of fake news, for illegal trade, for violation of customs, and for the spread of hatred and bad information.
This alarming situation stems from the fact that Facebook is doing business outside the law, does not pay taxes, and avoids the responsibility of a content service provider and social network. However, Vietnam is not an exception where Facebook behaves its own way and does not comply with the host's rules.
The expansion of the giant
Having the highest number of users on the planet, Facebook is accelerating its global expansion. If it is impossible to acquire a competitor (as was the case of Instagram), Facebook seeks measures to develop as quickly as possible to be global.
Reels was launched in August to compete with TikTok, Facebook Dating in 2019 to compete with Tinder, and Facebook Gaming in 2018 to compete with Twitch and YouTube. But the American tech giant's biggest ambition is Horizon, the virtual reality world that is no different from sci-fi movies. With Horizon, users will be immersed in an endless world with no way out.
Expanding very fast, Facebook defies just about everything to circumvent the rules in many countries. Only relying on its own Community Standards, Facebook has ignored the spread of hateful, malicious news, especially during the Covid-19 pandemic. This sent CEO Mark Zuckerberg to the hot seat where he had to testify before the US Congress. Facebook also has been investigated in Europe.
In its home country, Facebook had to face a boycott campaign called #StopHateForProfit. As a result, more than 160 top advertisers signed a pledge to stop buying Facebook ads in July.
Last year, Facebook earned $70.7 billion, 98% of which came from advertising revenue. The boycott is expected to slow down Facebook's expansion.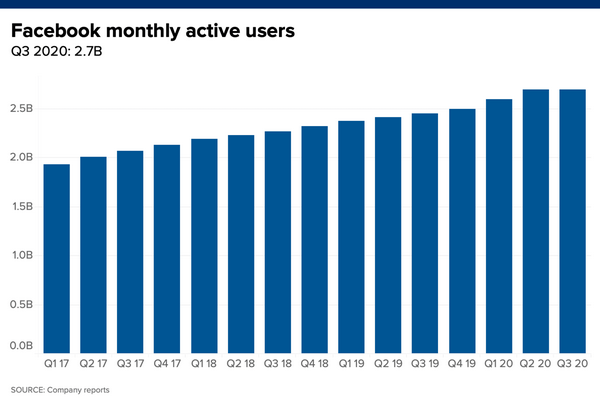 Despite being boycotted, the number of Facebook users decreased only slightly while revenue still grew.
However, the boycott did not affect Facebook much. Financial reports for the third quarter of 2020 showed that Facebook saw a slight decline in users in the US and Canada, but revenue increased by 22% over the same period last year. CEO Mark Zuckerberg said Facebook now has 10 million advertisers globally, compared with 9 million in July, when it was boycotted.
Numbers don't lie. The more it is boycotted, the bigger Facebook is. According to eMarketer's expert Nicole Perrin, the revenue contributor to Facebook is small and medium sized businesses, not multinational corporations, who pursue Facebook boycott campaigns to please public opinion.
In Vietnam, Facebook used to make a lot of money from malicious advertising such as functional foods labeled with special medicines, unauthorized beauty facilities, disguised gambling and prostitution, and fake money trading. Facebook is now giving a hand to fake and counterfeit goods by allowing uncontrolled livestreams for advertisements and online sales.
It is estimated that in 2018 alone, Facebook and Google earned $900 million from advertising in Vietnam, according to the State Bank report. However, the tax authorities cannot collect a penny because Facebook has no legal entity in Vietnam.
Challenges in managing Facebook
By not complying with Vietnamese laws and creating its own Community Standards, Facebook has caused huge tax losses for the Vietnamese government. This is also a common situation in the rest of the world as Facebook avoids paying taxes by shifting profits to tax havens. For example, in 2019 Facebook only paid 28 million pounds of taxes in the UK on a record revenue of 1.6 billion pounds (equivalent to 1.75%, see picture below).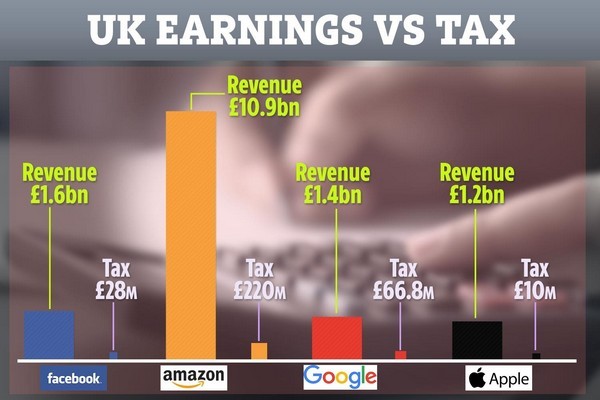 The UK is home to huge sales of tech giants, but the real tax returns are extremely low.
This has forced European countries to propose electronic taxation on where goods and services are consumed, not depending on the commercial presence.
Meanwhile, Southeast Asian countries have been at the forefront in imposing taxes on cross-border platforms and services such as Facebook or Google. In August 2020, Indonesia announced a 10% VAT tax on Facebook and TikTok's revenue generated in the country. Netflix, Spotify, Google, and Amazon have paid the equivalent tax since September 1.
Thailand, the Philippines and recently Cambodia have been considering a proposal to impose VAT on cross-border platforms.
Some developed countries have set up sanctions on cross-border companies that operate illegally in their local markets with fines based on percentage of sales. The sanctions force cross-border companies like Facebook to comply more seriously with local laws.
In Vietnam, the contractor tax is in place, but the aforementioned platforms still lag behind in fulfilling tax obligations. The contractor tax includes value added tax (VAT), corporate income tax (CIT), and personal income tax (PIT), which averages 10%. Only Netflix has released an official statement about its compliance with Vietnam's law, including the fulfillment of tax obligations.
What is the solution for Facebook to comply with the rules?
There is a legal basis, but Facebook and Google still have many ways to refuse to fulfill tax obligations and not comply with regulations on content control. These platforms only come into play when local authorities ask them to remove bad content.
As such, the current solution can only come from requiring users and advertisers to comply with the law. When the big advertisers stop spending money on advertising on Facebook, Facebook will have to go in the right direction.
But Facebook mainly relies on activities such as spreading malicious content, running ads to sell fake or smuggled goods... things that are difficult to control by calling for compliance with the law.
At the 10th session of the 14th National Assembly, Minister of Information and Communications Nguyen Manh Hung proposed identifying social network users. "We consider this a radical solution so that users no longer think that they are anonymous on social networks, so they cannot be irresponsible," he said.
Along with solutions based on specific institutions, coordination between ministries and relevant agencies (such as citizenship identity associated with account numbers, phone numbers, and social network accounts), users will have to adjust accordingly when they behave on Facebook and any other cross-border social networking platform.
Phuong Nguyen

Vietnamese sellers have found many methods to advertise and sell goods via Facebook, and they are trying to lure buyers by showing naked chest images, with low cut tops, at livestreams.

With its popularity and easy policies, Facebook has proven to be the favorite place for anti-fans to gather to defame celebrities.