Runner Chinh back on track for SEA Games
Sprinter Le Tu Chinh has been back in action after months of absence because of injury.
Her presence will strengthen the national track-and-field team at the coming 32nd SEA Games in Cambodia where Vietnam plan to maintain as the regional No 1.
RUNNING FREE: Chinh takes part in a race in January. Chinh has almost recovered from her knee injury and been called to the national team for the important tournament in 2023. — Photo courtesy of Lê Tú Chinh
It has been eight months since the shock announcement that she would not defend her title at the Southeast Asian (SEA) Games because of injury. However, top regional runner Lê Tú Chinh surprised many when she took part in the January's HCM City Marathon's 5km category despite being a sprinter.
Her time of 47min 42sec was not impressive, even by amateur standards. However, it marked her official return to competition, and to let it be known that she would be a challenge to other short-distance runners at the coming SEA Games in Cambodia in May.
"Having a chance to run again is a big gift for me after a long time of being unexpectedly sidelined," Chinh said.
"It was my effort to compete a 5km marathon race for the first time. It is a strong start for me in the busy Year of the Cat."
Strong fighter
Chinh, born in 1997, has showed her running ability since she was a fifth grader. Under coach Hương, Chinh gradually dominated the national competition before coming out as sprint champion at the Malaysia 29th SEA Games where she won three golds in 100m, 200m and 4x100m events, and set a Games record.
Two years later, she defeated 'imported' runner Kristiana Marie Knott of the Philippines to secure gold in the 100m after bagging silver in the 200m.
Chinh was out of action for the 31st Games because of her surgery for the knee injury in April, just one month prior to the Games, which were organised in Việt Nam for the second time after a nearly 20-year gap.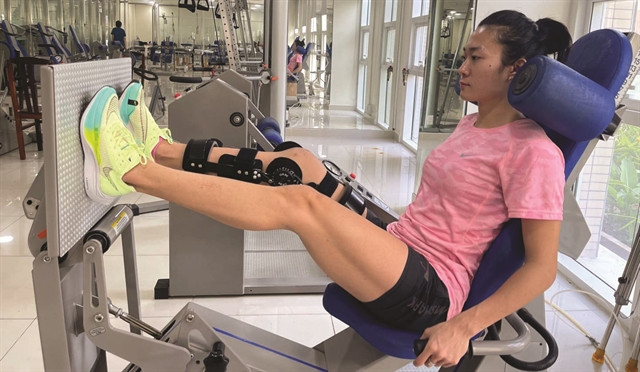 WORKOUT: Lê Tú Chinh practises to gain fitness and strengthen her leg after a knee injury. — Photo courtesy of Lê Tú Chinh
"I collapsed when hearing about the injuries. I had expected it to be light, and I recover in time for the SEA Games. However, it was not to be. I had to leave the competition before it started. It was an indescribable disappointment," Chinh said.
Without Chinh, Việt Nam failed to defend the 100m title and were ousted from the 200m top three.
"I was on the hospital bed watching my teammates competing. I wished I could be there, and the results would be different. It was sad when we were not successful, but it pushed me to return as quick as possible. I had to resume my races that were abandoned because of injury," Chinh said.
After surgery, doctors said she would need up to 12 months to return to the track. However, the 25-year-old did a good job, as she was out working in only eight months.
"When you are an elite athlete, you have to hunt for victory all the time. But when you are injured, you have to overcome yourself," coach Nguyễn Thị Thanh Hương said.
"I have been accompanying Chinh since she was a small girl, but I am still surprised by her determination, especially in this difficult time of her career's most serious injury.
"Her torn meniscus was serious, but I was really worried about her mind and spirit. However, she was better than I thought, comforting me that time would fly fast, and she would come back soon."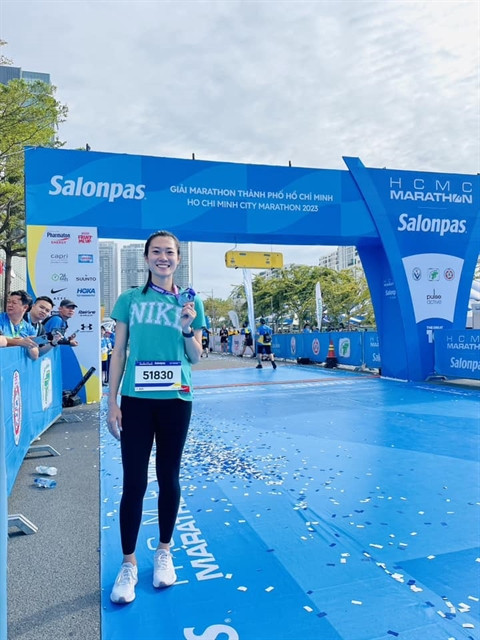 COMEBACK TRAIL: Chinh poses with her Finish Medal at the HCM City Marathon in early January. — Photo courtesy of Lê Tú Chinh
Chinh has not run normally so far, as both the coach and and herself are still cautious and are carefully applying training exercises to improve her ability. They are putting safety first.
"Strong support from family, friends, coaches, teammates and supporters is a huge push for me. I have tried my best to get my skills back, so I can take part in tournaments," Chinh said.
Back in style
This will be a busy year for Vietnamese track-and-field athletes. Among many competitions, they will focus on the big three: the 32nd SEA Games in May, the 19th Asian Games in September in China, and the 2024 Paris Olympics qualification rounds.
Chinh is one of 53 names called up for the national team's preparation. She practises at the National Sports Training Centre 2 in HCM City along with a young teammate Trần Thị Nhi Yến who secured a 100m gold and 200m silver at the recent National Sports Games, which Chinh skipped. Both are under coach Hương.
"In this call-up, Chinh's top priority is to work toward a 100 per cent recovery," Hương said.
"She will face big obstacles on the way to find her best form. It is not easy to be back at peak condition after injury. Chinh needs time, determination and strong will. There will be no promises for 32nd SEA Games, but I believe that if she is strong enough to overcome this, she will gain confidence and make waves with her comeback."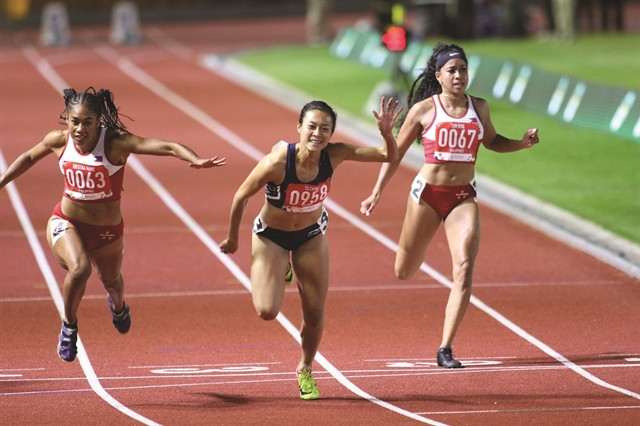 GOLDEN GIRL: Lê Tú Chinh (centre) crosses the finish line first to win the 2019 SEA Games' women's 100m title in the Philippines. — VNA/VNS Photo
Chinh believes 2023 will be a promising year for her, and plans to carefully, step-by-step, get back to her peak condition and compete for medals again. VNS