Russia transfers new technologies to Vietnam

Russia will transfer new technologies in the spheres of IT, environment and health care to Vietnam's Advanced International JSC (AIC) under an agreement signed in Moscow on September 15.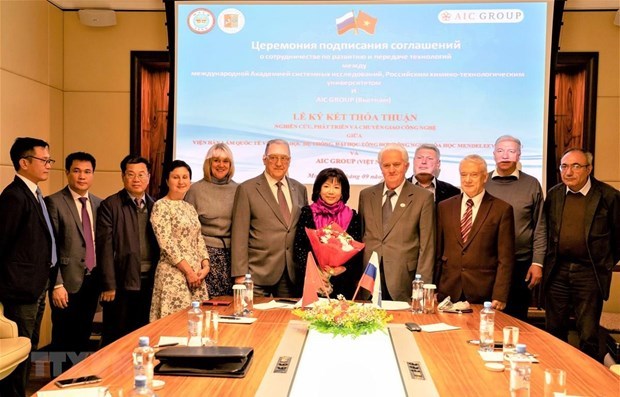 At the signing ceremony
The signatories were the AIC and the International Academy of Systems Studies (IASS) and the Mendeleev University of Chemical Technology of Russia.
Speaking at the event, IASS President Igor Dorokhov said the new technologies serve the analysis and forecast of climate change, weather and geology; polluted water and land treatment; smart national programmes; and medical check-up and treatment in Vietnam.
AIC General Director Nguyen Thi Thanh Nhan said these technologies are very useful for Vietnam, expressing her hope that Russian scientists will continue to transfer new technologies to the Vietnamese side and help the country with personnel training in this field.
IASS Vice President Vitaly Chelnokov told the Vietnam News Agency (VNA) that the agreement is expected to contribute to introducing many new technologies of Russia to Vietnam, including those in the realms of food, environmental treatment and health care.
Professor and academician Aleksandr Egorov from the Mendeleev University of Chemical Technology said the Russian university and the AIC are joining hands in the research of smart control, smart city building, Internet of Things and big data.
Russian scientists and experts are scheduled to come to Vietnam to directly transfer new technologies to the Vietnamese side./. VNA