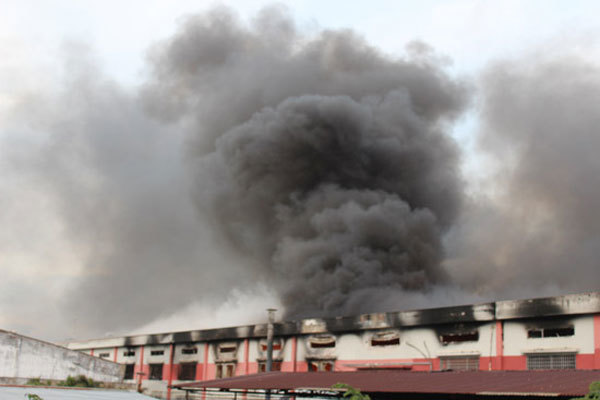 A fire breaks out at a footwear factory in the Song Than Industrial Zone in HCM City in 2013. — VNA Photo
The initiative aims to protect workers from preventable structural, fire and electrical safety risks in apparel and footwear factories in Vietnam.
Industry experts have stressed the importance of improving workplace safety for Vietnamese workers as the country has become a signatory to numerous global trade pacts such as the EU-Vietnam Free Trade Agreement (EVFTA) and the Comprehensive and Progressive Agreement for Trans-Pacific Partnership (CPTPP).
Local businesses have been struggling to comply with stricter workplace safety and environmental standards in factories in Vietnam as major international brands and distributors make them a business requirement. This is especially complicated for factories with multiple clients.
Under LABS, factories will commit to adhering to a country-level standard, which was built based on Vietnamese and existing industry regulations, of fire, electrical and building safety as well as environmental protection.
A pilot phase of the programme has been implemented at 29 apparel and footwear factories across the country with a plan to widen the scale in the near future.
Hoang Ngoc Anh, VITAS's deputy general secretary, said the association fully supports LABS and its effort to improve workplace safety and to support Vietnamese businesses. She said VITAS is looking forward to more global brands and distributors working with the initiative in Vietnam.
"Recent fires and the collapses of factories in many countries, resulting in high death tolls, highlight the importance of stricter structural safety. This has become a major concern for international brands and distributors. We are hoping that LABS will be playing an active role to contribute to the development of Vietnam's apparel and footwear industry," said IDH Vietnam director Huynh Tien Dung.
Apparel and footwear, which provides employment to more than 3 million workers across the country, of which 80 per cent are female, is a large part of Vietnam's economy with an export value of US$36.26 billion in 2018. It is forecast to hit the $40 billion mark at the end of this year. The industry has maintained a steady growth of 12-16 per cent annually since 2010.
In 2012, a garment factory fire broke out in Dhaka, Bangladesh. At least 117 people were killed by the fire and more than 200 were injured.
In August 2017, over 1,000 workers fled a footwear factory in Binh Tan District, HCM City after a fire broke out in the canteen.
In March 2018, a fire destroyed a textile factory in northern Vinh Phuc Province. Fortunately, as it happened during the night no one was hurt.
VNS