Saigon River threatened by plastic waste

Saigon River in HCM City is facing serious pollution from plastic waste which has been swept into the river.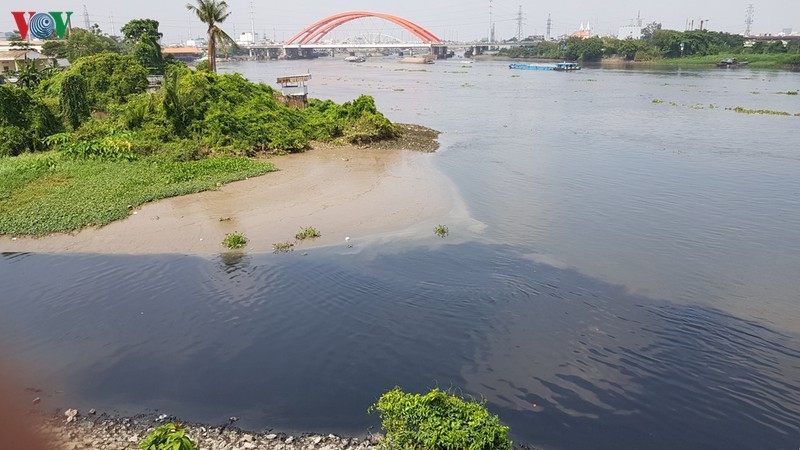 Saigon River is being polluted
It is not only the Saigon River being polluted by industrial activities, but it is also being ruined by rubbish carelessly thrown away by residents. When the tides go down, a huge amount of rubbish is exposed from Binh Trieu to Thanh Da bridges in Binh Thanh District. When the flood tide control system at Binh Trieu Bridge works, it discharges wastewater directly into the river.
Dinh Cong San from the Southern Institute of Water Resources Research said the city was trying to stop underground water exploitation so it was very important to protect the water sources from lakes and rivers. Saigon River is one of the main water sources for the city's water plant.
"It's very clear that industrial facilities are polluting the river but even if the city issues a ban, the river will still be polluted," he said.
Tranh Kim Thach from Saigon Water Supply Company said the ammonium level in Saigon River was two to three times higher than permitted.
Statistics from the Asian Research Centre for the Water Resources-Ho Chi Minh City University of Technology, show that a citizen throws away an average 350g to 7.2kg or plastic waste into the lakes and rivers each year. A cubic metre of water from Saigon River contains 10 to 233 plastic pieces. A cubic metre of water from Seine River only contains 0.28-0.47 plastic pieces.
Parts of the plastic waste will be swept into the ocean while the remaining parts will sink into the riverbed. The plastic waste takes hundreds of years to decompose. They will not disappear during the decomposition process but become the microplastics which will be consumed by fish and exposed to the human diet. A part of the microplastics will accumulate inside the body and become health risks.
According to Thach, the company has carried out many plans to deal with the pollution such as building a reservoir and working with the managers of Tri An and Dau Tieng lakes to control water discharge timely.
"More serious pollution means higher treatment cost. If the pollution continues getting worse, our system may not be able to cope with it. The city needs long-term treatment to deal with the problem now," he said.
The authorities across Vietnam have called on the citizens and businesses to limit the use of plastic products, especially disposable plastic products, and stop littering the environment. VOV/Dtinews

Up to 9.1 tonnes of potential plastic waste was being dumped into the Vu Gia-Thu Bon River basin, one of nine largest river systems in Vietnam, each day, equating to 2,600 tonnes each year.

The Hanoi People's Committee has asked all of its organisations and agencies to refrain from using plastic bags and single-use plastics starting from this month.