Salary increase in 2021 lowest in last decade
Salary increases at multinational companies this year are expected to be marginally down from 2020 and rise slightly next year.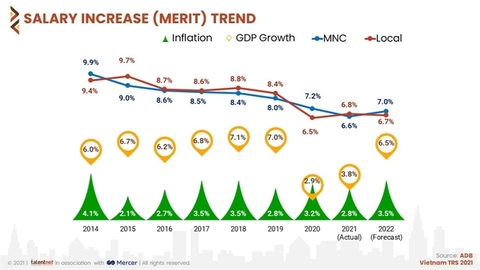 Salary increase trend at multinational and local companies this year and 2022. — Photo courtesy of Talentnet
At local companies they increased slightly, and are likely to remain steady in 2022, according to the Talentnet – Mercer Total Remuneration Survey.
While quite a bit higher than the inflation rate, the rates of salary increase were the lowest in the last decade.
They declined to 6.6 per cent from 7.2 per cent last year at multinationals, and are expected to rise again to 7 per cent next year.
At local companies, they increased to 6.8 per cent from 6.5 per cent, and will be around 6.7 per cent next year.
Speaking at the 2021 webinar Rewards Summit held last week to release the survey results, Hoa Nguyen, senior principal at Talentnet Corporation, said this year only 6.4 per cent of multinational companies and 7.7 per cent of local businesses had not increased salaries, significantly down from last year's 14 per cent and 34 per cent.
Vietnamese companies pay 35 per cent lower basic salaries than MNCs on average, according to the survey. The gap widens gradually at senior positions, with the highest being at management level (41 per cent) and specialist level (33 per cent).
But since domestic firms pay their employees higher allowances and bonuses, their average salary overall is only 25 per cent lower.
In terms of pay differential with market average by industry, MNCs in oil and gas pay 49 per cent more basic salary and 47 per cent more total income.
At the other end of the spectrum, trading and FMCG are the sectors with the smallest gaps: zero per cent in terms of basic salary and 2 per cent in terms of total income.
The lowest paying sectors are real estate (-25 per cent) and retail (-32 per cent).
However, at local companies, the highest basic salary difference with the market average is in real estate (21 per cent).
In terms of total income, the biggest difference is in the financial services and non-banking (21 per cent) sector.
Speaking about recruitment trends in 2022, she said with the plan to gradually reopen the economy, 38 per cent of companies plan to increase their payroll in 2022 and the same ratio plan to keep the number unchanged.
The top five industries in terms of proposed increase among MNCs are financial services - non-banking, insurance, banking, agriculture, and transport and logistics.
Some 3 per cent plan to cut staff, but the remaining 21 per cent do not have specific recruitment plans yet.
In a panel discussion on creating and decoding the future working model, delegates said remote working during the pandemic sparked demand for this model even in the new normal.
Businesses said they would therefore adopt flexible working policies.
Speakers also stressed the importance of mental healthcare for employees, saying this was at the core of the post-pandemic benefits policies.
According to Talentnet's post-COVID-19 HR policy survey results, 56 per cent of respondents said they changed their benefit policies to match employees' needs. 
Source: VNS