Salt field shrub a Nghe An specialty

About 250km from Hanoi, Quynh Bang Commune in the central province of Nghe An is home to a tasty surprise ahead.
And if you are a food lover, do not delay, because a surprise here means great food.
Wandering around the salt fields along brackish marshes and shrimp ponds, be careful not to step on plants that look like moss rose.
They are nhót, a treasure of the people in Nghe An, according to Ha Thi Nguyet.
This wild vegetable has been providing an income for the locals for many years.
Canh lá lằng — a unique and tasty soup of Nghe An
100-hectare field of sunflowers turns heads in Nghe An
Catch the sunrise in Nghe An beaches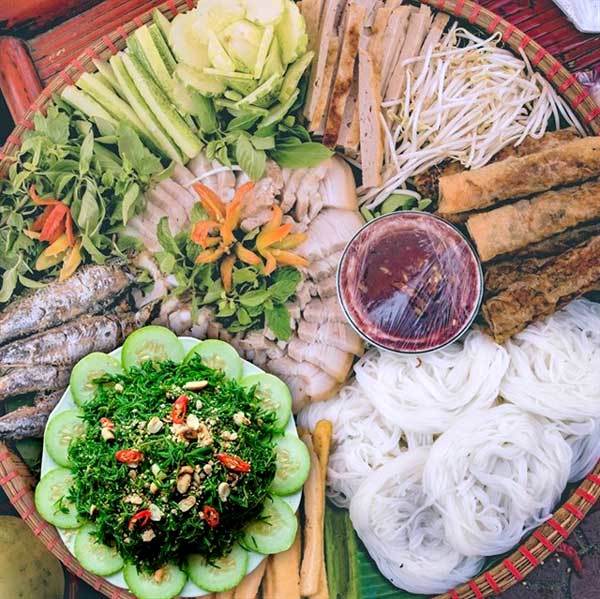 Kicker: Nhot vegetables can be savoured as a side dish with rice cakes, Nghe An stuffed pancakes and vermicelli with shrimp paste. — VNS photos

Teenager Nguyen Thi Truc harvests nhot every day. "Although I only collect one kilo of a day, that's about VND30,000. I'm happy because I can buy school supplies by myself and I hope that relieves the pressure on my handicapped parents."
From this fresh vegetable, plenty of delicious dishes are created.
Chef Hoang Kim Anh has been serving nhót salad for 20 years.
"Making a nhot salad is simple. It doesn't need expensive ingredients, just a little bit of sesame, peanuts, carrots and basic spices," Anh said.
Following the skillful hands of the 42-year-old woman, the vegetable is washed carefully and only the freshest leaves are selected and soaked in water for a couple of hours.
Meanwhile, it's time to prepare the other ingredients.
"To make this dish delicious, first you will have to collect the finest leaves. The vegetable is usually picked all year round, but from January to May, we will have the best harvest because of the cool weather that helps the vegetable grow well," Anh said.
"I select the best peanuts, and roast and grind them into tiny pieces. The carrots have to be carefully peeled and grated.
"Everything has to be perfect, from chopping the thinnest slices of lemongrass to removing every single seed from the crushed chili. If you want to cook the best food, you have to graft." Anh said.
After boiling, the vegetable is poured into a colander and lightly squeezed.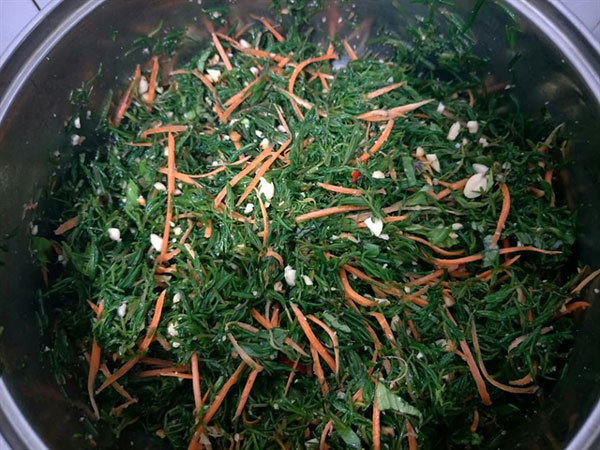 With simple ingredients like sesame, peanut, carrot, chili, a delicious dish of "Nhót" salad can satisfy the most discerning diners.

"This helps to dry the vegetable and makes it less salty. Mix it with peanuts, sprouts, carrots, lime leaves, chilies, lime juice, with a little sugar. You should taste the salad before deciding to add salt or not because the vegetable is inherently salty."
After marinating for 15 minutes, the salad is at its best.
"The simplicity of the food comes from the hard old days.
"For Quynh Bang people like me, it reminds us of those hard times. This district has always been poor, but thanks to this precious gift, I've been able to raise my children."
It was also considered an "improvement" to a poor meal during difficult times," said journalist Nguyen Thanh.
"The crunchy vegetables, the aroma of herbs, the creamy flavour of peanuts and the classic sourness of the salad all blend together to create the richness of this dish. These flavours still follow me until now," she added.
Nhot salad isn't the only dish Kim Anh serves. In fact, it's also a really tasty side dish.
It can be eaten with rice cakes and vermicelli.
"Another specialty in Nghe An is vermicelli served with shrimp paste with nhot, simple as that. The aroma of shrimp paste blended with fresh, crispy nhot creates a whole new sensation – strong and light."
Delicious food naturally gains a wide reputation. More and more people have been ordering this unique vegetable.
And higher demand leads to larger-scale harvests.
Le Thi Phu in the same district took advantage of the fact that her gardens were contaminated with saltwater from shrimp farms to grow nhot.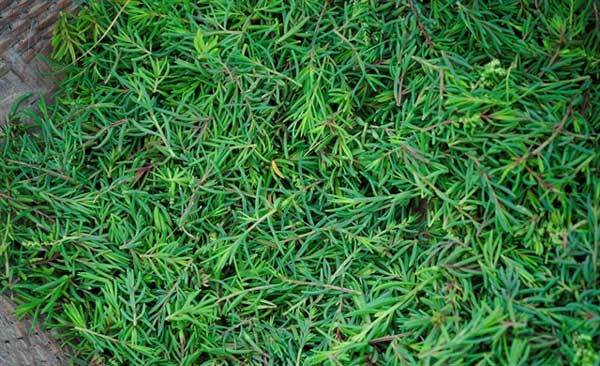 Nhot is a wild vegetable famous in Quynh Luu District, growing along salt fields, brackish marshes and shrimp ponds.
 
After nearly two years of experimenting, the garden is looking good and the vegetable has been developing really well.
"It all started in March 2017, after spending hours harvesting nhot. I thought that if this vegetable could survive in saltwater, why not bring them home to test, so I started growing them in my small garden. After two months, the vegetable grew beyond my expectations."
Phu makes nearly VND1 million a day from selling nhót to traders who then deliver it to markets around the country.
"This is like a treasure for the people of Quynh Luu District, so I really hope that my model can help promote nhót so that everyone can enjoy this wonderful gift of nature," she added.

Foreign tourism reporters toured different destinations in the central province of Nghe An on September 7 and 8 within the framework of the authorities' programme on promoting local tourism.
VNS